Week 9 Survivor Pool Picks from Captain and the Big Man
by Survivor Pool Podcast - 10/31/2018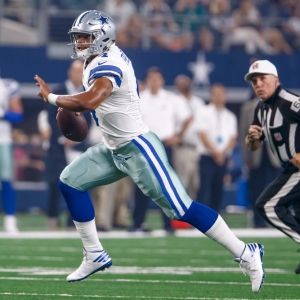 Captain and the Big Man offer Survivor Pool information and guidance every week on their show Survivor Pool Podcast. Bringing their decades of experience and success in Survivor Pools, they break down every NFL game on the card, examining matchups and using game theory strategy to offer suggestions on how Survivor Pool players can live to fight another Sunday. Subscribe to the Survivor Pool Podcast and get the information you need to put your best pick forward.
Subscribe to the Survivor Pool Podcast on iTunes , Castbox , or wherever you listen to podcasts today!
This has been a brutal season for Survivor players. For those of you still alive after the week 3 bloodbath of favorites going ass-over-elbow, we say bravo. You are in the home stretch and you can smell the money!! But don't let your guard down. Now is the time to be your best Survivor self, and lay claim to the duffle-bag full of cash at the finish line. Below you will find our breakdown of four games on the slate for Week 9. Get involved and subscribe to the podcast for the full breakdown of all 13 games (and some laughs). Subscribe to the Survivor Pool Podcast on iTunes , Castbox , or wherever you listen to podcasts today!
Tennessee Titans at Dallas Cowboys
That's right, Amari Cooper is a Cowboy. While sometimes the Monday night game is a knock, in this case it is a positive because the extra day for Dak and Cooper to play catch and build chemistry is a good thing. The Cowboys also had the bye week to prep Cooper with the playbook, as he was traded at the beginning of last week. The question we must ask is, will Amari Cooper be a difference maker? I think yes. He was stale in Oakland, and this change of scenery is just what he needs. Dak has played sloppy, but he has not had anyone to throw the ball to. This is Dak's chance to show he is the real deal, and Cooper's chance to redefine himself as the elite receiver his talent leads me to believe he should be for a few more years.
There is also something to be said for the front office putting their money where their mouth is. Spending the cash for an elite weapon on offense is a show of faith that the owner thinks this team has a legit shot, and sends a signal to the team that it is time to rally and make a run. This Cowboys team has proven to respond to such things (remember Jerry Jones on the field pregame firing the team up with Connor McGregor a few weeks back) and so it seems prudent to think that the Cowboys strap on their big boy pants and come to play on Monday.
The Cowboys also fired their Offensive Line coach; not really sure that means anything, except that it shows they are not messing around and are trying to win football games. Dallas has been atrocious on 3rd down this season. The fact that they have one of the top backs in the game and yet they are still struggling to convert on 3rd down is all about teams being able to key in on Ezekiel Elliot since there has been ZERO threat on the receiving corps. Cooper now opens the offense up a bit to where opposing defenses cannot hone in on Zeke. I have said for weeks that if Zeke runs for 120 or more, the Cowboys win, no matter who they are playing; now Zeke has a real chance to do that every game for the rest of the year.
Looking at the NFC East, it seems that if the Cowboys can win their home games, they are in the race. They still get Philly twice and get another shot at the Skins at home.
The Titans have lost three in a row, including @ Buffalo, but they are still in the hunt in the lowly AFC South. Mariota played much better and his numbers show it, throwing for 237 yards and a score in London two weeks ago; the Titans were a bad coaching decision away from tying (and then in my opinion beating) the Chargers. Mariota's offensive weapons also looked decent in London (WR Tajae Sharpe was his leading target, catching seven of nine looks for 101 yards. RBs Dion Lewis and Henry were also very involved in the passing game; Lewis totaled 155 yards on the day while Henry had 65 yards and a score). But, it seems like so long ago they beat the Eagles and the Texans, and I don't love the whole Jekyll and Hyde thing the Titans put out there; teams without an identity are Survivor killers.
Survivor players should look hard at this game. This is a must win for both teams, but the Cowboys pick up of Cooper gives them an emotional boost that should not be ignored, and most likely a point production boost a well.
Tampa Bay Bucs at Carolina Panthers
The Big Man has been preaching all season that the Bucs are a better team with Fitz than with Winston. I would care less about Winston being a narcissistic baby if he took care of the rock, but his inclination is to throw high risk, low percentage passes, and I think that means this is the end of his road at Tampa Bay. The Bucs thought they drafted a productive long-range passer with a solid arm and game savvy, but the game savvy is dead on arrival. After the four-interception game followed by the Fitzpatrick rally, it is over for him. The backup is better than you, so sit down. You cannot give the rock back to a guy averaging 2.6 interceptions per game for the past five games. It is not just all over for him this week, he is done in Tampa Bay.
Carolina just put up 36 on Baltimore, one of the top D's in the game, and that is no joke; they have now won 4 of the last 5. The Panthers know they must stay on pace with the Saints in the NFC South and the only way to do that is to keep winning games, and being home against the Bucs is a spot where they should (and need to) hold serve.
The key here really, is the Tampa defense just hemorrhages points and yards, Cam Newton is licking his chops to get after this weak defense. Against the Ravens, Cam Newton did it all, as he usually does, throwing for 219 yards, two touchdowns, and rushing for a team-high 52 yards and another score. Cam Newton is an offensive hurricane. If this Panthers offense fires, they could score 50 on the Bucs.
Mainly because the Bucs defense stinks, I like the Panthers here at home but only if your hand is forced. It's a division game and the Bucs still have a pulse at 3-4. It is a must win for them, and making the switch to Fitz could be one of those things that can wake a team up and suddenly it is a dogfight. Carolina gets Cleveland on the road on 12/9 but that is not a lock. But, here vs. Tampa Bay and 12/9 vs. the Browns is the last time you can consider using them, so if you like the Panthers this week, you can consider it.
Detroit Lions at Minnesota Vikings
A good rule of thumb in Survivor is to give an extra look to good teams coming off a bad loss. In this case, the Vikings held Drew Brees to 120 yards passing and lost by 10 points, which is all about the turnovers. Without those turnovers, you could argue that the Vikings did an outstanding job, and should have beat the Saints. This loss burns like an open wound, and the band-aid on that boo-boo is to issue an ass-whupping to the next team you see on the field of battle.
The next team is Detroit, and they are all over the place. Sometimes they look great, other days, atrocious. The only consistency I can find is that Kerryon Johnson running for over 100 yards means the Lions are very competitive. Against Seattle, he ran the rock 8 times for a measly 22 yards. He is going up against the 9th ranked run defense in the league in Minnesota this Sunday and I just don't see him pumping out 100 on the ground against a pissed off Vikings defensive line.
Stafford threw for 310 and 2 touchdowns, which is great, but who cares if your team still loses? Without a run game, the lack of balance hurts the Lions in a way that even Stafford cannot overcome.
The Lions run defense was very bad against Seattle, and here they cannot key in on the run because the Vikings pass offense is so strong, led by Thielen with yet another 100-yard game last week. This should offer the opportunity for the Vikings to establish the run, and for Murray to go 100+ on the ground.
A major point of order is that the Lions shipped out Golden Tate to Philly, which is a message to the players that management thinks that planning for the future is more important than winning right now. That message can be deflating to a squad. Golden was always a major threat that the defense had to respect; regardless of his actual numbers, he had a positive impact on every game if only because the defense had to remember him on every play.
You can argue that this is do or die for the Lions, but with that Golden Tate trade, you can also argue that they are already dead. And, even if they had not traded Golden, a pissed off Vikings team coming off a tough loss and needing a crucial division win to stay in the hunt, would still be a strong consideration in this spot.
Chicago Bears at Buffalo Bills
A rule of thumb when playing Survivor, is pay close attention to the short week. The Bills are on a short week after the Monday night loss to the Pats. Oh…and the Bills suck. They have scored 17 points in last three games…soak that in…17 points in three games!!!! That said, the Bills play incredibly tough on defense, they fight to the death every game and you have to respect it. They don't have the talent they need, but they box way above their weight class; holding Tom Brady to 12 points in a half is no joke. That approach to the game makes the Bills defense a little scary for a Bears offense that is hit or miss. Tribusky had a good game against the Jets, but he has been inconsistent. The Bears will need to establish the run game to get him some space to breath and make good decisions.
The best news for Bears fans (or Survivor players looking at the Bears) is that Nathan Peterman will be back under center for the Bills this week! The Bills rookie has a concussion, so Peterman is back taking snaps. You can expect the Bears defensive unit to rattle his cage and force mistakes, and since Peterman is good for 2-4 interceptions a game, a Bears victory starts to look delicious.
Chicago won at home vs the Jets last week without Khalil Mack and Allen Robinson. I am curious to see if they rush them back since they should beat the Bills anyway. If Mack is playing on Sunday, this tips the scales, and the Bears become a highly likely pick for many Survivor players. But, they are not as good on the road (lost in Green Bay, lost in Miami, and barely beat the Cardinals in Arizona) so while this game is certainly attractive, I hesitate to call it a lock.
An interesting note if Mack plays on Sunday, is that as a kid from Florida he was not heavily recruited by big Division 1 schools, so he accepted the one offer he received, from the Bulls of SUNY Buffalo. So, this is a homecoming of sorts for Mack. I would pay close attention to the reports out of Chicago regarding Mack playing on Sunday.
I repeat…Nathan Peterman is the QB for the Bills this week. If you have the Bears, this pick might be hard to avoid.
Top Pick for the Big Man = Listen to the Survivor Pool Podcast
Top Pick for the Captain = Listen to the Survivor Pool Podcast
No Fly List = Listen to the Survivor Pool Podcast
Worth Consideration = Listen to the Survivor Pool Podcast
Listen to the Survivor Pool Podcast for information on every game, every week!!
Subscribe to the Survivor Pool Podcast on iTunes , Castbox , or wherever you listen to podcasts today!