Duke Basketball Hard to Handicap without Zion Williamson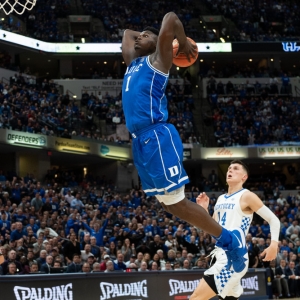 On Tuesday night Wake Forest had a layup at the final buzzer defy physics and somehow stay out of the basket. It cost them a win against Duke - they lost by a single point. At points in the past, a tight contest between these two teams wouldn't be shocking. But Duke is the solid favorite to win the NCAA championship, while Wake Forest is at 11-18 and is just a mess. What was most striking about the game was the response of Duke players after the game. They seemed an odd combination of confused, resigned, and dejected. It's as if you could watch their mojo, or what is left of it by now, leaving their bodies.
Of course, what is at the center of all this is the ugliest, most confusing situation we have seen in college basketball in a long time. Zion Williamson, the best player we have seen in college for a long time and a stone-cold lock to be the top overall pick, hurt his knee on Feb. 20 in the opening seconds of the highly-hyped game against North Carolina when his Nike famously blew out. He hasn't played in the four games since, and he isn't going to play on Saturday against North Carolina. And, the team without him is a total mess - at least relative to where they were. With him at full flight, their National Championship just seemed like a formality. Without him they have lost to Virginia Tech, should have lost to Wake Forest, and they look very vulnerable.
The biggest issue with the whole situation is that we really have no idea what is going to happen. Coach K keeps saying that Williamson is really close and that he would be very surprised if he wasn't back for the ACC Tournament. And Williamson has been with the team in street clothes for the games. But predictions are that Williamson's pro career could earn him $1 billion or more before it's all done. He's not exactly the smallest guy, and he has had injury issues in college, so it could easily be argued that it just isn't worth risking anything for a title when bigger things are around the corner. I love college basketball and would love to see him play in the tournament. But even I can't make a fully reasoned argument for him to come back. Sad, but true.
The big issue around this uncertainty is that we don't really know how to deal with the team. The futures odds are a good indication of the problem. Right now at BetOnline they sit at +225 to win the national title. That makes them the very solid favorite, ahead of second choice Gonzaga at +500 or third pick Virginia at +650. And with Williamson back and healthy, that is a very justified price. If anything, there is value there. But without the big man, that price is ridiculous. You can't rule out the chances of winning without Williamson - they have two more likely Top 5 picks, and another likely first-rounder, and their coach is pretty good at this coaching thing. But they cannot reasonably be called the favorite without him, and certainly not a favorite by as much as the odds suggest. The futures odds, as a result, are total unbettable - for Duke and, by extension, for most other top contenders - until we have some clarity on this front. He's like one giant domino that needs to fall one way or the other before everything else falls into place.
Williamson is a difference-maker in so many different ways. As good as he is as a player, his biggest impact is as the vessel that holds the team's mojo. R.J. Barrett is a very productive and talented player and will be the second pick in the draft - a good one. But he has not, at this point anyway, shown capability of being able to lead this team on his own. And while Cameron Reddish is a likely Top 5 pick, and a huge talent, he is wildly inconsistent at this point and can't be trusted as a leader in a championship run - he had 27 in the game that Williamson was hurt in but had only six against Wake Forest and was almost invisible. Those two players, and the rest of the roster, are just plain different when Williamson is on the court.
The other complication with this situation is that even if he does return, we still won't know what that means. Will he play just like he was, or will his role be more limited? Will he step away the second he feels the smallest twinge of anything, or will he be locked in on the title? Will all of the voices that are surely in his ear be a distraction for him? Does he care intensely about the title, or is he already over it? Williamson held the sport in the palm of his hand before his injury because of his talent and impact. Now he holds it in his hand, at least for bettors, because of that uncertainty.
Read more articles by Trevor Whenham
---
Most Recent College Basketball Handicapping