Expert NBA Handicapping: Indiana Pacers for Real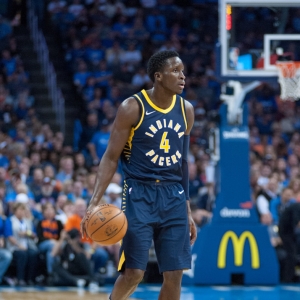 The Eastern Conference of the NBA was supposed to be a three-team race this year. The problem, though, is that no one told the Bucks and the Pacers that they weren't invited. The first-place Milwaukee squad, and the third-place team from Indiana, are playing really great basketball, and they aren't going to be easy to displace from their home court perches as the season progresses. Milwaukee is the less surprising of the two teams, but Indiana has been a marvel to watch. The Pacers are tough, cohesive, deep, and well-coached. A nightmare for opponents, in other words. Here are five factors to ponder when considering how to deal with the Pacers the rest of the way this year:
Bojan Bogdanovic: The guy could be an all-star. Seriously - he's played that well and been that important this year. He scores timely points, he shoots well from almost anywhere, he is comfortable in the paint, and he is a sneaky-good scorer. And he is incredibly smart on the court. There is not one thing you see when watching him that stands out as being at a truly elite level. He's not flashy. But you can watch him for as long as you want, and you also won't see anything that he doesn't do well. He's a true all-round talent, and his versatility up front is such a potent tool for this team. He creates defending headaches no matter what opposing teams try to do with him, and having a guy like him in the lineup means that opponents can't cheat. He's shooting better from deep now than he was earlier in the year, but he's generally not streaky. Dependable, solid excellence.
Victor Oladipo: Oladipo probably isn't as dangerous overall as he was last year, but that's not a real knock - last year he was truly exceptional. He's still playing like a star - like the second overall pick that he was. His game last Friday against the Bulls, in which he took the team on his back, scoring 36, including some late game heroics, was really a symbol of what is possible from him. He's got that big game, big moment, it factor that only stars have, and he's such an asset for the team. He missed 10 games in a row starting in mid-November, and that could serve as a good thing. The team was solid without him, and still solid as he shook off the rust and got back into form, so they learned that they don't need to rely on him. And 10 fewer games on his tires this year means less damage done when the games really start to matter. This is a team poised to play some big games this spring, and having Oladipo a little fresher, and the team a little more comfortable winning without him at his best, is a big asset.
The bigs: Myles Turner keeps taking strides forward and is a much more complete player than he has been. The fourth-year center has numbers similar to what he saw in his second year, but he's doing it in a much more controlled, cleaner way. And when he plays with the really excellent Domantas Sabonis, they really shine and complement each other very well. Again, neither of them is particularly flashy or dominant in one way - a recurring theme on this team. But they just do most things well and have excellent chemistry. They also do a very good job of keeping each other accountable - if you watch them after a whistle they support each other and discuss what's going on much more than most players do.
Depth: When you look at most contenders in the league and imagine yourself as the GM, you can come up with at least a move or two you would love to do at the trade deadline to get ready for the final charge. I'm not sure that there is one for Indiana - at least not an obvious one short of somehow adding a selfless superstar. This rotation is as complete as any in the league. Sure, no one may be truly great on this team, but everyone is good, and they do a good job of filing their role and helping the team out. Some teams fall off a cliff when the starters need a rest, but that really isn't the case here. They have a strong culture, and they have widely bought into it, and it's just working. And because they are so deep, and have such trust in their roster, their top players don't have to play the minutes that some guys do - Oladipo leads the team with just 32.8 minutes, which is five minutes a game less than some stars have to play. That will only help down the stretch.
Betting performance: At 21-17 ATS on the season the team is profitable, but not enough to write home about. They have been better than break even at home and away, but their 11-8 ATS mark on the road is more impressive. They have been nicely profitable on totals, going under 22 times in 38 tries. That number is even more impressive if you break it down geographically. At home they are a truly stellar under team, going under 14 times in 19 tries. On the road they have actually been profitable on the over, going 11-8.
Read more articles by Trevor Whenham