Expert NHL Handicapping: New York Islanders Top Betting Team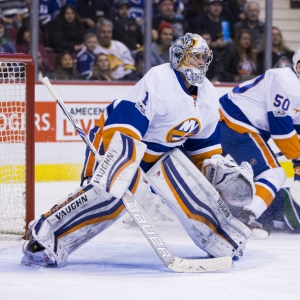 The New York Islanders were not blessed when it came to their divisional assignment. They are stuck in a group in the Metropolitan Division with current powers like Washington and Pittsburgh and regular powers like the Rangers. That's just geography, though, so you can't dwell on it. What really stands out right now is that somehow the Islanders are leading the division. The Capitals are the defending champs, and the Penguins are always a contender, while the Islanders weren't even seen as a playoff contender. It has been odd and surprising - the team had largely been written off after losing franchise superstar John Tavares in free agency to Toronto. But here they are. When a team overachieves like this one is, it creates a challenge for bettors. How sustainable is this? And how do we deal with them as the playoffs near? As we ponder those key questions, here are five factors to consider:
Standings: The Islanders have a three-point lead over the Capitals atop the division and have a game in hand. They are in decent shape to stay atop the division and get home-ice advantage in the first two rounds. But the bigger issue is avoiding falling beyond third and into a wild card spot. That could mean playing Tampa Bay in the first round, and no one wants to do that. Right now, Columbus and Pittsburgh are tied for third in the Metropolitan with 67 points, and Columbus has a game in hand on the other two teams. Seven points clearly isn't insurmountable, but there are only 25 games left, and with each passing game that lead gets stronger as long as it doesn't shrink. Interestingly, they have a home game and a road game remaining against both Washington and Columbus, but they are done with Pittsburgh. And both of those Columbus games come after the trade deadline. The Blue Jackets are potentially going to be forced to trade away two of their best players, so those games could become more manageable.
Schedule: Aside from those four key division games we discussed, the schedule has some interesting parts. They play both Calgary and Edmonton twice before the end of the February, with the former opponent much tougher than the latter, though Calgary is in a slump right now. Those two Edmonton games should be manageable, and so are some others - consecutive games against Ottawa after the trade deadline, and games against Detroit, Arizona and Florida should be gifts. They have three remaining against the Flyers, which are tough to evaluate - Philly has generally been lousy this year but is red hot right now. The schedule isn't exactly soft, but it could be much worse than it is.
Coaching: Barry Trotz came into this season off intensely unique drama. It is very rare that a guy wins a Stanley Cup and becomes a free agent. But the Capitals, for reasons that will always be a mystery, decided that they would rather not pay their coach market value, and they let him walk. Trotz wasn't unemployed for long. We know how good he is - he proved it in both Nashville and Washington - so the potential he had was obviously significant. But he was walking into a tough job taking over a team that had lost Tavares, and you had to question his motivation coming off a situation like his. It wouldn't have been that surprising if his heart wasn't in it. Yet Trotz may be doing his best coaching job yet, and he is poised to win his second Jack Adams trophy as coach of the year. If you are looking to why this is happening, you don't need to look too far beyond Trotz.
Roster: Mathew Barzal is an incredible young talent, and he has proven that he can shine without Tavares beside him. But this is not an offensively deep team right now. They are outscoring just nine teams, and only two of those are currently in a playoff spot. Their success has come defensively, where they lead the league in goals allowed, averaging more than a quarter goal less allowed per game than the second-best team. And the goaltending is, surprisingly, at the heart of that. Robin Lehner shed some real baggage this year as he opened up about some personal issues he has had, and he has played like a whole new guy. He is among the very best goalies in the league right now and could win the Vezina award for top goalie - a truly unthinkable accomplishment heading into the season. And Thomas Greiss has split action and been almost as good. Heading into the season, the goaltending was a major concern, but goalies are so hard to judge.
The lack of scoring is something the team will likely have to address at the deadline. Rumors about their interest in Ilya Kovalchuk are floating around, but I desperately hope that that isn't real. Look for New York to be deadline players, though - perhaps looking for more than a rental as their window could be more than just this year.
Betting performance: When a team exceeds expectations as much as this team has, it is no surprise that they are kind to bettors. No team has been more profitable on the moneyline than this team, and they are providing profits both at home and on the road.
Read more articles by Trevor Whenham