Handicapping the NBA Eastern Conference Playoff Race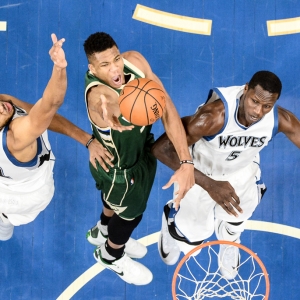 The NBA Playoff race has been more interesting in other years than it is now. By a wide margin. There is some mild drama about where teams will be seeded in the West, but not over which teams will be in. And really, it's all just about which order teams will eventually lose to Golden State, anyway. And in the East, Boston and Indiana have to figure out where they are going to start their series, but above that things are mostly established. The only real drama - such as it is - is at the bottom of the East, as there are five teams in something of a battle. Detroit is probably in barring a collapse, with Brooklyn and Miami currently in, and Orlando and Charlotte chasing. Washington is still technically alive, but it's basically over. Let's break down the race to see what we can learn:
The Stakes
The top three spots are locked down in the order they are in - Milwaukee will win the East in all likelihood, with Toronto in second and Philadelphia in third. Indiana and Boston are all but locked into playing each other in the opening round. So, what is at stake is which teams will have to play the top three teams. Sixth place gets Philadelphia, which is the most vulnerable of the three teams, so that is a bit of a gift to finish there. Teams would have to decide for themselves whether they would rather play Toronto or Milwaukee. The truth, though, is that both teams will be awful to play against, and that a team that can only finish seventh or eighth in the East, and flirt with .500 while doing so, is very likely to lose the series. Making it, then, is all about a couple more home games and a few more jersey and hot dog sales. So, basically, if you can't finish sixth you probably only need to worry about getting in at all.
The Teams
Detroit: As we sit right now, Detroit has just a half-game lead on Brooklyn, but they have three full games in hand. That means that they are in good shape to finish sixth. They rested Blake Griffin against Cleveland on Monday night, though, and played like they had no interest in winning. It is quite possible, then, that their place in the standings is less important to them than being fully ready for the playoffs. They have a 3.5-game cushion on ninth place, so they likely aren't worried about not making it. You could make an argument that the Pistons would rather play Toronto than Philly - they are a perfect 4-0 against the Raptors this year but just 1-3 against the Sixers. But the Raptors have been managing the loads of their players aggressively and are clearly focused on the postseason. Personally, I'd much rather play the Sixers.
Brooklyn: The Nets just keep rolling along. They seemed doomed on Tuesday against the Kings, but they outscored the Kings 45-18 in the fourth quarter to win the game by two, with D'Angelo Russell leading the way with 44 points, including 27 in the final frame. They have only a game-and-a half-lead on the Heat in eighth, and they have played three more games than Miami. They are only 5-5 in their last 10, so they will need to have this comeback against the Kings fuel their stretch drive. With nine games left, a hot streak now could carry them to the promised land.
Miami: The Heat are heating up, having won seven of their last 10. They are the only team in the entire playoff hunt, though, that is below .500 at home - they are 17-20. In fact, every other playoff contender has already clinched a winning home record. Miami has a game and a half lead on ninth-place Orlando right now and has played one fewer game. The two teams play once more - in Miami - which will be a crucial game. But Miami right now is definitely in command of the race.
Orlando: The Magic are the last of the real contenders at this point. They are a game and a half behind Miami and have 11 games left - one fewer than the Heat. They are not written off by any means, and a manageable schedule is a big boost. Beyond that big game against Miami, they have very winnable games against duds like New Orleans, Memphis, New York and Atlanta. Those are games they will have to win. And they face teams in Toronto, Philadelphia and perhaps Indiana, Boston and Detroit depending on how things shape up by then, that could be more interesting in resting to get ready than in winning. It's still a race.
Charlotte: The Hornets still have a pulse, but it is faint. They are three games behind Miami with a dozen games remaining, and they would have to get past Orlando, who they trail by a game and a half, as well. I'm willing to call time of death.
Read more articles by Trevor Whenham