NCAA Basketball Betting Advice: Top Teams Falling Short of Expectations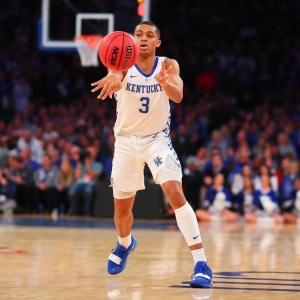 The biggest problem with betting on college basketball, especially if it isn't your primary passion, is that there are just too many teams. There are so many conferences, and so much competitiveness within conferences, that trying to stay on top of it all is overwhelming. And lines are typically only set a day or maybe two before games, so we don't have much time to evaluate the dizzying number of opportunities out there. We can try to focus on just one or two conferences, but sometimes that can feel like you are missing out on opportunities. What we often find ourselves doing, then, even if it is subconscious, is relying on the reputations of teams to guide us in our decision-making - or at least to give us a starting point as we assess lines. The problem, though, is when teams that have strong reputations aren't playing up to those reputations. If teams aren't what we assume they are, then we can be in for frustration - or heartbreak. Here's a look at six teams right now that just aren't playing like their name would suggest that they should:
Kentucky: At this point, I am not convinced that John Calipari is going to have a relevant team again at Kentucky. He recruits like crazy, and he develops pros well, but it has been a long time since one of his teams was even close to the sum of their parts. Again this year, the Wildcats came into the season highly-ranked and facing high expectations. And while their 13-3 record is far from lousy, they are a dismal 7-9 ATS and have lacked a killer instinct when the spotlight gets brightest. On the court Cal has lost ground to guys like Coach K, Bill Self, Jay Wright, and even John Beilein - guys who find ways consistently to maximize what they have and make life miserable for opponents. And I am not at all convinced that Calipari cares that much about it, which is the biggest problem. As long as he does well enough and the paychecks keep cashing, he seems happy enough.
Villanova: The Wildcats have been the model program the last three years. And while they are still very good - 13-4 and likely to win the Big East again - they just aren't quite as sharp as they have been. They have four losses, with two against very good teams, but the other two were extremely ugly. When you watch them you see a difference, too - last year they set the tone and broke the will of opponents, but this year they are forced to sit back and take what is given to them much more. They'll be back - the program is too strong not to be. But right now, they have lost too much to be as good as they have been, and it is dangerous to assume that they are the same team they have been.
UCLA: The Bruins are different than the first two teams because no one could have reasonably expected them to be any good. The thing is, though, that despite a long stretch of really bad play as a program, people still have high expectations of this team. They are a public squad as people think back to their various periods of success. People want UCLA to be good and relevant so badly that they completely ignore just how bad they actually are. The Pac-12 is almost incomprehensibly horrible right now, but UCLA is no better than the fourth-best team in the conference. That's not good. And after making a midseason coaching change, they are in the market for a new coach and are very likely going to struggle to attract the kind of guy they think they should get.
Wichita State: The Shockers are one of those mid-majors that have been so good for so long that their success is no longer shocking - like Gonzaga for a new generation. But even a very well-run and well-coached program like this one suffers when they don't have the players, and right now the Shockers just don't. They are a dismal 7-8 overall and have dropped their first three conference games in AAC action. Senior forward Markis McDuffie is having a breakout season, but he doesn't have much help, and the team is statistically underwhelming in every aspect of the game. This is not the Shockers team we have become used to.
Xavier: Last year the Musketeers were a No. 1 seed in the NCAA Tournament. If you are thinking that factor will be the start of a trend, then you will be disappointed. This year they are just 11-7, 3-2 in Big East play, and a dismal 6-10-1 ATS. They are going to struggle to make it back to the tournament, never mind doing damage there. Even consistently-excellent programs have to reload, and after losing top talent and their head coach - Chris Mack is at Louisville now - it is definitely a year of transition for this squad.
Loyola: This squad stole the hearts of a nation when, led by Sister Jean, they went all the way to the Final Four as a No. 11 seed. People loved it and are surely hungry for another serving. But it likely isn't happening. They just lost too many players. At 10-7 currently, and 3-1 in conference play, they aren't out of it, but they already have more losses than they did during their entire 32-6 season last year. Last year they captured lightning in a bottle. It's hard enough to get it in the bottle, but it is even harder to keep it there.
Read more articles by Trevor Whenham
---
Most Recent College Basketball Handicapping