NFL Survivor Pools Expert Advice and Predictions for Week 13
by Trevor Whenham - 11/26/2019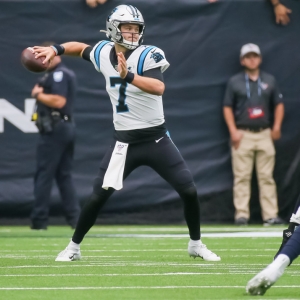 Yet again we find ourselves writing about NFL survivor pools for another week, long after it seemed likely that they would be done and gone for the year. Last week was another week that went almost entirely to expectations for survivor pool players, with only the Raiders deciding not to get on their plane to New York and to send a high school team in their place, causing some issues for some players. And yet again this week we have several playable games - and even one or two that could still be valuable for a good number of players. This remains the strangest season of survivor pool action I can ever remember.
Carolina vs. Washington: The Panthers deserve much better than their 5-6 record. They have dealt with all sorts of injuries, and their QB position has been one of uncertainty and issues from the start of the year. But they certainly haven't quit, and they came very close to beating a very good New Orleans team on Sunday. All they needed was to hit that late field goal and it would have been a different story in all likelihood. Ron Rivera may be nearing the end of his time in Carolina, but the team hasn't quit on him, and they have an offense built around one of the most dynamic guys in the league. This team at least deserves to be at .500, and that is where they will be with a win here against the Redskins . And they should get it. Sure, the Redskins have won two games this year. But they have barely beaten an NFL team if you took the two teams they beat and combined them into one roster - the Dolphins and the Lions. Carolina has far from the most explosive offense in the league, yet they have scored 115 more points than Washington has. That's more than a touchdown and a field goal per game. Washington just isn't good, and beating the odd pathetic team does nothing to change that. Carolina would be a fairly comfortable pick here even if they were on the road. However, since they are at home, it's a no-brainer. This is the best pick of the week when you balance the likelihood of winning with the likelihood that it is available to you as a pick.
Green Bay at New York Giants: I'm not gloating here, but I have to say that I feel personally vindicated by the Packers' performance last weekend against San Francisco. Despite their record, I haven't been buying into anything about them - their coaching, their desire, their tactics, their depth. But when they keep winning, you start questioning if you are seeing things. But against a very good team on Sunday, they looked just plain ridiculous. It wasn't even sort of competitive. It exposed them as a long way from a top contender, and in ways that just don't feel like they are isolated to one week. This felt different than the Saints forgetting to show up against the Falcons, for example. But, while I won't be picking the Packers to win when it matters, this is a different thing. The Giants are very flattered by the fact that they have lost only seven in a row. They are every kind of mess packed into one team. It's ugly, and it isn't getting fixed in any hurry. And they are at that sad place where they know exactly how bad they are, and they just can't care anymore. It's beyond fixing, and everyone knows it. Green Bay will win this one handily - even with all of their flaws. If you can pick them then you should.
The rest
There are four more games that are probably playable depending upon your needs. New Orleans is probably not available to you, but they should be playing angry after the embarrassment of their last meeting with the Falcons, and last week's poor showing for Atlanta should have zapped them of any momentum or sense of hope that had started to materialize. Theirs is a broken team hurtling towards a tumultuous offseason, and the Saints are a comfortable pick despite being on the road. Kansas City is another team that probably isn't available to you. If you saved them somehow, though, you could play them here against the Raiders . Oakland was truly and utterly pathetic against the Jets, and that's a hard thing to be given what the Jets are. They are poorly coached and broken. The Chiefs have no shortage of issues, but they are coming off a bye that will have allowed them to address some issues. And they are at home. Kansas City isn't losing this one. Philadelphia is not good, and not in great form, but they are playing at Miami . And despite their two wins, the Dolphins are still a very favorable opponent. And the Jets are playing Cincinnati, and any time an NFL team plays a non-NFL team in a regular-season game, the NFL team becomes an automatic pick. The Jets are not good, but they have things working for them for now. And Cincinnati is a special kind of terrible.
Want free NFL picks? Doc's has you covered. New clients can take advantage of this great offer of $60 in free Doc's Sports members' picks for any handicapper on Doc's Expert Handicapper list. Just check out these guys' pages and see what great work they have done making money for themselves and their clients over the years. Get $60 worth of premium members' picks free . Get free NFL picks weekly on Doc's Sports free football picks page.