Oklahoma City Thunder Tough Team to Read Heading into Postseason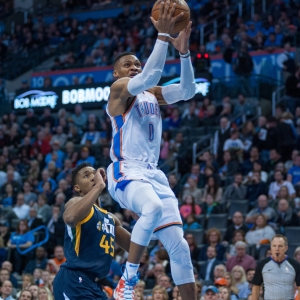 The Oklahoma City Thunder are not in a good place right now. Right when they are supposed to be readying themselves for the playoffs, they have just slammed things into reverse. They are 5-10 in their last 15 games, and just have not looked very good. Four of the five wins have been against playoff teams, so there have been moments of strength, but they just have not been able to sustain it. It has not been good in any way, and it has created a bit of a headache for handicappers trying to figure out how to deal with this team. Here are five factors to consider when trying to figure out how to deal with the Thunder:
Paul George: For much of the season, George, who turned heads by staying in Oklahoma City long term when he could have landed anywhere he wanted to, was a legitimate MVP candidate. But since the All-Star break he has been a different guy. It hasn't been profound - he has still averaged 25.4 points per game in March, and his 8.4 rebounds per game over that stretch is slightly over his season average. But when you look closer, the issues pop up. His shooting percentages - both inside the arc and beyond it - have been well down from his season average. So, while he is scoring, he isn't doing it with any efficiency. And while he isn't hitting threes with the same efficiency, he has compensated by shooting a little more. The fact that the team's struggles have overlapped with George's is not a coincidence. They really need George to find his game in a hurry with the playoffs right around the corner.
Dennis Schroder: For much of the season Schroder was like a secret weapon for this team. The former Atlanta starter had settled in very nicely as a backup here and had done a great job of leading the second unit and making it easy for the team to rest George and Russell Westbrook. Like George, Schroder has not been as sharp since the All-Star break. The numbers are still fine, but he isn't playing with as much efficiency. And when you watch him, he just doesn't pass the eye test in the same way. Again, the gap between where he is and where they need him to be is small - the NBA is so tough. But they really need him to get back on track as the season wraps up.
Coaching: You know how, as a sports fan, you have those opinions that you can't entirely justify or back up with facts but which you know without doubt that you are correct? For me one of those is about Billy Donovan. Sure, he won two national titles in a row with Florida and made the Final Four again. But I have always maintained that Donovan isn't a coach I am impressed by. He's not all that. I've just felt it in my gut. The last two years of playoff disappointment for the team - a 3-8 record and two quick departures - has only strengthened my resolve, and the way the team is limping down the stretch now certainly hasn't helped his case, either. Many people would tell you that having Donovan as a coach here is an asset. Those people are wrong.
Playoff scenario: Before this rough stretch, it felt like the team was on the road to a home playoff date. They sat in third place in the West and were so hot from the middle of January to the middle of February that it felt like they were going to challenge Golden State and Denver for the top of the conference. But things have changed dramatically since. Their struggles have dropped them into a tight four-way battle for fifth to eighth along with the Spurs, Jazz and Clippers. The four teams are separated by only a game in total, and anything could happen with them. They could theoretically catch the Blazers for fourth, but that isn't likely. And they are essentially guaranteed to be a playoff team. It's all about where they wind up and who they will play in the opening round. And with Golden State and Houston looming as ugly foes, the pressure of this race will be intense right up to the end of the season. It remains to be seen if the team can fix what ails them while stuck in the middle of this race.
Betting performance: At 37-36 ATS, the team has not been profitable whether you are betting for or against them. But the struggles, like those of some key players, has been recent. They are 4-13 ATS in their last 17 games, so betting against them has been the way to go of late. They have gone over 36 times and under 37, so there haven't been long-term profits on the totals, either. The over has gone 4-10-1 in the last 15, so again things have changed of late.
Read more articles by Trevor Whenham