Free College Basketball Picks Saturday 2/1/2020 and Opening Line Report
by Jason Radowitz - 1/31/2020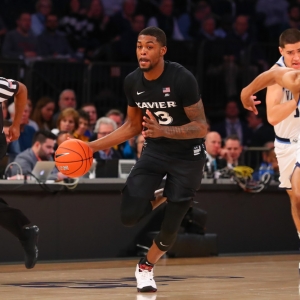 We're one month away from March. It's February! Saturday's college basketball action features plenty of ranked teams putting long win streaks on the line. San Diego State looks for their 23rd win, while Baylor looks for their 16th straight win. Also, Gonzaga is on a 14-game winning streak, Seton Hall and Dayton have won 10 straight. All of these streaks are on the line in conference play in February. Are you not entertained? Here are the early leans for the February 1 Saturday slate.

Xavier vs. Seton Hall 2/1/20 (-9.5, 137)
Seton Hall is looking for their 11th win in a row at home against a Xavier team that has dropped two straight games. Seton Hall has been on quite a run and has played really solid defense in their last 10 games. They're holding opponents to fewer than 70 points in most games and have had games where opponents reached fewer than 60 points. Xavier has struggled defensively and has lost four of their last five games. They've allowed at least 77 points in each of their last four losses. To put it on the table, if Seton Hall scores more than 77 points, they'll win this game and will likely hold Xavier in the 60's range. Take Seton Hall at home.
Key trends: Pirates are 9-3 ATS in their last 12 games as a favorite.
Early lean: Seton Hall, Over

Creighton vs. Villanova 2/1/20 (-6, 143)
I was off the Villanova train for a while during the nonconference schedule. But here we are. Jay Wright does it again. Nova has now won seven straight games, but they'll take on a Creighton team that has won three straight. When it comes to averages, it's fairly even. Creighton scores three more points than Villanova, while Creighton allows three more points against. This is going to be a classic Big East battle until the end. Maybe an overtime. Maybe a buzzer beater. Take the points and the underdogs in Creighton.
Key trends: Bluejays are 6-2 ATS in their last 8 Saturday games.
Early lean: Creighton, Over

Louisville vs. NC State 2/1/20 (+3.5, 141)
The day of winning streaks on the line. Louisville will put their seven-game streak on the line on the road against NC State, who have lost two straight. NC State just lost to UNC at home and have a much tougher task with Louisville. Louisville tends to start games off slow but pick it up late in the game to win. You can expect that in this game too. NC State will come out to an early lead to begin the game, but Louisville will have too much star power for NC State to keep up.
Key trends: Cardinals are 3-1-1 ATS in their last 5 games vs. a team with a winning straight up record.
Early lean: Louisville, Over
TCU vs. Baylor 2/1/20 (-12.5, 124.5)
How long can this Baylor run last? I've picked against it a couple times and it backfired. TCU could be the answer. This game will be a defensive battle with minimal possessions. The less possessions, the better for TCU in allowing them to stay in this game. Sure, TCU has lost four of their last five games but have played better as of late. Still, with Baylor at home, it's hard to pick against that. The fans should fuel Baylor towards the end as they pull away late.
Key trends: Bears are 6-0 ATS in their last 6 Saturday games.
Early lean: Baylor, Under

Gonzaga vs. San Francisco 2/1/20 (TBD, TBD)
Gonzaga is averaging 88.9 points per game. Let that sink in. Almost 90 points in 40 minutes. Zaga is on a 14-game winning streak and will likely keep their streak into the NCAA Tournament. They've been dominant. The question is always if they can cover the spread. San Francisco has won four of their last five games, but the reality is that they don't have the offense to keep up with Gonzaga. San Francisco has played great defense. However, against Gonzaga, they won't have the answers. Ride Gonzaga for another big victory.
Key trends: Bulldogs are 9-4 ATS in their last 13 games following a ATS loss.
Early lean: Gonzaga, Under
Texas Tech vs. Kansas 2/1/20 (-9.5, 131)
Despite all the drama at Kansas, the Jayhawks have now won five straight games and will stay home to face a tough Texas Tech team that knocked off West Virginia at home, scoring 89 points. Texas Tech was always known for their defense. However, in a fast-paced game, the offense came through, too. Kansas should win the rebounding battle and will shoot better from the floor. Don't expect a high-scoring game in this one. There will be better defense, but Kansas should hold on and cover against the spread.

Key trends: Jayhawks are 37-16-2 ATS in their last 55 home games vs. a team with a road winning % of less than .400.
Early lean: Kansas, Under

Florida State vs. Virginia Tech 2/1/20 (+2.5, 133)
Florida State was on a roll until just one week ago. A one-point win against Notre Dame and a 61-56 loss to Virginia has FSU fans worried. Florida State reached the highest ranking in program history since before you and I were born. Virginia Tech has lost two straight to bottom tier ACC teams in Boston College and Miami. These games were both on the road, but Florida State knows they need to rebound with a statement game against Virginia Tech for the rankings and the season.
Key trends: Hokies are 1-5 ATS in their last 6 games following a straight up loss.
Early lean: Florida State, Under

Fordham vs. Dayton 2/1/20 (-24.5, 128)
Dayton has won 10 straight games and will take on a Fordham team that hasn't had the best season. At 7-13, Fordham is averaging 58.3 points per game, while Dayton is averaging 82.7 points per game. At home? No brainer. Dayton will win big at home. Maybe by 30.
Key trends: Flyers are 4-0 ATS in their last 4 games following a ATS loss.
Early lean: Dayton, Over

Kentucky vs. Auburn 2/1/20 (-2.5, 143)
The toughest SEC battle of Saturday is between Kentucky and Auburn. Two ranked opponents will square off at Auburn, where the Tigers are almost unbeatable. Kentucky hasn't been very dominant even during their four-game winning streak. It took overtime to beat Texas Tech on the road and a huge comeback against the league's worst Vanderbilt to win at home. Auburn needed double overtime to beat Ole Miss on the road and found themselves trailing big time in the first half. Whichever team hiccups first will lose. It'll be the road team. Kentucky won't be able to come back at Auburn if they lay an egg early again.
Key trends: Wildcats are 1-4 ATS in their last 5 games following a straight up win.
Early lean: Auburn, Over

Duke vs. Syracuse 2/1/20 (+6.5, 147)
After losing two straight to Clemson and Louisville, Duke has come right back with big wins over Miami and Pittsburgh. Syracuse was on a roll until they took their loss at Clemson by one point. Syracuse has played really good basketball as of late. Each game has been close in their last four games. This game could surprise some people. Syracuse could win as home underdogs with the way they've been playing. I'll take my chances.
Key trends: Orange are 5-0 ATS in their last 5 games following an ATS win.
Early lean: Syracuse, Under

Utah State vs. San Diego State 2/1/20 (-7.5, 131)
San Diego State is undefeated. I keep saying it because 22-0 is no easy feat no matter who you play. But the one team that has the pieces to defeat San Diego State is Utah State. Utah State is on a three-game winning streak and has been winning games by incredible margins just like San Diego State. Utah State has come from behind in some big games earlier this year, like LSU. I expect a damn battle. Utah State should stay in this game and could pull off the road upset. Take Utah State. This team is a ton of veteran leadership and are ready to take on the challenge.
Key trends: Aggies are 4-1 ATS in their last 5 games overall.
Early lean: Utah State, Over
Doc's Sports college basketball handicapping team has set some lofty standards worldwide for college basketball handicapping. Get $60 worth of premium members' picks free . No credit card needed, and you will never deal with a salesman. Get daily college basketball picks on Doc's Sports NCAA hoops predictions page.
---
Most Recent College Basketball Handicapping