Gonzaga Basketball Predictions for Potential National Championship
by Trevor Whenham - 1/16/2020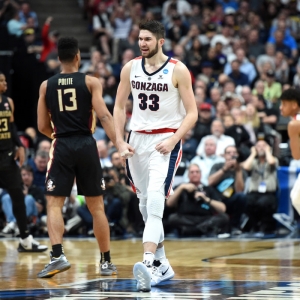 The Gonzaga Bulldogs have been so good for so long now that we just take them for granted. Over the last few years, though, they have found another gear. They aren't just good for what they are. They are among the very best out there. As proof, they are currently the top ranked team in the nation and they are tied with Liberty for the most wins in the nation with 18. Their only loss on the year came in the Bahamas against a Michigan team that was truly dialed in at the time, and it came in a tournament packed with games, so it was far from a bad loss. This is a team that has been very good. And after no other team had shown any interest in being on top of the rankings for any time, Gonzaga is in their fourth week as the No. 1 team and could only be getting started. Since they aren't going anywhere, we might as well take a look at this squad from a few different angles to see what they present us as bettors:
Being on top: There is no hard and fast rule, but it is generally accepted that a team doesn't drop from the top of the polls without losing. That will be tested here, as the Bulldogs will be favored in every game they play from now on, in all likelihood, and only two each against BYU and Saint Mary's are even sort of scary - and Gonzaga outclasses both squads. The team lacks a chance to have any more signature wins, and they are being chased from behind. Baylor actually had 31 first place votes in the most recent poll compared to just 30 for Gonzaga, which is notable because the Bears had had none the week before. Duke is right there as well, and Auburn is undefeated still and looking large. It feels quite possible - perhaps even likely - that a one loss Gonzaga team will drop a spot or two. That means nothing at all, of course - it's all about where they wind up in the tournament. But they will have to be sure both that they don't get complacent and believe their own hype if they stay on top too long or that they don't attach too much meaning to it if they do get demoted. Even more than football, the polls are all but meaningless when it comes down to it - even if it is all the media can talk about at times.
Schedule: The team earned a few quality wins up to this point, beating Oregon, Washington, Arizona and a North Carolina team that has all sorts of issues right now. But the WCC is not typically a strong conference, and this year is no exception. BYU has already lost a conference game, and dynamic leading scorer Yoeli Childs is dealing with a hand injury that could keep him out of the first meeting with Gonzaga. And Saint Mary's is only 2-2 to start conference play, and neither loss was particularly inspiring. The biggest threat to Gonzaga is themselves. They already opened conference play with two games against Portland and Pepperdine that were much more competitive than they had any right to be. They shook off that mini-funk and destroyed San Diego and Loyola Marymount in their next two. But we have seen this program turn off their brains and drop a conference game they shouldn't have several times before - typically to Saint Mary's. It will be crucial that they avoid doing the same, because a top seed in the tournament is such a valuable goal to pursue.
Offense: It's not a particularly meaningful stat in isolation without consideration of competition and tempo, but the Bulldogs have a huge lead in points scored per game, averaging 87.8 per game, which is 3.4 more than any other team. What stands out as well is that they are not a team that does it by being dragged along by a power scorer. Filip Petrusev leads the team with 16.6 points per game, which doesn't even rank in the top 100 nationally. But they have six players averaging double-digit scoring and another at 9.2 per game. They are so deep and talented that you just can't shut them down. If you control someone, the next guy just steps up and makes you pay for it. And they have three seniors and a junior among those top seven scorers, and just one freshman. It is the most Gonzaga of lineups. There are things you could be critical of if you want to - their foul shooting leaves a whole lot to be desired, for example, so there isn't a single guy you would love to see on the line in crunch time. But the lack of a guy the team revolves around, and their complete acceptance of that as a squad, is what makes them such a nightmare to play against.
Betting performance: Other than the foul shooting, another area the team does not exactly overwhelm is at the betting window. They sit at just 10-9 ATS on the season. They have a very friendly home court, but they are just 5-5 ATS there. And they are just 2-3 ATS against the five best teams they have played. This obviously isn't a team that is going to sneak up on anyone anymore, so bettors see them coming from a mile away and have big expectations for them. But they aren't exceeding those expectations enough to be useful. Thanks to that offense and enough defensive focus to be useful, though, they have been much kinder to bettors on the totals. They have gone over the total in 14 of their 19 games on the season and 11 of their last 13.
Doc's Sports college basketball handicapping team has set some lofty standards worldwide for college basketball handicapping. Get $60 worth of premium members' picks free . No credit card needed, and you will never deal with a salesman. Get daily free college basketball picks on Doc's Sports NCAA hoops predictions page.
---
Most Recent College Basketball Handicapping