NBA Betting Help: ATS and Over and Under Hot and Cold
by Cameron McQuade - 3/30/2022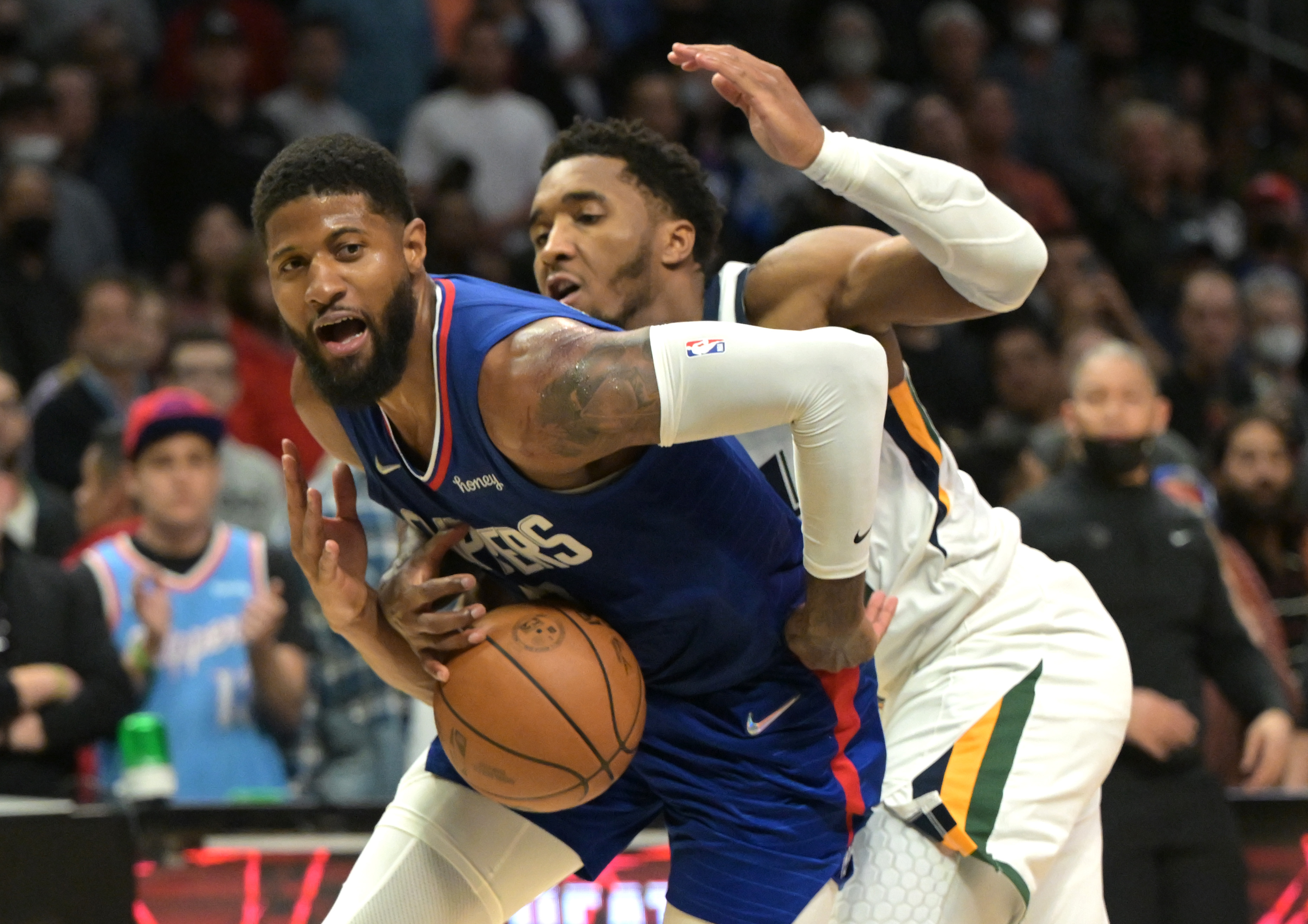 Coming down to the final stretch of the NBA season, there is a ton of meaningful basketball games left. From conference seeding, to making the Play-In Tournament, or just playing spoiler, there will be some fun games to bet on.
We are going to take a look at two hot teams in ATS betting that you need to keep an eye on over the next 11 days, 2 cold teams, that may or may not turn around the trend, and some Over/Under hot and cold tendencies from a few teams around the league!
Doc's Sports offers NBA picks for every game on our NBA predictions page.
Cold Teams ATS:
LA Clippers: formally known as "Lob City', the Clippers have been COLD ATS over the past two weeks. With a season ATS record of 36-39-1, they are in the bottom half of the league for spread betting. The Clippers are 1-6 ATS in their past seven games, failing to even come close to covering most of them. But… I believe the future is bright here. Prior to writing this article, they were actually 0-6 ATS over the past week and a half, then last night happened. Playing the Utah Jazz, LAC's star SG Paul George returned from injury, scoring 34 points & hitting six three-balls. The Clippers came back from a 25-point deficit to win the game and cover the +2.5 spread with ease, winning outright, 121-115. I think the Clippers can end the season strong, especially being the No. 8 seed in the Western Conference. They will be going full force trying to not lose that 8th seed spot.
With that being said, I believe the upcoming spreads are fairly generous towards the Clippers. And being in the position they are in, it's likely they can end the season hot ATS and reverse the trend.
Cleveland Cavillers: The Cavs have been on a cold ATS Streak since March 18th, when they ended the Denver Nuggets road win streak, winning 119-116 (+2.5). With a record of 2-3 after that game, they are also 0-5 ATS during that stretch. Even with two games as a -5.0 (Vs LAL) and -2.0 (Vs Chi) favourites, they took multi-possession losses.
Cleveland has a tough upcoming schedule, playing all teams but one (Orlando), that are still in playoff / Play-In Tournament contention.
With this being said, I think the Cavillers are going to continue their cold trend, starting tonight (03/30/2022) ATS vs Dallas (+2.0). With injuries to Jarret Allen (finger), and Evan Mobley (ankle), they are down their two prized big men that defend their basket and put up high % looks on offense. And with Luka Doncic of the Dallas Mavericks getting his feet wet the past 3 games back from injury, Dallas is ready to jump into the #3 seed in the Western Conference.
Cleveland's playoff outlook is looking sketchy, first being a young team in the play in tournament, and possibly playing a 1st or 2nd seed team if they get through that, looks rough for the Cavs. The bite from the injury bug doesn't help. Keep in mind they have also been missing star point Guard Colin Sexton most of the season.
Hot Teams ATS:
Charlotte Hornets: In my opinion, the most entertaining team to watch in the NBA, are HOT ATS. On the year, the Hornets cover the spread 55.4% of the time, with an ATS Record of 41-33-2 on the season. Over their last nine games, Charlotte is 6-3 ATS, with one game being off by 0.5 to cover +3.5 (03/28 vs Denver). They play the New York Knicks tonight, being -3.0 favorites. As an away team, Charlotte is 21-15-1 ATS, with a cover percentage of 58.3%. The Knicks are possibly without Evan Fournier tonight (Personal), and also have their backup big man, Nerlens Noel, out with a foot injury. Big man Mitchell Robinson also tweaked his leg late in Monday's game, so New York could be thin down low tonight. Battling for playoff seeding, I see the Hornets covering the -3.0 spread today.
Charlotte's trend of covering spreads is most likely going to stick, especially trying to jump to a 6th seed and avoid the Play-In Tournament.
Charlotte's postseason outlook is an interesting one. They currently sit 9th in the Eastern Conference and would be a part of the Play-In Tournament. This being the second year of the tournament, anything can happen. With their team being fully healthy outside of Gordon Hayward, Charlotte can do damage in the playoffs. Having the 8th-fastest paced team in the league, and young bodies, they could out hustle most teams and win any gritty style playoff game. Last season's ROTY winner LaMelo Ball is averaging 25.0 points per game over his last five games and has mentioned his only goal is to win a championship; look out Eastern Conference.
Oklahoma City Thunder: Now I know what you're thinking. How is one of the worst teams in the NBA "Hot"? Well, OKC is 8-1 ATS over their last 9 games. WOW. With big spreads to cover, (since they are always underdogs) and young players like Aleksej Pokusevski trying to prove themselves, the Thunder are almost covering everything. Their cover percentage on the year is 64.8%, the second highest in the league behind the Grizzlies. With a ATS record of 46-25-4, you can definitely feel confident betting with OKC….as long as they're not favorites!
Even with Shai Gilgeous-Alexander being shut down for the rest of the season, I think the Thunder's trend of covering the spread stays. Second-year point guard Theo Maledon has stepped up since, averaging 22.7/6/4.7 over the past week. He is shooting a crazy .512 FG% and .941 FT%. He's on fire.
The OKC Thunder may be losing games, but their players are still trying to put up numbers, allowing them to be one of the hottest ATS teams in the NBA. Ride the wave, ladies and gentlemen!
Over/Under Hot & Cold
Cleveland Cavs: Going back to the Cavs, the over/under for Cleveland this season has made sense. Being a young team that relies on defense to win games, and playing a traditional big man line-up, they are 56.2% of the time hitting the under on games, with an over record of 32-41-1. They have gone under the game total the past two games. With their lack of offense, and now their big men out, allowing other teams to score easier, Cleveland has an interesting over/under total most games, with my prediction being the under for the next two upcoming games and the trend to continue.
LA Lakers: Well, I love this one for over/under point totals. The Lakers have a 43-32-0 for the over, hitting the 57.3% of the time. Having must-win games coming up for LA, Lebron and company will have to put up points. Their defensive ratings are next to brutal, and they give up the 26th most points allowed per game. Going up against the Jazz, Denver, and Phoenix, all top 10 scoring teams in the league, look to hit on the over for the next few upcoming Laker games.
The end of the season is nearing, and we know how most teams play, and what they need. It's a great time for betting, and watching some top-tier basketball games!
Get NBA picks on every single game, or if you want our very best bet premium picks by the experts, sign up for your free $60 account with a guarantee.