Free NBA Picks New York Knicks: Season-Long Handicapping and Specialization 11/6/2023
by Spencer Toth - 11/6/2023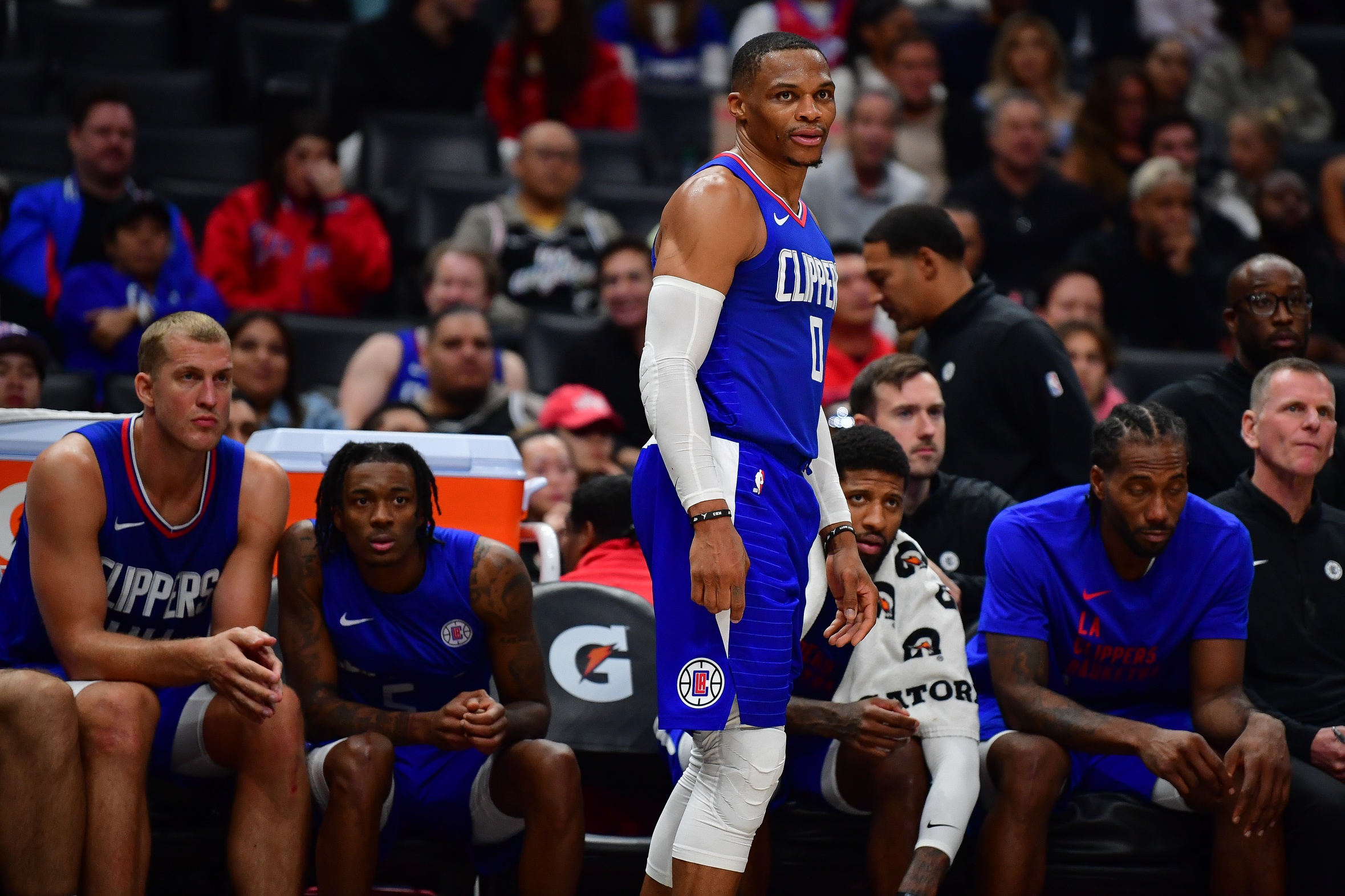 A new look Clippers team rolls into New York, with James Harden set to make his Clippers debut at the world-famous Madison Square Garden. Throughout the season, I will be breaking down every New York Knicks game and giving you the best bets based on matchups, form, and squeezing the most value out of your cold, hard cash.
Doc's Sports offers NBA picks for every game on our NBA predictions page.
On Friday Night, the Knicks fell to the Milwaukee Bucks 110-105, in their first in-season tournament game. The loss leaves them needing a perfect 3-0 run to have any chance of qualifying for the knockout stages and leaves them sitting 12th in the Eastern Conference with a 2-4 record. Jalen Brunson erupted for 45 points, shooting 17/30 from the floor, but it was not enough to get New York over the line on Friday.
From a betting perspective, we went 1-1, locking in a small profit. The Bucks won on the moneyline, which was our biggest bet of the night. And while Lillard cleared his points total of 25.5, we got greedy and took him to get 35+ at +600 odds, but he finished with exactly 30 points. Nevertheless, a profit is a profit, and we will look to keep that momentum in tonight's marquee matchup.
The LA Clippers (3-2) fly to New York to take on the New York Knicks (2-4) before sticking around to play the Nets on Wednesday. The Clippers are equipped with one of the most talented rosters in the league, with Kawhi Leonard, Paul George, and Russell Westbrook all more than talented enough to lead a franchise. When healthy, their fearsome trio can go toe to toe with the league's heavyweights. However, staying out of the doctor's office has been a problem for the Clippers. The front office has decided to truly go all-in, acquiring James Harden to join an already stacked dressing room. George, Leonard, and Harden are all on expiring deals, making the window for a first Clippers championship very slim, and they cannot afford to let this chance slip.
In tonight's matchup, all eyes will be on the Clippers, but this is still a very important game for New York. At 2-4, they cannot afford to dig themselves into a deeper hole, and they will need their role players to support Brunson's valiant efforts to put wins on the board. They rank dead last in PPG and FG%, leaning on their dominance on the boards to grant them extra possessions to mitigate these flaws. In a starting lineup featuring Leonard, George, Westbrook, and Harden, it's easy for Ivica Zubac to be overlooked, but his role will be critical for the Clippers success. Zubac won't be making headlines, but cleaning up the glass is a critical feature of any NBA championship hopeful. Mitchell Robinson has been dominant in the paint. And if the Clippers don't take care of business on the glass, it won't matter what their superstars can do offensively. The Knicks are second in the league in rebounds, while the Clippers are in the bottom half. Those extra 6-7 possessions over the span of 48 minutes can equate to an extra 10 or more points, which will be a real difference maker in the waning minutes of the 4th quarter.
Arguments can be made for the Knicks, as their rebounding and 24.7 PPG game man in Brunson can be game changers, but I struggle to see how the Knicks will keep up with the Clippers throughout the game. Julius Randle has been awful to start the year, as it is abundantly clear that his relationship with Brunson in the backcourt has not been working out. He's forcing bad shots in an attempt to jumpstart his game, shooting just 27.1% from the floor. Against Kawhi Leonard, one of the best defensive players in the league, Randle will need to pass the ball to more favorable matchups and accept his reduced role on offense. If he tries to isolate Leonard, the New York faithful will be in for a very long evening.
The introduction of James Harden throws a real wildcard into this matchup. The former MVP has bounced from team to team over the last few seasons, leaving destroyed franchises in his wake. It could have been a coincidence, but the question surrounding Harden's ability to gel with a locker room full of superstars has only been amplified in recent years. However, whether or not he is the problem, the Clippers will flex their muscles and start the Harden era off with a victory in New York. Russell Westbrook will have a tall task to limit Brunson's effectiveness, but he is more than up for the challenge. Westbrook will take a backseat offensively with the Clippers new talent and will be tasked with shutting down the opposition's floor general on a nightly basis. With RJ Barrett still struggling with a foot injury, and Randle shooting dozens of bricks every time he steps on the court, New York doesn't have the star power to keep this one close. With a spread of just a single point, as long as Zubac doesn't get into early foul trouble and can somewhat hold down the paint, the Clippers will be able to win and cover the razor thin spread. Their plethora of ball handlers combined with truly elite scoring makes them a tough matchup for anyone in the league. And with the current form the Knicks are on, this will be the first, and biggest, bet of the evening.
The second bet of the night is a bit of a shot in the dark, but at 14.5 points I have no choice but to take Harden's over in his debut. He is slated to start. And while it may take him a few games to get back up to game fitness, it won't take much for him to cash this total. I anticipate Harden getting a fair number of shooting opportunities, and a few baskets each half will be enough. The Clippers coaching staff will want to show off their flashy new superstar in LA and will not be stingy in drawing up plays that end with a Harden scoring opportunity.
Finally, we'll take Mitchell Robinson for Over 0.5 Assists at -150 odds. Robinson has been active on the offensive glass. And against the Clippers, he'll have plenty of chances to grab a board, find the open man, and collect an assist. He's got an assist in 3 of his 6 games this season, and a favorable matchup inside will allow him to pick up one more.
Pick: LA Clippers (-1) 4 Units
Pick: James Harden Over 14.5 Points 1 Units
Pick: Mitchell Robinson Over 0.5 Assists -150 2 Units
2023-24 Season record:
ML Record: 2-0
Spread Record: 2-1
Total Record: 1-2
Player Props Record: 1-4
Total: 6-7
Down 0.5 Units
Get NBA picks on every single game, or if you want our very best bet premium picks by the experts, sign up for your free $60 account with a guarantee.