2017 College Football National Championship Futures Odds and Betting Predictions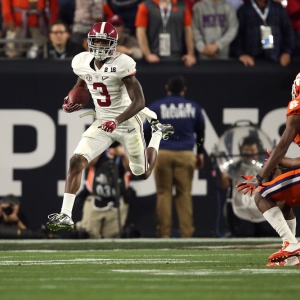 The college football season finally got underway on Thursday night, and it is off to a grand start. That means that it is a good time to make some predictions about who is going to be the last team standing when it's all over. And to look at futures odds for potential value. True value - I started writing this article Thursday morning, but hadn't finished it yet. One thing I had written, though, was how little I respected Tennessee and what a joke their +1200 price was. Nice things going on, I said, but Mike DeBord is a truly horrible offensive coordinator, and the team is too young to trust as much as the odds suggest we should trust them. After that horror show performance on Thursday against Appalachian State, though, I was proven at least sort of correct, but I had to axe that paragraph. At least, hopefully, you didn't bet on them - this team is going to have some real issues this year. Anyway, here's a look at some of the rest of the field (Odds are from Bovada):
Alabama (+600): I don't have an issue with Alabama being favored here. It only makes sense that a defending champion would get that kind of respect. I can't help but be a little nervous, though. The team has gone through some real changes, with a new defensive coordinator not the least of them. They are breaking in a new quarterback and several other key players as well. I don't have any reason in particular to doubt them, and I wouldn't at all be surprised to see them win it all. I just don't think that this price accurately reflects the risk right now.
LSU (+650): This is weird. It was only a short while ago that we were wondering when, not if, Les Miles was going to be fired. Now we are considering the team the second favorite to win it all. I like a lot about the team, and hiring Dave Aranda as defensive coordinator was a very nice move. I just can't shake the feeling, though, that this price is too low.
Clemson (+650): You could call it a lukewarm pick because this year feels more wide open than most, but on this day Clemson is my pick to win the national title. They have last year's experience to build on. They have to travel to Florida State, and hosting Louisville could be a little tougher than it first seemed after the Cardinals' dominating opening effort on Thursday, but Clemson very muchhas a manageable schedule overall. They have the Heisman favorite at quarterback, and no shortage of talent elsewhere on the field. This price, compared to the two discussed before it at least, is more than fair.
Ohio State (+900): This team lost 16 starters. Sixteen! Now, they recruit brilliantly, and are coached as well as they can be. But that's a whole lot to overcome - and they have yet another new defensive coordinator as well. I'm not saying that they can't do it, and the one game of the season that matters most of all comes last when they host Michigan, but there is more uncertainty here than people are giving credit for. I don't like the value here at all.
Michigan (+900): I risk sounding hopelessly homerish here because I make no secret of my Michigan fandom. That aside, though, this price is at least fair. They have the best defensive line in the country, a solid offensive line, a secondary that should be excellent, and a likely competent offense. More significantly, they have a schedule that could easily get them to Columbus at 11-0 if they are as good as they could be.
Florida State (+900): We will have a much better sense of where this team is as soon as Monday night when they face Ole Miss. There is a whole lot to like here, but I am nervous about relying on a redshirt freshman QB - especially against Clemson in the only game that truly matters this year. I don't love the price.
Oklahoma (+1400): The problem with Oklahoma is that winning the Big 12 alone is not likely enough to make the playoff. Because of that lack of a conference title game, the Sooners certainly can't afford two losses and ideally wouldn't have one because we've already seen the committee leave strong Big 12 teams out of the playoff. With Houston this weekend and Ohio State looming, the chances for a damaging loss are high. Plus, though the Sooners are clearly the best team in the Big 12, and the margin should be wide, they always seem to find a way to stumble at some point in the conference, and there are several places they could run into issues - at TCU, or at home to Texas, Baylor or Oklahoma State, for example. No value here.
TCU (+4000): We always need a long shot, and this is a nice one in my eyes. They should have a very strong offense, and the talent is solid on both sides of the ball. The nonconference schedule is manageable, and they get to host their toughest opponent in Oklahoma. I know I just finished saying that the Big 12 is at a disadvantage, but if TCU beats Oklahoma - especially if Oklahoma had managed not to lose yet - then they would be in a very good position. Solid price.
Got free picks? Doc's does. And for new clients we would like to offer you $60 in free member's college football picks from Doc's Sports Advisory Board of college football handicapping experts. Click here to sign up today. We never require a credit card for this offer, and you will never have to deal with a salesman. Also, get three handicappers for the price of one when you sign up for a full-season football package! Click Here for details.
Read more articles by Trevor Whenham