Betting College Basketball Teasers
by Robert Ferringo - 11/17/2009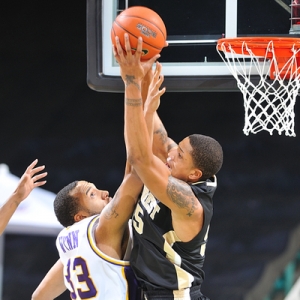 Betting college basketball teasers is a lot like using dynamite. In the wrong hands, someone is likely to lose an arm and a leg. But in the hands of a trained professional you can do some pretty cool stuff.
As sports handicapper, I work teasers into my repertoire of both football and basketball handicapping. While many professionals scoff at the feasibility of successfully using these prop wagers in a long-term betting strategy I feel that I have proven that betting college basketball teasers can work if used properly.
For those of you that aren't aware, a teaser bet is a wager that involves two or more teams in a single bet, where the gambler can pick up 4.0, 4.5, or 5.0 points on the spread. For instance, if I chose to tease Syracuse at -7 and Georgia Tech at +4 I can shift the line to as much as Syracuse -2 and Georgia Tech +9. I have "teased" the lines in my favor, with the stipulation that both games must come through in order for us to get paid.
Depending on the juice and the size of the tease the juice on the wager shift anywhere from -110 to -140.
Now, why would someone decide to start betting college basketball teasers? In my opinion a teaser isn't an attempt to beat the oddsmakers. In fact, the reason that I like teasing games is because I have so much respect for the oddsmakers and the incredible accuracy of their lines.
The books aren't trying to predict the outcome. They are simply trying to balance the action. However, in my experience a good many games fall dangerously close - within a bucket or two either way - of the actual spread. And that's what has me sweating out the last two minutes of a 22-point blowout or gets my heart racing for free throws in the last 20 seconds of games. So my first reason for betting teasers is that if the oddsmakers are razor sharp than we can really skew the numbers in our favor and make that cushion pay out.
I also am a proponent of teasers in football in certain instances. But I feel as if a basketball teaser actually offers the player more value than using one on the gridiron. Even though you can shift a line between six and seven points in a football teaser that represents only one score in a game. That is just one fluke play, random special teams score, or turnover returned for a touchdown from nullifying your cushion. But in basketball the four or five points represents at least a two-possession cushion for the player. And while that seems trivial I can assure you, if I just had one or two extra possessions in a lot of my games I may never lose!
Just like anything in gambling and professional handicapping, knowing when to use a teaser is as much based on feel as it is any type of statistical matrix. There are plenty of instances in which I like (or dislike) a certain team or outcome. And sometimes I'm simply on the fence because I had the number going a couple points either way. Those are generally the games that I target as "teaser worthy".
Further, I like to use teasers when I have top plays on the board as sort of a hedge against a gut-wrenching beat. I have seen and been the victim of beats that would make Jimmy "The Greek" roll over in his grave. So in certain instances I consider a tease on my top plays as a form of insurance.
One example was Monday night. My two top plays were Hofstra (-7) and Charlotte (-11.5). I had one rated as a 2-Unit Play and the other a 3-Unit Play. However, a sinking suspicion came over me that while I liked both spots the numbers were really tricky and worth getting down. So I threw in a teaser on both games for 1.5 Units, which gave me Hofstra (-2) and Charlotte (-6.5). Well, Hofstra was up eight points with eight seconds to play, only to watch Yale knock down a meaningless three-pointer. The Pride won by just five points and our side was sunk by a tough, tough beat. However, because of the savvy teaser play on the game I still managed to earn a decent profit, as opposed to the modest one that I would have settled for after getting backdoored.
Another situation in which I like to use teasers is to offset heavy line movements. A perfect example of how this can be effective was the Louisiana-Monroe game against LSU last Friday night. This game was released from the LVSC with UL-Monroe as a 22-point underdog. I instantly circled the game as one of my favorite plays of the evening. However, overnight the line had plummeted to Monroe +17.5. Well, in my eyes that completely changed the value of the wager. However, by employing a five-point teaser I was essentially able to buy back the five points while pairing it with another dog that had been taking heavy action (Wofford). Wofford covered easily against Pittsburgh, but Monroe ended up losing by 20 points. Had we not teased that game up we would have split with our two puppies and lost the juice. Instead, we earned the cash.
Those are some situations in which a teaser can be a decent value wager. But not every bet calls for a teaser. And while I just gave an example of two situations in which these plays worked out in my favor there have been numerous times where they actually cost me a winning night.
One situation in which you never, ever want to use a teaser is on a totals play. If you are teasing a spread from +5 to +10 you have exponentially increased the odds of your wager winning. (You may think you have doubled your odds, but it doesn't work like that.) However, if you try to tease a total you are essentially dumping a glass of water in the Pacific Ocean. If you tease a total that is, say, 125.0 than you have only adjusted the total by four percent. Considering that you have shifted the juice on your wager by 16 percent (from -110 to -130) you are on the wrong end of the numbers here.
Also, I don't recommend teasing a game through 'Pick' or teasing a game that's +/-2 or less. Just because a game is posted at -1.5 doesn't mean that it's going to be a close game. Again, the books aren't trying to predict the outcome with the spreads. And in my experience these games are just as likely to be decided by eight or 10 points as they are four or five.
Finally, don't play a game because you don't like the number where it's at but you suddenly like it when you're getting four or five more points. That generally doesn't end well. If you don't like a number there is a reason for it and shifting the spread a few points doesn't always make it a better play. The games I tease are - generally speaking - games in which I would feel confident betting the side as it is.
Remember: when you are betting college basketball teasers you are counting on the skill of the oddsmakers, not trying to trump it. Be judicious with these plays and the teaser can be a valuable weapon in your gambling arsenal.
Robert Ferringo is a professional handicapper and he has gained nearly +300 Units over the past three college basketball seasons. You can purchase his college basketball picks here.
---
Most Recent College Basketball Handicapping