2011 Big 12 Basketball Predictions and Futures Odds
by Robert Ferringo - 11/2/2011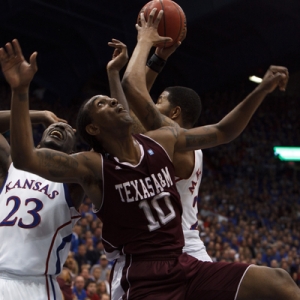 The door is wide open in the Big 12 this year.
Kansas and Texas have been the power at the top of this conference for the better part of the decade – with Kansas boasting seven consecutive league championships. But those two programs lost a combined nine of 10 starters and 114 points worth of offense. Needless to say, KU and UT will be a step slower this year.
But just because these two programs are "rebuilding" does that mean that someone in the Big 12 will step up and take the crown? Four new coaches – Billy Gillispie (Texas Tech), Frank Haith (Missouri), Billy Kennedy (Texas A&M) and Lon Kruger (Oklahoma) – will try to find out. And how quickly they adapt compared to how quickly Kansas and Texas reload will determine the direction this league is headed this season.
Instant $250 Free Bonus Bet from Bovada -
CLICK HERE
Here are my 2010-11 Big 12 Basketball Predictions to help you with your college basketball picks (with odds to win the league title in parentheses):
The Favorite: Kansas (+175)
The Jayhawks have won or shared the league title in an amazing 11 of 15 years in Big 12 play. So even though they lost the entire foundation from last year's squad the Jayhawks were the unanimous selection by the Big 12 media as the conference favorite.
The Jayhawks lost five of their top seven scorers and now role players Thomas Robinson and Tyshawn Taylor are being looked to for leadership and, more importantly, production.
So much of Kansas' identity the last two years was tied into the Morris twins that I don't know how they immediately move past that.
Their recruiting class isn't star-studded. But if there is talent on this roster Bill Self is going to find it and put it to good use.
Kansas is not a national title contender this year. But until someone proves otherwise they are still the dominant force in the Big 12.
The Challenger: Baylor (+150)
Yeah, I'm not sure how Baylor's odds were placed lower than Kansas's either. But I know I'm not buying it.
The Bears had high expectations last year as well, opening the season No. 17 in the nation, only to miss the NCAA Tournament while bumbling their way to a 7-16 record against their college basketball odds.
Coach Scott Drew is like a poor man's Rick Barnes: a great recruiter, but a debacle as an in-game coach.
This team has one of the most physically gifted frontcourts in the country, led by Perry Jones, Quincy Acy and Anthony Jones. But I don't know that any of those three are capable of taking over a game.
And college basketball is about guard play, but I don't see a single difference maker in the backcourt. Point guard A.J. Walton is solid. But that's not good enough.
Departed two-guard Lace Dunn used to hold the offense hostage, but at least could score from the perimeter. That is something that this group is severely lacking.
Don't believe the hype here: this team will find its way to the middle of the pack.
The Dark Horse: Texas A&M (+500)
Texas A&M has been one of the most underrated teams in the country, posting a winning ATS record for the season in seven straight years. But are they ready to step up and be a national player this season?
Unlike Texas and Kansas, the Aggies return a solid core of veteran players led by do-it-all duo David Loubeau and Khris Middleton.
They have plenty of size, they defend better than anyone in the league, and a three-year starter at the point in Dash Harris leads them. All of the pieces are in place for A&M.
However, the team was thrown a curve when former headman Mark Turgeon bolted for Maryland in the offseason. A&M brought in former Murray State Coach Billy Kennedy but, unfortunately, Kennedy has been diagnosed with Parkinson's disease. That leaves career assistant Glynn Cyprien as the unwitting leader of this ready-to-take-the-next-step crew.
This is one of the most unique situations in the league. And while A&M is always a better underdog than a favorite, I think they have the goods to be a real player here.
The X-Factor: Texas (+650)
The Longhorns have had a whirlwind of talent come through their doors over the last five years. But it hasn't added up to anything of substance in Austin and this year the club is starting over from scratch.
They lost all five starters and are pinning their hopes this year on a crop of highly-rated, but unproven, freshmen.
Holdover J'Covan Brown has a lot of breakout potential, and by all accounts rookie Myck Kabongo is the real deal.
But Rick Barnes is a terrible in-game coach and I wouldn't say that he s a "developer" of talent as much as he is a "collector" of it. And, much like rival Kansas, there are a lot more questions than answers.
The Longhorns don't have the juice to win this league. However, because they do have top-end talent they should be a spoiler and help decide who does.
The Surprise Team: Missouri (+650)
A month ago I was salivating at the earning potential of this explosive, talented Missouri bunch. But then Laurence Bowers, the team's best interior defender and top post player, blew out his knee and impact transfer George Goode withdrew from school.
The Tigers were already extremely thin along their front line. Without Bowers and Goode they are almost invisible at the rim with just three players on the roster standing 6-8 or 6-9.
Missouri has one of the best backcourts in the country with Marcus Denmon and Kim English. And if they go to a four-guard lineup with Phil Pressey and Michael Dixon this team will be able to run some teams off the court.
New Coach Frank Haith was hoping to scale back the full-court pressure implemented by his predecessor, Mike Anderson. But with such a small lineup it will be tough to pull off.
This team is dangerous. And I have a feeling that their guards are good enough to keep them on the national map for most of the year.
The ATS Machine: Iowa State (+2000)
I don't think anyone can say definitively how Iowa State is going to come together this year. However, that doesn't make them any different from just about any other team in this conference!
The difference is that the Cyclones are trying to forge a contender out of a crop of experienced college performers, even if they have never played together.
Up-and-coming Coach Fred Hoiberg will have a bevy of skilled shooters to work with, including transfers Chris Babb (Penn State) and Chris Allen (Michigan State) to go with holdover Scott Christopher. They also have a trio of talented forwards, freshmen stud Melvin Ejim and transfers Royce White and Antony Booker, and intriguing freshman Tavon Sledge.
There are a lot of bricks, but no one knows what the building will look like. Iowa State has a cupcake schedule and should definitely improve on their last-place finish in the Big 12 last season. In fact, I think that they will be in the mix for an NCAA Tournament berth.
Because no one sees that coming I think that there will be a chance to clean up with this team through most of the year.
The Disappointment: Kansas State (+1200)
If Coach Frank Martin was that angry when the Wildcats are winning there is a good chance that his head might actually explode this year.
Exceptional guard Jacob Pullen has graduated, and that has created a vacuum in an already underperforming K-State backcourt.
The Wildcats could overcome shaky guard play last year because they were physically dominating on the interior. But now, while they still have exceptional size and physicality underneath, the Wildcats frontcourt isn't nearly as talented as it has been in recent years.
Last year their best offense seemed to be to throw the ball at the hoop and convert offensive rebounds. I don't think even that will be an option this year.
K-State has won 20 or more games in four of five years. They have some national profile now and they have some marquee nonconference games this fall.
But I think this program – which really came out of nowhere when Martin took over – is due for a regression this year and this is a team I am definitely looking to bet against.
The Rest:
Oklahoma (+2000)
Lon Kruger has proven that he is a legit coaching commodity. He left a solid UNLV program that he helped rebuild for another reclamation project in Norman.
OU was pathetic last year, and outside of some average defense there wasn't much they did well. And this year, while the rest of the league is rebuilding and restocking, this team may actually be hindered by the fact that they will be relying on the same mediocre players.
Juniors Steven Pledger, Andre Fitzgerald and transfer Romero Osby ensure that the cupboard isn't completely bare. But there isn't much high-end talent here and OU's roster looks more like a hodgepodge of random dudes than a cohesive unit with clearly defined roles.
Kruger will change that. And this team could surprise some people. But I think the ceiling is still pretty low.
Oklahoma State (+1500)
I am a big fan of Travis Ford. But heading into his fourth year in Stillwater I don't see a ton of progress with this program.
After a yawn-inducing nonconference slate the Cowboys weren't very competitive in league play last year. Now they lose two of their best players and are left with a piecemeal roster.
Point guard Keiton Page is a gamer and J.P. Olukemi has some potential. But the key to this season falls on the shoulders of freshman sensation LeBryan Nash. Even if Nash is as good as advertised (which is never a given with freshmen) this team still lacks depth and scoring punch.
I expect Ford's seat to start to get warm sometime around mid-February.
Texas Tech (+5000)
When last we saw Billy Gillispie he was way over his head and getting chased out of Lexington. But prior to that he rebuilt both UTEP and Texas A&M with defense and a gritty approach.
He will try to do the same with the Red Raiders, who were among the nation's bigger disappointments over the last three years under Pat Knight. Gillispie is really starting over here, as Tech lost five of its top six players from last year's senior-laden club. What remains is a mess of transfers and freshmen that I don't see headed for anything but another terrible season.
Projected Big 12 Standings:
1. Texas A&M*
2. Kansas*
3. Baylor*
4. Missouri*
5. Texas*
6. Oklahoma State
7. Iowa State
8. Oklahoma
9. Kansas State
10. Texas Tech
*Projected NCAA Tournament Teams
Robert Ferringo is a writer and a professional sports handicapper for Doc's Sports. He is considered one of the best college basketball handicappers in the country and has earned his $100-per-Unit clients over $30,000 in the last five years with his nonconference handicapping. He has produced three consecutive profitable seasons and four of five winning years overall. You can sign up for his college basketball picks and get more information here.