2009-10 Big 12 Football Predictions
by Robert Ferringo - 8/12/2009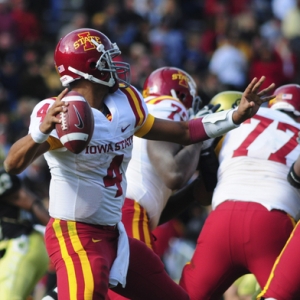 The SEC clearly rules the roost in regards to college football. But looking at the depth, skill, and experience around the Big 12 this year I think that the Midwestern conference is ready to go toe-to-toe with the champs for conference supremacy.
The last time that these two conferences went up against one another was the BCS National Championship Game and, predictably, the SEC representative (Florida) overpowered and outmaneuvered the Big 12 club (Oklahoma). This year the Gators are again the favorites and once again their primary competition for the crown is predicted to be a run-and-gun squad from the Big 12, either Texas or Oklahoma. Also, a marquee nonconference game between Oklahoma State and Georgia highlights the opening weekend card while an intriguing Texas A&M-Arkansas matchup will take place on Oct. 3 in Arlington. Neither game will truly let us know which conference is better. But they will give us a glimpse in how they stack up.
The Big 12 welcomes back the most all-conference first- and second-team players of any league in the nation (26), while the SEC is No. 2 (24). Further, the Big 12 has the reigning Heisman winner (Sam Bradford) and this year's front-runner (Colt McCoy). All 10 of the league's top rushers in 2008 are back this season and they scored No. 1 on my Returning Talent Scale with a score of 79 (37 on the Elite portion). That said, the SEC was nipping at its tail with a 78 (36 Elite) in the No. 2 slot.
These are the best two leagues in the country and should provide us with two of the best races in the country. And given the fact that they are the most talented and most experienced conferences around I think it's a safe bet that they will be squaring off for the national title yet again.
Here are my 2009 Big 12 football predictions to help you with your college football picks:
The Favorite: Texas
Longhorns, you're up. Texas is No. 2 in the country and is, allegedly, the team most prepared to rumble with a certain team from The Swamp. They have the skill and grace of the swiftest Big 12 offense. Their defense is angry and athletic and guided by a former SEC savant, Will Muschamp. The pieces are in place and Texas has a chip on its shoulder. But nothing is guaranteed. Texas has two obstacles to the Big 12 Championship Game, which is a prerequisite for a date in the BCS title game. The first is the Red River Shootout with Oklahoma. The second is a trip to Stillwater two weeks later to face Ok. State. The OU game is clearly the bigger of the two. But if they were to lose to State, and State loses to OU, and there's a three-way tie in the South then, well, they've been down this road before.
The Challenger: Oklahoma
Kind of odd to see Oklahoma as the challenger. Especially with the Heisman Trophy winner, seven first-team Big 12 performers in the starting lineup, and four of five conference championships in their pockets. Um, these guys are good. But after a 10-3 season against the spread look for oddsmakers to make their games nearly unplayable. OU does have some offensive line issues. And some tricky nonconference tilts against BYU and at Miami. But the bottom line is that Oct. 17 they're playing for the Big 12 title having lost three of their last four meetings with UT.
The Dark Horse: Oklahoma State
The definition of sleeper, Oklahoma State has the tools and talent to knock off the Sooners and/or the Longhorns. Zac Robinson, Kendall Hunter, Dez Bryant and Russell Okung are the best QB-RB-WR-LT combination in the country. Good luck stopping them. And although their defense was exposed as soft in their bowl loss to Oregon there are still six returning starters and eight senior starters in the fold. They get Texas at home but have to play OU in Norman. However, if they can earn a split and stay unblemished through their favorable Big 12 schedule then they could luck their way into the Big 12 title game. Texas Tech came close last year. Ok. State could be the one.
The X-Factor: Nebraska
Oh yeah, then there's the Big 12 North. The weak sister of the conference poses little threat to the Big Boys. But the Huskers are the likely challenger from the North. And if that is the case then they will be the last obstacle between one of the South teams and the BCS title game. Bo Pelini has the right idea with this team, instilling a physical brand of football depending on running the ball and playing defense. Problem is he doesn't have the horses. But this team will be bowling.
The Surprise Teams: Baylor and Texas A&M
I gotta say, I think there is something to this Baylor team. They have won more than five games just once in the last decade. But with 16 returning starters, eight three-year starters, and a clear mission to get to their first bowl game in 15 years I think this team can be dangerous. They went 8-3 ATS last year, which tells me they were better than their 4-8 record would indicate, and if they can split against Wake and Connecticut in the nonconference then I can see six wins on the horizon for this group.
Texas A&M is another very live dog out of the South. Yes, they are going to get smoked by Oklahoma, Ok. State, and Texas. But other than that there is not one game on their schedule in which they can't win. They have three senior starters on an improved offensive line and a secondary that can at least compete with some of the better passing games. If they can take down Arkansas in Arlington in early October then there is a realistic shot at the Aggies going 7-1 or 6-2 to start the season. That would be a solid sign of progress for a team that lost its last seven games last year by an average of 25.1 points.
The Disappointment: Missouri
After back-to-back North titles and a 22-6 record the past two years Missouri has really placed itself among the Big 12's elite. Not this year. Not at all. They have just nine returning starters, a Swiss cheese defense, inexperienced wideouts, and a new quarterback. Oh, and they draw Texas and a game at Oklahoma State out of the South. This has the makings of a very painful year for Gary Pinkel's boys and I think that six wins and a fifth straight bowl game would take some serious work. And I don't see it happening.
The Rest:
Kansas – Rock, chalk. Kansas still has an offense that can score on any defense at any time. Their skill players are all legit and there's a strong chance of a 5-0 start to the year. But their defense is still standing in the way of them being a true contender for the Big 12 crown. They only get three home games in conference (they play Mizzou on a neutral site) and they have to face Oklahoma and Nebraska. It's going to be tough sledding. But after going 18-6 ATS over the last two years and with the best quarterback in the North leading the charge this team is one to watch out for.
Texas Tech – I think the Red Raiders are set to come back to Earth coming off one of the best seasons in program history. They were absolutely loaded with experience last year and managed to win three games by a touchdown or less. Their 10 three-year starters and nine senior starters ensure that there will some cushion to this club's fall but TT won't just disappear. They have won eight games or more in seven straight years and have the schedule to pull that off again this season.
Colorado – The Buffs are a tough team to figure out in year four of the Dan Hawkins Era. On the one hand I really like their skill players on offense and they seem to possess a tough defense when needed. But can they turn the corner? They haven't finished better than .500 in any of the past three years and their 14-21 ATS mark is pretty pathetic. Their schedule is brutal and they can't compete with the top tier. So I am going to be watching closely as to how to deal with CU.
Kansas State – You know, the Wildcats only play one 2008 bowl team in the first eight weeks of the season. So there is no real reason that they can't compete. Bill Snyder is trying to recapture that old magic – and that pretty much never works out, for anyone – but he really doesn't have much to work with. The talent level is just not that high and a new system isn't going to help while it clashes with the little experience that they have.
Iowa State – They are still going to suck. But after going 5-19 the last two years I can say that Iowa State might be more competitive. Kind of. Only four times in 2008 did the Cyclones face double-digit spreads, so the oddsmakers clearly think this group can play with other squads. Colorado, for example, faced five DD numbers. Iowa State has a maturing quarterback in Austen Arnaud and four starters back on the o-line. But with a first-year coach and a still suspect defense the ceiling here might be six wins. But after three straight losing seasons I think they'll take it.
Robert Ferringo is a professional handicapper and you can purchase a full season's package of his football selections for just $25 per week! Click here for details.
---
Most Recent Fall Football Preview