2011-12 Chicago Blackhawks Predictions with NHL Futures Odds
by Trevor Whenham - 9/26/2011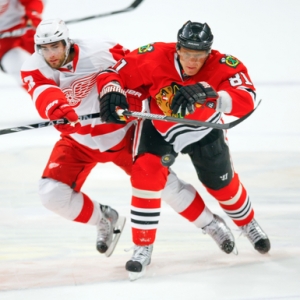 Defending a title is very hard. Two years ago the Blackhawks were impressively dominant en route to hoisting the nicest trophy in all of sports. Last year they sputtered all season, and barely managed to grab the last spot in the playoffs.
They gave Vancouver a tough fight once they did make the playoffs, but ultimately they just couldn't overcome the problems that had plagued them all year.
This year they will operate a little bit further from the spotlight, and they certainly have top-level talent, so it will be interesting to see if they can get back to the higher heights that they should be operating in.
Chicago Blackhawks Offseason Moves
The team had most of the talent they need, so they didn't do a lot to change their squad this offseason. The only real changes of note happened on defense.
They got rid of frustrating defenseman Brian Campbell and brought in some tough journeyman types like Steve Montador and Sean O'Donnell to add depth and grit behind the blueline. The defense, which is already pretty good with stars Duncan Keith and Brent Seabrook leading the way, should be better this year.
The biggest story of the offseason was that they tied up Patrick Sharp for five years at a fairly reasonable price.
Chicago Blackhawks NHL Outlook
The team needs goaltending. That was what got them going in the wrong direction last year. Marty Turco was brought in to be the starter, but the 35 year old was not up to the challenge, and he was not brought back this year. Corey Crawford stepped in, and the rookie was solid.
The sophomore year for a goalie can be rough as teams learn your tendencies, so it is far from certain that Crawford will take another step forward this year. The backup will either be untested Alexander Salak or Ray Emery, a guy who has more baggage than any player in the league. Neither guy is a sure thing, so the fate of this team is again tied to the play in net far more than it should be for an elite team.
The core of this team is intact, and it's as good as any in the league. Sharp, Patrick Kane, Jonathan Toews, and Marian Hossa up front, and Keith and Seabrook as the best defensive pairing in the league make up one heck of a group. Of course, they were all there last year and the team was only barely good enough. They need to get back on the right track this year, though it's not hard to believe that they can do so.
What's striking about that core is that all of them except Hossa are home-grown, Chicago drafted players. That is by far the best group of such players in the league, and that's a huge credit to this organization. There are a couple of young guys who should get a chance to step up and continue that tradition last year.
Defenseman Nick Leddy played about half the season in Chicago last year. He was brilliant at times, but inconsistent. He might not start with the big team this year, but within a season he should be an established Top 4 guy. Forward Marcus Kruger played a dozen games last year. He nicely combines offensive pop with toughness and the willingness to sacrifice his body.
2011-12 Chicago Blackhawks Schedule
These guys have seen a whole lot of Vancouver in the playoffs the last couple of years, and they have developed a very healthy hatred for each other. They will play four times during the regular season, with the first coming on Nov.6. It could be fun to watch.
Chicago Blackhawks NHL Futures Odds (from Bodog)
The oddsmakers see this team as a legitimate contender, though they are understandably hesitant after the struggles of last year. At 12/1 to win the Stanley Cup they are behind six other teams. I think that is a very fair price, and more attractive than Philadelphia and Pittsburgh at their lower odds. They are the fifth choice to win the West at 13/2.
2011-12 Chicago Blackhawks Predictions
I like this team. I would love them if I believed in their goaltending, but I don't. At best they will be fine in net, but they will still be behind the best teams in the league in that crucial position. I wish they had done more there, but I suppose it could be worse.
I think that the core talent is going to be more focused and less tight, and that should help them perform back at a high level. They are definitely good enough to make the playoffs, and I expect them to make a good fight for home ice advantage in the first round.
Though there are teams I like more than this one I would not be surprised to see them unleash a big run again. They are a very elite team, and there is some value in their futures.
Doc's Sports is geared up for another profitable NHL picks season. Picks will be available starting Oct. 7. We have one of the premier NHL handicappers in the business and he knows the sport inside and out after betting the sport for years. Early Bird specials will be posted soon, so check our homepage regularly.. Also, check our home page daily updated NHL lines, hockey betting articles and daily matchup reports.