2011 College Basketball: Baylor Predictions and Bears Futures Odds
by Aaron Smith - 11/4/2011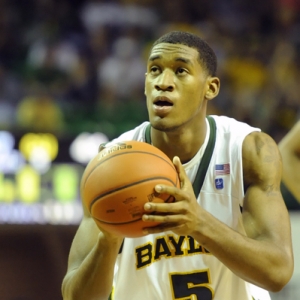 Two years ago, the Baylor Bears nearly knocked off the Duke Blue Devils to get into the Final Four. Expectations were high heading into last year, and the team started 7-0. After the quick start against some cupcake opponents, it was all downhill from there.
The team that was ranked in the Top 10 a few weeks into the season didn't even come close to making the NCAA Tournament. In the end, Baylor finished 18-13 and just 7-9 in the Big 12 Conference.
Despite the underwhelming season, Baylor fans had to love what they saw out of Perry Jones III. He averaged 14 points and seven boards in an impressive freshman campaign. More help is coming in the frontcourt.
Can Baylor's talented frontcourt lead this team back into the NCAA Tournament?
2011-2012 Baylor Bears Outlook
The Bears might not have sniffed the Top 25 last season, but the preseason Top 25 puts the Bears at No. 12. The Bears won't have the services of the program's all-time leading scorer, but they'll still have a ton of talent, especially in the frontcourt.
Jones has the potential to be one of the most dominant players in the country this year. In fact, many NBA scouts believe Jones has the highest upside of any player in college basketball.
He will almost undoubtedly be a Top 10 draft pick whenever he enters the draft.
What makes Jones so special? At 6-foot-11 he is a physical specimen who can also run the floor as well as anyone. It would be tough to find another player his size that can handle the ball so well, and he has an amazing ability to take the ball to the basket.
Jones has a nice partner in the frontcourt in Quincy Acy. Acy should benefit from Jones getting a lot of attention, and I think Acy will average a double-double this year.
A.J. Walton showed flashes of brilliance in the backcourt last year, but he was too inconsistent. Walton turned the ball over far too often, and he ended up losing some playing time due to his carelessness. If the Bears can get solid play out of the perimeter players, they will be tough to beat.
Baylor Bears Basketball Additions/Losses
LaceDarius Dunn was Baylor's all-time leading scorer, but he graduated at the end of last year. Dunn was an ultra-talented player who flourished early in his career, but he seemed to contribute to some of the team's problems last season. Dunn took 33 percent of the team's shots, and he shot less than 40 percent from the floor.
Coach Scott Drew did a great job bringing in a couple very talented players that should help out right away. Quincy Miller might be the best power forward in the 2011 recruiting class, and he should help make this Baylor frontcourt nearly unstoppable. Scouts rave about Miller's athleticism and his explosiveness. As he teams-up with Jones and Acy, Miller should be a major factor in his freshman campaign.
Pierre Jackson is a junior college transfer who should help shore up the Bears backcourt.
2011-12 Baylor Basketball Schedule
Baylor will feast on quite a few easy opponents in the nonconference schedule, but there are a few tough games thrown in to keep them honest.
In December the team will make a trip to Evanston to take on Northwestern. A couple weeks later, they will travel to take on the BYU Cougars in Utah.
The team will also take part in the Las Vegas Classic in late December, where they will play St. Mary's and West Virginia. Even though Kansas won't be the team they have been in the past few years, the Bears trip to Lawrence on Jan. 16 should tell us a lot about this team.
2011-12 Baylor Bears Futures Odds
Bookmaker lists Baylor at +1,500 to win the NCAA Championship this year. What about the team's chances in the Big 12? 5Dimes lists Baylor at +160 to win the Big 12 Conference.
Most books list Baylor as the slight favorite to top the Big 12 this season.
2011-2012 Baylor Predictions for College Basketball
It will be hard to find a team that can match Baylor's frontcourt presence this year. In fact, I don't think there is a team on the Bears schedule that can handle them in the frontcourt.
On the other hand, Baylor's backcourt could be a bit of a liability. The Bears don't need their perimeter players to be stars, but they need them to take good care of the ball, and knock down an occasional three-pointer.
I expect big things from this team in the year ahead. Look for Baylor to get into the NCAA Tournament as a No. 3 seed. I think the Bears will do some damage in the tournament before falling in the Elite Eight.
Doc's Sports has been gearing up during the fall and cannot wait for the start of the 2011-12 College Basketball season in mid-November. Doc's Sports employs a full-time college basketball handicapper that focuses on college basketball picks all year around. Over the course of the last five years, Doc's Sports has picked up +453 units and this has allowed $100 bettors to make a profit of +$13,971. Doc's finished out the 2011 NCAA Tournament on fire, hitting four straight Top Plays, and they fully expect to pick up right where they left off. Jump on our full season package for just $725 and this gives you access to every pick that we make through the Final Four in April of 2012. This is our Early Bird price, and it won't last long!
---
Most Recent College Basketball Handicapping