2009-2010 College Basketball Futures Odds and Predictions
by Robert Ferringo - 12/8/2009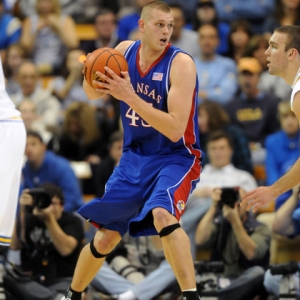 We are just about at the quarter-pole for the college basketball season and one thing is abundantly clear: the race for the NCAA National Championship is wide open.
Kansas and Texas started the season as the consensus favorites to cut down the nets in Indianapolis this April. And to this point neither has done much to make the general public think to the contrary. However, while I agree that those two schools are the clear No. 1 and No. 2 contenders I would also say that neither is even close to the shoo-in Final Four favorite that North Carolina was heading into last season.
Beyond that pair it is parity all the way across the national landscape. And this is exactly the type of season where I'm glad that I didn't make any college basketball national championship futures bets.
Below is a look at the Sweet 16, the 16 teams that, generally speaking, are considered the favorites to win the national championship. And, although I don't have stats to verify, these are likely the 16 teams that have taken the most action among college basketball national championship futures bets. I have broken them down into four categories: the top tier, the second tier, the sleepers and the pretenders.
I was not able to find any current NCAA men's basketball national championship futures odds. So instead I posted the opening odds for each school heading into the season. Obviously the numbers will look a lot different when new national title futures odds are released, but I think that it's helpful to look at where teams started when considering where they are in order to see how they are trending.
Here is a look at 16 teams and their men's college basketball futures odds outlook:
Top Tier
Kansas (4-to-1) - There are three reasons that the Jayhawks are the favorites to cut down the nets in Indianapolis this year. The first is Cole Aldrich, who is the most influential player in the college game. What I mean by that is that no other player has as profound of an impact on both ends as the massive center. The second is Sherron Collins, a big-shot taker and big-shot maker and one of the best point guards in the country. That is a must for any title contender. And the third is their defense, as this team can lock down any opponent in the half court. That said, this team has not shown me that "extra gear" that I feel that championship teams have. I'm not a fan of some of their individual players (the Morris twins in particular) and I think that there are some other teams with size (Syracuse, Florida and a healthy Michigan State come to mind) that can matchup with the Jayhawks. That said, they are clearly Final Four quality.
Texas (7-to-1) - In my opinion the Longhorns are presently the best team in the country. And they fit my so-simple-it's-kind-of-foolish championship criterion: find the team with the most future NBA players and bet on them. That's Texas. This team is loaded. And they can play any different style and beat you a variety of ways. They rebound, they defend, and they can shoot, get to the basket, pound it inside, and get up and down. They're a machine. Now, that said, they don't have a player in their backcourt that can control a game. Jai Lucas may be that guy once he gets eligible. And he needs to be because Dogus Balbay gets out of control. Also, I do not believe that Damion James is a legit go-to guy. He is a skilled player. But I'm just saying: if Texas is in a position where they need James to go one-on-one for a final shot to win the game, they are in trouble because he's not That Guy. Finally, this team has talent but lacks cohesion. You don't just throw guys together and win a title; you need to grow together. I just don't know if there will be time with this group before they are all collecting paychecks.
Purdue (12-to-1) - The Boilermakers are not the most athletic team in the country. But they have already shown that they can beat uber-athletic squads with their win over Tennessee in St. Thomas. And while I hate to have a Big Ten team in the top tier I feel this group has the moxie to make a Final Four run. Purdue is not shooting the ball well yet and they miss Lewis Jackson more than I thought they would. But they have the tools to get the job done: stellar point guard play (E'Twaun Moore), a legit go-to guy (Robbie Hummel), an NBA talent in the post (JaJuan Johnson) and several key bit parts that includes defenders, shooters, and experienced players that are used to playing with one another. But can all of that make up for the lack of top-end athletes? We will see.
Second Tier
Villanova (14-to-1) - This group was good enough to storm into the Final Four last year and brought back as much backcourt skill and experience as any group in the country. Their lack of proven interior players hasn't slowed down this team yet and they haven't nearly peaked. But I feel like we've been down this road with guard-heavy Villanova teams before. And it never seems to end well for them.
West Virginia (15-to-1) - The talent is there. The attitude is there. The defense is there. The toughness is there. The ability to matchup with any style and any talent level is there. The NBA-caliber go-to guy (Da'Sean Butler, who may be one of the most underrated players in the country) is there. But I still feel that this team doesn't have the chemistry to win it all. I don't trust their point guard situation and we have seen enough Bob Huggins March meltdowns to know he can't be trusted. I would like this team's chances a lot more if expectations weren't nearly as high.
Michigan State (6-to-1) - Injuries and a bit of a hangover from last year's run to the title game have slowed the Spartans down quite a bit. They have been one of the worst bets in the country so far (1-7 ATS) and have looked uninspired at times. But where Huggins is mediocre in March, we know that Tom Izzo is a magician. He'll have his team ready to make a run. But the same shortcomings that got them last year will likely creep up again.
Duke (16-to-1) - I will admit that this Duke team is looking better than I thought it would. However, no true point guard means no title. They have size, shooters, and more athleticism than they have had in six or seven years, and a pair of go-to guys in Jon Scheyer and Kyle Singler. But Duke also has the added pressure of having that big blue bull's eye on their chest. And I don't think they have enough NBA talent (and by "enough" I mean "any") to be considered a solid wager.
Sleepers
Syracuse (25-to-1) - It's tough to be a "sleeper" when you're one of the best programs in the country and you're currently in the Top 10. But this team came out of nowhere to find that perch and I feel like a lot of people (myself included) don't know the true ceiling (or floor) of this team. But their chemistry is undeniable. Obviously they still have a lot to prove and a long way to go before we can get too excited. But Wesley Johnson looks like he could adopt the Carmelo Anthony role on this team and carry a talented bunch of gutsy role players deep into March.
Ohio State (40-to-1) - When their perimeter players finally get in sync (they have not been, yet) than the Buckeyes can create matchup nightmares for anyone. Dallas Lauderdale is an underrated interior force but I'm not sure he'd be enough against a team like Kansas. However, this team has the athletes to be dangerous and at these odds are looking like a solid value play.
Tennessee (35-to-1) - The Vols style of play - frantic, up-and-down, street-ball - doesn't lend itself to success in the NCAA Tournament, where execution is critical. But there is definitely not a shortage of top-end athleticism and talent on this roster. Tyler Smith is a stud and the Vols appear to be shooting the ball better from the outside than in year's past. When it comes down to it, they can't be trusted to take care of the ball or get a stop. But if the light switch comes on this group is one of the few in the country that could outgun Texas, Kansas or anyone else.
Pretenders
Kentucky (8-to-1) - This team is way too young and way too unproven to justify these odds. One narrow home win (or near collapse, depending on your perspective) against equally overrated North Carolina doesn't impress me.
California (18-to-1) - This team has absolutely no inside game to speak of. And although their 1-2-3 on the perimeter, if healthy, is the best in the country you can't win without at least the threat of an inside game.
Louisville (20-to-1) - Last year the superhuman efforts of Terrence Williams and Earl Clark were able to mask the truth about this team: Rick Pitino has stockpiled a lot of mediocre talent. Weak guards and bad karma make this a very average team.
North Carolina (10-to-1) - You can't turn the ball over 20 times per game and expect to win in March. There is a lot of future NBA talent on this roster. But no team can win starting four power forwards and an inexperienced point guard.
Connecticut (30-to-1) - Jim Calhoun has had much more experienced, much more talented teams (see: last year or 2005) that didn't cut down the nets. No way that this is going to be the group to get it done.
Washington (40-to-1) - Congrats, you are the best team in the Pac-10. Right now that's a bit like being the tallest little person in Midgetville. They can't shoot, don't defend, and have a coach with a track record of underachievement.
Robert Ferringo is a professional handicapper and he has gained around +180 Units and $15,000 for his $100 bettors since mid-February in college basketball. You can purchase his college basketball picks here.
---
Most Recent College Basketball Handicapping