2011 College Basketball: Louisville Predictions and Futures Odds
by Aaron Smith - 11/3/2011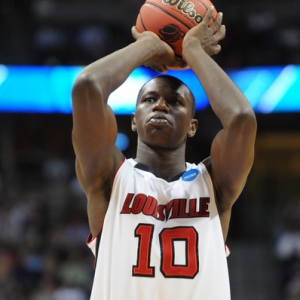 Rick Pitino is a really good college basketball coach. If you didn't already know that before last year, the success of the 2010-11 Louisville Cardinals should have made that clear.
Louisville wasn't in the preseason Top 25 last year. In fact, they didn't even receive a single vote in the preseason polls. Most publications had Louisville pegged somewhere between the 50th and 60th spot in the preseason rankings.
How did they fare? Louisville tied for third in a ridiculously tough Big East Conference. The Cardinals finished 25-10 and ranked No. 22 in the final USA Today Coaches Poll. The surprising first round loss at the hands of Morehead State certainly wasn't a good way to end the season, but Louisville wasn't even supposed to be in the tournament, and they ended up with a No. 4 seed.
Can the 2011-12 Cardinals improve on last year's performance?
2011-12 Louisville Cardinals Outlook
Louisville is getting quite a bit more respect heading into this season. Louisville is ranked eighth in the USA Today preseason Top 25.
Coach Pitino said before the season that Gorgui Dieng is probably the most important player to his team this year. Dieng is only a sophomore, and he has shown a tremendous ability to block shots in the paint. He has plenty of natural skills, but he definitely needs to stop committing so many careless fouls.
Rakeem Buckles and Jared Swopshire will likely share the playing time at the power forward spot. Both of them are extremely versatile players in the post, but both have a history of injury difficulties.
Kyle Kuric relinquished his scholarship so that Louisville would have enough scholarships for their top recruits, but that doesn't mean he'll be riding the bench. Kuric proved he is one of those guys that has the "it factor."
Chris Smith is the brother of Nuggets star J.R. Smith, and he averaged 9.4 points per game last year while shooting 40 percent from beyond the arc.
In the backcourt Peyton Siva will be the guy who runs the show for the Cardinals. It's no secret that Siva isn't the best shooter, but he is great at creating open looks for his teammates. Siva serves as a leader on the court for the Cardinals.
Mike Marra will get plenty of chances in the backcourt as well, but he certainly needs to improve on his 29 percent three-point percentage from last year.
Louisville College Basketball: Additions/Losses
Louisville lost two key players from last year's squad. Preston Knowles was the team's leading scorer, and he was often the guy they looked to in the closing minutes of the game. In addition, Terrence Jennings will certainly be missed because of his shot blocking capabilities as well as his work on the glass.
The good news for Pitino's crew is that there is plenty of help on the way.
The Cardinals brought in a class that is ranked Top 10 nationally by almost all the major recruiting services.
Chane Behanan is a physical power forward who will push Buckles and Swopshire for playing time right away. Behanan has some impressive low-post moves, and he should be a solid scorer for the Cardinals.
Wayne Blackshear was another highly-touted recruit, but he injured his shoulder in the team's first exhibition, and he will miss the entire season. Zach Price is a 6-foot-11 center that should get some playing time as well.
2011-12 Louisville Basketball Schedule
Louisville will be tested early and often this year. The Cardinals have early nonconference games at Butler and home against Vanderbilt. The New Year's Eve showdown with Kentucky in Lexington will be a tremendous battle.
It certainly won't get any easier once the Cardinals get into Big East play. Louisville starts Big East play with a tough game at St. John's, and they finish the Big East slate with a trip to Syracuse.
The Cardinals finished last season with the 11th most difficult schedule in the country. I wouldn't be surprised if this year's schedule grades out even tougher.
2011-12 Louisville Cardinals Futures Odds
Bookmaker lists Louisville as the fourth favorite at +1100 to win the NCAA National Championship this year.
What about the Cardinals chances to win the difficult Big East? 5Dimes has Louisville pegged as the fourth favorite in the Big East. The Cardinals are listed at +550 to win the Big East regular season title.
2011-2012 Louisville Predictions for College Basketball
There is no question that Louisville has terrific depth all over the court. Pitino should be able to go to his bench and keep up the defensive intensity all game long.
The team was a little bit inconsistent offensively last year. It will be interesting to see if any particular player steps up as the guy who wants the ball in the clutch.
The Cardinals should definitely be tournament tested because of their very difficult regular season schedule.
The knock on Pitino of late is that his teams simply haven't gotten very far in March. Expect an improvement from last year's first-round exit.
I'll go out on a limb and predict Louisville enters the tournament as a o. 3 seed. Look for the Cardinals to make it to the Elite Eight this year thanks to their depth and quality team defense.
Doc's Sports has been gearing up during the fall and cannot wait for the start of the 2011-12 College Basketball season in mid-November. Doc's Sports employs a full-time college basketball handicapper that focuses on college basketball picks all year around. Over the course of the last five years, Doc's Sports has picked up +453 units and this has allowed $100 bettors to make a profit of +$13,971. Doc's finished out the 2011 NCAA Tournament on fire, hitting four straight Top Plays, and they fully expect to pick up right where they left off. Jump on our full season package for just $725 and this gives you access to every pick that we make through the Final Four in April of 2012. This is our Early Bird price, and it won't last long!
---
Most Recent College Basketball Handicapping