2011 College Basketball: Purdue Boilermakers Predictions and Futures Odds
by Taylor Jordan - Strike Point Sports - 11/1/2011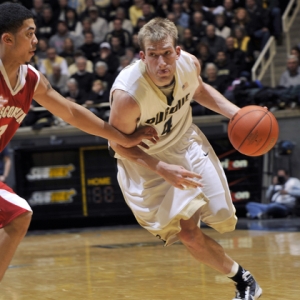 Head Coach Matt Painter, along with all of West Lafayette, is hoping the third time is a charm. That, of course, is referencing to Robbie Hummel's health and avoiding another setback to what initially was supposed to be a very promising college basketball career.
And it still can be.
The 6-foot-8 forward from Valparaiso, Indiana, has seen each of his last two seasons end disappointingly because of major knee injuries. Two years ago, as a major Final Four contender, Purdue lost Hummel to a torn ACL.
And lost with their best all-around player were their chances to vie for the NCAA title. Last year he damaged the exact same knee and again was forced to sit out the season.
This is Hummel's year to bounce back, or at least conventional wisdom would like to suggest that. But while he waited to get over his injury woes, some major figures in the program graduated.
JaJuan Johnson and E'Twaun Moore are now teammates in Boston for the Celtics. They combined for over 38 points per game last season, as well as more than 14 rebounds and more than four assists.
Hummel's comeback will no doubt create motivation for the rest of the team; seeing their veteran leader back in uniform to head this year's team. However this is not a veteran roster. Just three seniors are on Matt Painter's squad this year, while seven freshman and sophomores fill other spots.
There's no preseason ranking this time for the Boilermakers, having been major players in the Top 10 both in 2009 and 2010.
Purdue Boilermakers Incoming Impact Players
As briefly touched upon earlier, underclassmen are going to play a large role for Purdue this season without their proven commodities. Hummel will guide the youngsters, but production will still need to emerge.
The most likely source for that production are by three-star recruits Jacob Lawson, a 6-foot-8 forward from North Carolina, and Donnie Hale, another 6-foot-8 forward from Indiana. Chicago native Anthony Johnson, a redshirt freshman, should also do well to grab some early on-court time and contribute alongside senior point guard Lewis Jackson.
2011-12 Purdue Basketball Schedule
Purdue begins their 2011 schedule on Friday, Nov. 11, with a home game against Northern Illinois. They get another 'warm-up' against High Point the following Monday before taking part in this year's Puerto Rico Tip-Off in San Juan on Nov. 17-20. They will open with a game against the Iona Gaels.
Their Big Ten-ACC Challenge opponent for this year comes in the form of Miami on Tuesday, Nov. 29, also a home game and airing on ESPN 2.
The Boilermakers will then travel to Xavier on Saturday, Dec. 3 for their toughest game in the nonconference portion of their schedule.
Several walkovers come via Western Carolina and Eastern Michigan before meeting in-state opponent Butler in the Crossroads Classic, co-headlining with Indiana and Notre Dame.
Purdue's Big Ten schedule opens at Iowa on Wednesday, Dec. 28, their first game after the Christmas break. They are then home Illinois on Saturday, Dece. 31, another ESPN 2 televised game.
Wisconsin visits Mackey Arena on Thursday, Jan. 12, while other notable league games include a road game in East Lansing to face Michigan State on Jan. 21, a home date against Michigan on Jan. 24 and a Feb. 7 match-up at Ohio State, all three of these games being on ESPN.
Purdue Boilermakers College Basketball Futures Odds
Purdue is listed at 75/1 to win the NCAA National Championship, According to college basketball odds . Purdue sits behind ranked schools Ohio State, Michigan and Wisconsin, and the Boilers are likely either fourth or fifth in most conference preseason polls, ahead or behind Michigan State and right outside the top 25.
2011-2012 Purdue Boilermakers Predictions for College Basketball
Even a healthy Robbie Hummel for a full season won't be enough to make up the ground lost from the loss of graduates Johnson and Moore. Hummel may have been the most reliable player of that trio when they were all on the court together, but the other two's production is something that is going to be a tall order to reproduce from the rest of the roster.
The Big Ten isn't overwhelmingly strong this season. Michigan State is without a super strong team, or so at least it seems. Ohio State will be a juggernaut, and Michigan should again prove tough. However, beyond that a top four spot in the conference is certainly obtainable.
As far as the postseason is concerned, I think it is reasonable to presume the Boilermakers will still manage a spot in the Big Dance just fine, but rather a seed around 6-9 more than anything higher.
Who's not rooting for Hummel to succeed after his injuries? If he is back to 100 percent of his former self, a potential all-American and Wooden Award candidate will emerge. Beyond that, this is a team that will need to develop the rest of their talent and see where they emerge come Big Ten play. From a betting perspective, I would employ a wait-and-see approach.
Strike Point Sports has turned a profit in four of the last five college basketball handicapping seasons and this year looks to be their best yet for college basketball picks. Strike Point Sports has earned its clients more than $20,000 in profit over the last five seasons and he will be adding onto that total in early November when he releases his first college basketball predictions. Sign up today at the early bird special price of just $725 for the entire season.
---
Most Recent College Basketball Handicapping