2011 College Basketball: UCLA Predictions and Bruins Futures Odds
by Darin Zank - 11/3/2011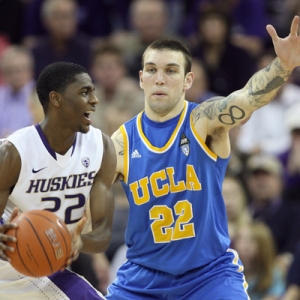 After making it to three straight Finals Fours the UCLA Bruins had a down year in 2009-10, going 14-18 and missing the NCAA Tournament for the first time in six seasons. But last year, after a slow start, UCLA bounced back, and made a return appearance to the Big Dance.
This year the Bruins look like they've got the (big) bodies in place for another run toward a conference title and the NCAA Tournament. That is, if they can get the guard play to go with their formidable frontcourt.
Last year UCLA struggled through an early four-game losing streak, and later lost two of its first three conference games. At 9-6 a return to the NCAA Tournament appeared very uncertain. But the Bruins recovered to win 13 of their last 16 conference games to finish second in the Pac-10, one game back of league champion Arizona.
UCLA then got upset in its first game of the conference tournament, but it still earned an at-large bid to the NCAA Tournament. The Bruins then beat Michigan State in the first round before getting knocked out by Florida.
This year UCLA returns three starters, led by a couple of bangers underneath, but it has to replace two All-Pac-10 performers.
2011-12 UCLA Bruins Outlook
Three starters are back from last year's 23-win squad, plus a couple of subs, and they get the services of a twin pair of 6-10 forward transfers. But while the Bruins should be solid up front, there are questions about the backcourt.
Six-foot-8 junior forward Reeves Nelson, an All Pac-10 pick last year, and 6-foot-10, 300-pound sophomore C Joshua Smith comprise a formidable combo down low. The two combined to average 25 points and 15 rebounds per game last year, and no other team in the conference can match up with them.
Senior PG Lazeric Jones led the team with 3.7 assists per game last year while starting every game. But he needs to improve his shot, after shooting just 39 percent from the floor last year.
The Bruins ranked ninth in the Pac-10 last year by averaging 15 turnovers per game, and ninth in 3-point shooting at just less than 33 percent. So they could use help on both those fronts.
On the other hand, though, UCLA held opponents to less than 42 percent shooting from the floor last season, and outrebounded foes by almost eight per game. And those aspects of their game should not change, and may even get better.
The Bruins are ranked 17th in the preseason AP poll, 20th in the USA Today/ESPN poll. They've also been pegged by the Pac-12 media as slim favorites, over Cal, to win the conference this season.
Additions/Losses
UCLA lost G Malcolm Lee and F Tyler Honeycutt, who combined to average 26 points and nine boards per game last year, when both left school early for the pros. So there are a couple of holes to fill.
On the positive side twins David and Travis Wear, California natives who sat out last year after transferring back West from North Carolina, are eligible. Both are 6-foot-10, and both should immediately step into if not the starting lineup, at least the rotation.
Freshman guard Norman Powell is being heralded as the most athletic player on the team, and he also may play himself into a starting role at shooting guard.
UCLA features six guys 6-foot-8 or bigger on its roster, and with David Wear at the No. 3 spot, with Smith and Nelson down below, the Bruins can go 6-10, 6-10, 6-8 for much of the time. As long as Smith stays out of foul trouble, that is. So this team will go as far as its guard play can take them.
2011-12 UCLA Basketball Schedule
UCLA starts slowly this year, with just one scheduled nonconference game vs. a major-conference for – Texas. The Bruins could also meet some good competition at the Maui Invitational, and in February they step out of conference to take a trip East to play at St. John's.
Bettors might want to watch UCLA early this season to get an idea of how the Wear twins are fitting in, and how the Bruins guards are doing. If the Wear boys struggle and the guards can't take care of business by hitting from the perimeter to take pressure off the guys down low, the Bruins might be in trouble. But if the Wears blend in and the guards rise to the challenge, UCLA could be very good.
The Bruins won't play at Pauley Pavilion this season, as the 46-year-old complex undergoes renovations. UCLA will play most of its home games at the LA Sports Arena and four games at the Honda Center in Anaheim.
But maybe they won't miss Pauley all that much, considering it hasn't exactly provided a huge home-court advantage in recent seasons. Last year the Bruins played in front of home crowds that often averaged about 60 percent capacity at Pauley.
UCLA opens this season Nov. 11 vs. Loyola Marymount
2011-12 College Basketball: UCLA Predictions and Futures Odds
5Dimes is listing UCLA at +160 to win the Pac-12 regular-season championship this season, behind only Arizona at +135.
The Bruins are also getting 25/1 at Bodog to win the NCAA National Championship. UCLA is big this year, but there's more to winning basketball games than just being bigger than one's opponents. The Bruins will need to improve their perimeter game, their free-throw shooting and their ball-handling. If they can do that, and keep their big twosome up front on the court, they will be a danger to go deep into the NCAA Tournament.
Doc's Sports has been gearing up during the fall and cannot wait for the start of the 2011-12 College Basketball season in mid-November. Doc's Sports employs a full-time college basketball handicapper that focuses on college basketball picks all year around. Over the course of the last five years, Doc's Sports has picked up +453 units and this has allowed $100 bettors to make a profit of +$13,971. Doc's finished out the 2011 NCAA Tournament on fire, hitting four straight Top Plays, and they fully expect to pick up right where they left off. Jump on our full season package for just $725 and this gives you access to every pick that we make through the Final Four in April of 2012. This is our Early Bird price, and it won't last long!
---
Most Recent College Basketball Handicapping