2011 College Basketball: Vanderbilt Predictions and Betting Odds
by Taylor Jordan - Strike Point Sports - 11/2/2011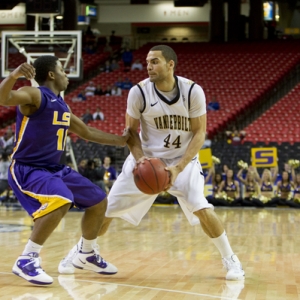 You, nor any of your college basketball betting friends, may not think Vanderbilt is an SEC power, but don't tell Head Coach Kevin Stallings that. From 2006 to 2010, his Nashville program has won an average of nearly 23 games per season, as well as putting together four 20-win seasons in their last five campaigns.
The 'Dores are coming off a very successful 2010. And while their NCAA Tournament was a one-and-done to an upstart Richmond squad, Vandy won 23 games and built up a lot of momentum for this fall – a campaign that has 'the next step' written all over it.
Labeled with their highest preseason ranking since 1965, Vanderbilt enters the 2011 season ranked seventh in the Coaches Poll. It's for good reason.
This is the first time in the Stallings era that Vandy has even earned a preseason ranking, let along being considered as one of the Top 10 teams in America.
They will have every chance to live up to these lofty expectations, and leading them along that route is a sensational trio of talented upperclassmen.
Two of the team's top players and leaders are the versatile Jeffery Taylor and sharpshooter John Jenkins. Taylor, the team's most gifted athlete and scorer, has done nothing but improve his first three years on campus, and this should be another huge step forward – a legit NBA prospect I might add (14.7 points per game in 2010).
Jenkins is, for my money, the best three-point shooter in the country. His quick release is good from any spot behind the arc, while his range extends to just inside the half court line. He led the Commodores in scoring last season, shooting nearly 41 percent from outside.
The third part of Vanderbilt's trio is center Festus Ezeli. However, his start to the season will be delayed due to a six-game suspension for accepting a meal and hotel room from an alumnus, violating obvious NCAA rules. He will be eligible to rejoin the team on Nov. 28, coincidentally when his squad takes the hardwood against a quality Xavier team.
Vanderbilt Commodores Incoming Impact Players
Vandy has size and length covered. What the Commodores lack is a number of quality guards.
Senior Bard Tinsley will help hold half the backcourt down, but that also gives some freshmen the chance to take on a partial role to compliment the veteran combo guard.
Six-foot-4 Kedren Johnson and 6-foot-3 Dai-Jon Parker both have a great chance to make an immediate impact. Boasting some good size and bulk (215 and 190 lbs., respectively), each were four-star Rivals recruits and achieved enough individually in high school to walk on campus with a bit of hope to stir the pot and make things happen right away for Stallings. Johnson is out of Tennessee and Parker hails from Georgia.
2011-12 Vanderbilt Basketball Schedule
Vanderbilt opens their schedule on Friday, Nov. 11 with an interesting matchup against Oregon. A week later they are in New Jersey for a mini tournament and open with N.C. State, also with the chance for a game against Texas during their Garden State visit.
Nonconference tests at home to Xavier on Nov.28 and at Louisville on Friday, Dec. 2 should really make statements one way or another about their Top 10 preseason ranking.
Three walkover games are on the schedule a week before Christmas, then the 'Dores visit Marquette on Thursday, Dec. 29 before beginning SEC play with a home date against Auburn on Saturday, Jan. 7.
A league road game in Gainesville on Saturday, Feb. 4 is on the books a week before they host the Kentucky Wildcats on Feb. 11, a night game that seems certain to be College Gameday's host site for that particular week.
Their final two SEC road games of the season are at Kentucky on Saturday, Feb. 25 and in Knoxville against Tennessee on March 3, while a home date against Florida is sandwiched in between the two on Tuesday, Feb. 28.
Vanderbilt Commodores College Basketball Futures Odds
Vanderbilt is 30/1 to win the NCAA National Championship. They are picked second in the SEC behind preseason No. 2 Kentucky.
The SEC East, along with Florida, has all three of the league's top-ranked teams.
2011-2012 Vanderbilt Predictions
Expectations are high in Nashville, as they should be.
The team returns all five starters, has a very quality coach in Stallings, as well as one of the more underrated home court advantages with Memorial Gym.
Plus, outside of strong national contenders in divisional rivals Kentucky and Florida, the SEC is not super strong this season. If anything, you could make an argument that the SEC East is stronger by itself than with the rest of the West Division included.
The Commodores have some stiff competition in the nonconference portion of their schedule. But if the status quo remains the same in terms of their preseason ranking, Vandy should hold their own and be favored in most of these contests.
Their road test at Louisville just might be their second toughest regular-season game all season, of course second to their annual trip to Lexington.
Vandy should live up to most of the hype this season. And by that I mean contend for the SEC title with Kentucky, be a top two or three seed in the SEC Tournament and have a shot for at least a top three or four seed come March.
Just from the look of this team on paper, I could see a Sweet 16-quality result in them. They have the athletic ability and are well coached. It's way too early to be talking NCAA Tournament, but their team outlook bodes well for this winter and spring.
Strike Point Sports has turned a profit in four of the last five college basketball handicapping seasons and this year looks to be their best yet for college basketball picks. Strike Point Sports has earned its clients more than $20,000 in profit over the last five seasons and he will be adding onto that total in early November when he releases his first college basketball predictions. Sign up today at the early bird special price of just $725 for the entire season.
---
Most Recent College Basketball Handicapping