2011 College Basketball: Washington Huskies Predictions and Betting Odds
by Taylor Jordan - Strike Point Sports - 11/2/2011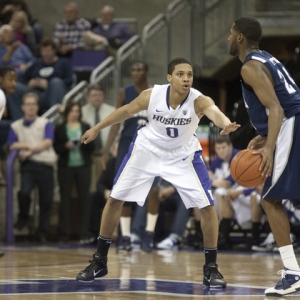 Washington is moving forward without do-it-all guard Isaiah Thomas. They have no choice. The 5-foot-9 spark plug is now in Sacramento waiting to ply his trade for the Kings.
Thomas led Washington in scoring in two of his three seasons in Seattle. He was an even bigger leader and team motivator beyond all he contributed in the stat sheet. Gone with him are graduates Matthew Bryan-Amaning and Justin Holiday.
Those three figures were instrumental to the program's success, winning back-to-back league tournament titles and making them a constant player in the Pac-12. This year's three captains have a lot of live up to, but they have the talent to do just that for head coach Lorenzo Romar.
Darnell Gant, Abdul Gaddy and Scott Suggs will likely team together to replace the leadership void and collectively rally the troops.
Gaddy, a former high school All-American, has been a disappointment since he arrived on campus two seasons ago. To put it bluntly, his freshman season was poor. His sophomore season was cut short to just 13 games because of a torn ACL. However, he is back this fall and word on campus is he is better than ever.
Unfortunately for fellow co-captain Scott Suggs; he will have to wait to take the court for the Huskies. The 6-6 athletic wing player is eyeing an early-to-mid-December return after suffering a stress fracture to the outside of his right foot. If timed correctly, he can be back for Washington's New York City trip for games at Madison Square Garden against Marquette and Duke.
The one main issue for Washington will be finding the team's go-to guy. Last season that was easy. Thomas and Amaning played their part and were a terrific inside-out duo.
Terrance Ross, in his second year on the court for UW, should see an enhanced role, as he played well off the bench, as did others like C.J. Wilcox and the aforementioned senior captain Gant.
Washington Huskies Incoming Impact Players
Expect the ball in the hands of freshman Tony Wroten. The silky smooth point guard is a highlight machine waiting to happen with his distributing abilities. Then again, he's also never far from a handful of turnovers, either.
Born and bred locally, the 6-4 product is straight out of renowned Garfield High School, the same Seattle program that produced former UW stars Brandon Roy and Will Conroy.
This playmaking guard has the game and will be a spectacular watch for the Husky faithful. He is just the guy to take over the reins and run the offense from the first tip of the season.
2011-12 Washington Basketball Schedule
A handful of walkover games are on the schedule for the Huskies to cruise through before their NYC visit in early December. Games against Marquette on Dec. 6 and Duke on Dec. 10 will be instant tests and proof of whether or not this team can be a fixture in the Top 25 this season.
UW will then host a trio of mid-majors, notably UC Santa Barbara, before their Pac-12 schedule gets underway Dec. 22 at home against Oregon State.
Two of their conference tussles will be nationally televised on ESPN. New Year's Eve they go into Eugene for a clash with the Ducks in their brand new arena. Then on Saturday, Jan. 28, they visit to Tucson for a clash with Arizona.
The conference schedule is back-loaded with away games. Five of their last seven in the Pac-12 in February and March come away from Seattle, including their last three games of the season, facing in-state rival Washington State and then both Los Angeles schools, USC and UCLA.
Washington Huskies College Basketball Futures Odds
The Huskies are 50/1 to win the 2011-12 National Championship. Washington falls around fourth in most preseason picks for the Pac-12, behind ranked Arizona, UCLA and California.
2011-2012 Washington Huskies Predictions
While the talent gone from a season ago likely outweighs what Romar has to play with this winter, the schedule could allow for a very good outcome. While their games in New York could be two losses, there isn't a nonconference game on the schedule that doesn't look like a solid victory.
From there, the overall strength of the Pac-12 and its new look after adding Colorado and Utah will determine how good Washington can be. The preseason rankings have three teams in the Top 25, and Washington is not one of them.
Arizona is the favorite to win the league, and deservedly so. UCLA has more overall talent as well, and there also seems to be quite a buzz about the prospects for the Golden Bears in Berkeley.
I think the season is a success if Gaddy can reach some of the hype he was labeled with when he stepped on campus (perhaps a bit unfairly). Potentially he can form a very strong duo with freshman sensation Wroten. Washington has a lot of length and size, and you know with a Romar team you will get a squad that loves to run on offense and pressure the ball on defense.
This team needs to develop some character and create an identity minus the loss of Isaiah Thomas. They should absolutely be in the NCAA Tournament come March, as well in the mix and hang around the top of the conference, perhaps playing a spoiler role at the very least.
I think 20 wins is obtainable for this team.
Strike Point Sports has turned a profit in four of the last five college basketball handicapping seasons and this year looks to be their best yet for college basketball picks. Strike Point Sports has earned its clients more than $20,000 in profit over the last five seasons and he will be adding onto that total in early November when he releases his first college basketball predictions. Sign up today at the early bird special price of just $725 for the entire season.
---
Most Recent College Basketball Handicapping