Combatant Odds to Win the 2018 Kentucky Derby with Picks and Predictions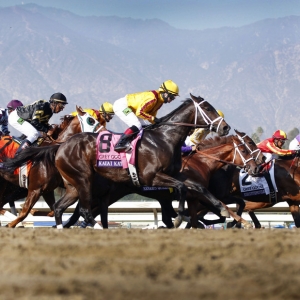 When the connections of Quip correctly decided that the Kentucky Derby wasn't the right fit for their horse, the door was opened for Combatant to make the starting gate. It's not a move that will excite anyone other than the connections of the horse. The well-bred colt hasn't made a real mark on the Derby trail, only sticking around for enough of a piece to pick up a few points here or there. To imagine him being a real factor in this incredibly deep and tough Kentucky Derby would require a far more active imagination that I have. The horse earned his spot in the starting gate fair and square, but he's not going to get the win. Not even close.
Last race: Combatant typically settles far off the pace early on, and that was the case in the Arkansas Derby. He was last out of the gate and showed patience early on. When it came time for him to make his move, though, he didn't have a strong gain in him, and he flattened out and finished an unthreatening fourth. There is an excuse - Magnum Moon was allowed to set pedestrian fractions up front, which is bad news for closers who look to pick up the pieces when the speed blows up. But that isn't the entire explanation. Along with that it feels like the horse just wasn't good enough to threaten.
Prior experience: If you are looking for an eye-opening effort then you might as well keep moving, because it's not here to find. He made his maiden debut in September at Churchill Downs, finishing fourth when he hung up in the stretch after making his move. That race was on turf, and he never tried the surface again - probably not a coincidence. Next, he moved to the dirt at Churchill and tried a maiden race again in October. It went much better - his move held and he pulled clear. Spoiler alert - that was his first and only win. From there he jumped to stakes company, finishing second in listed stakes in December and January. It's worth noting that in all these races up to this point he traveled mid-pack, while he was further off the pace after this point, which feels like a deliberate decision but not a successful one. Then it was time to go to graded stakes company. He ran probably the best race of his career, finishing second behind Derby foe My Boy Jack in the Southwest. The track was muddy that day, which may have aided his efforts. Then came the Rebel, where he made his move but didn't have enough to catch Magnum Moon or hold off Solomini. And then the Arkansas Derby. The horse is fine - not totally outclassed in bigger races - but he just isn't of the caliber to contend.
Trainer: No living trainer is better at winning races than Steve Asmussen - he could surpass the 8,000-win milestone before the Derby. But despite many huge wins - six Breeders' Cup wins, a Dubai World Cup, the Preakness twice, the Belmont, the Kentucky Oaks twice and countless others - he has never won the Kentucky Derby. It's a hole in a very impressive record. This year he had a lot of potential Derby horses, but all of them came up short - Combatant was the first alternate in the field, and he was the most successful of Asmussen's runners. He could very possibly win a Derby at some point, but it won't be this year.
Jockey: Ricardo Santana Jr. took over this mount after his debut, and he stays in the saddle here. Santana has ridden plenty of horses for Asmussen over the years, and they have had tons of shared success. They have a complicated Triple Crown history, though. In 2016 Santana rode Creator for Asmussen in the Derby. It went badly - the horse seemed unfocused and finished 13th. When the Belmont rolled around, Asmussen ditched Santana and gave Irad Ortiz Jr. the mount. Ortiz had a great ride, and Creator won the race. Ouch. Creator ran just two more times after that, and Santana never got the mount back. Santana's other two Derby appearances have also been for Asmussen, and they have not gone well, either - he was 15th aboard Tapiture in 2014 and 12th on Untrapped last year.
Breeding: Like seemingly every horse in the field, Combatant is a member of the last crop of horses sired by Scat Daddy, who died too young at just 11. Scat Daddy also sired favorite Justify, top contender Mendelssohn, and live long shot Flameaway. The sire was just coming into his own at stud before his death, so what we will see here this year is a window into what he could be capable of. Damsire Boundary was a sprinter on the track, but his biggest legacy is that he sired the incredible 2008 Derby and Preakness winner Big Brown. We know he can pass on Derby-caliber stamina, and Scat Daddy is having a heck of a year. There are worse pedigrees in this race for sure.
Odds: Combatant is at +6500 to win the Kentucky Derby at BetOnline , which puts him ahead of only Promises Fulfilled and Firenze Fire in the current field. That isn't a flattering price, but it isn't an unfair one, either.
Can Combatant Win the 2018 Kentucky Derby?: No. He's in over his head here. He hasn't been good enough in the races he has run, and this is a much tougher race. He's just not up to the task.
Want free Kentucky Derby picks for 2018? Our experts are the best Kentucky Derby handicappers in the nation, and you can get their picks free (first-time clients only), Get $60 worth of Kentucky Derby premium members' picks free .
Read more articles by Trevor Whenham