2023 Dallas Mavericks Predictions with Futures Odds and Expert NBA Picks
by Spencer Toth - 9/29/2023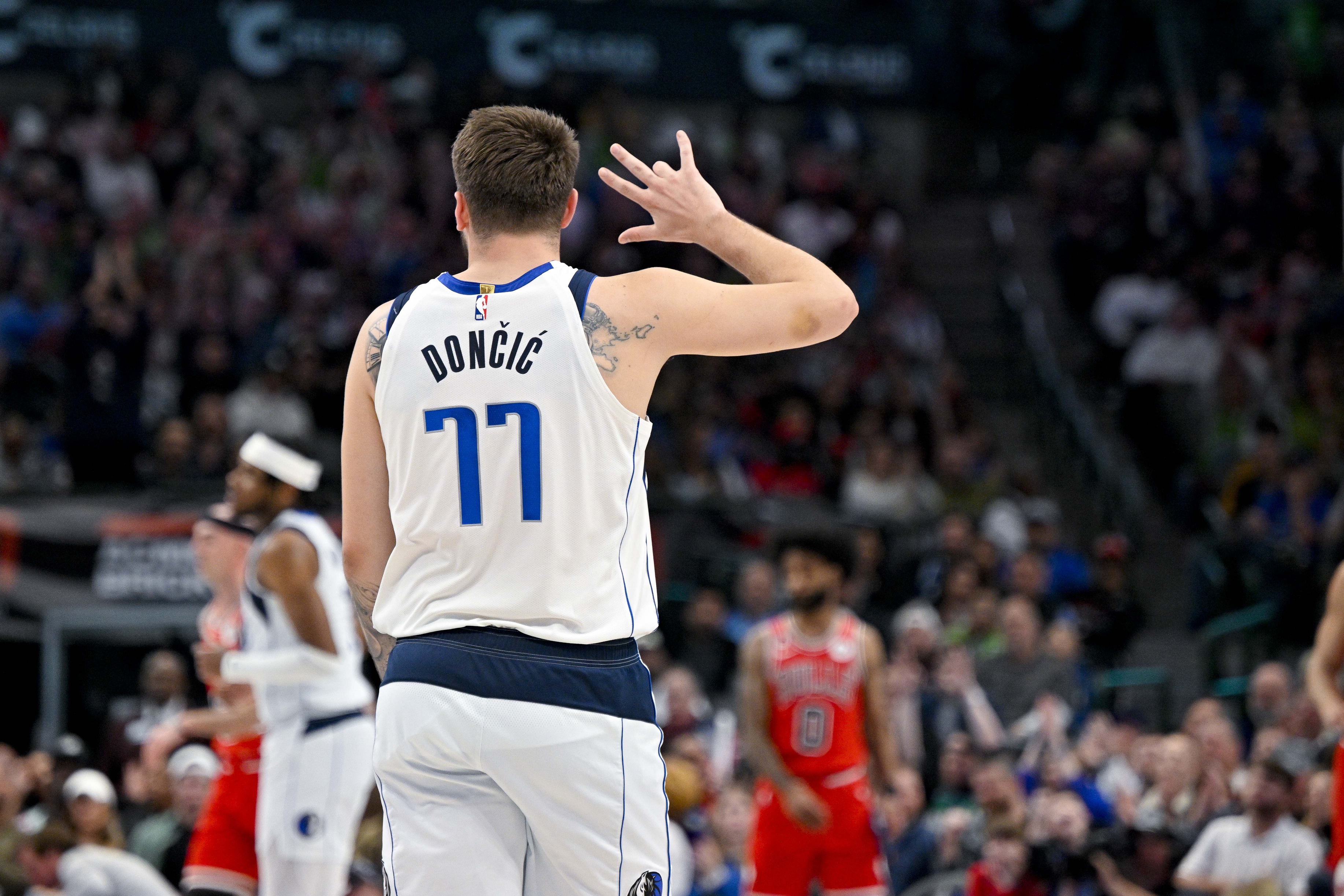 The Dallas Mavericks went all-in at last year's trade deadline, acquiring Kyrie Irving to pair up with perennial MVP candidate Luka Doncic. The move didn't pan out, as the Mavericks missed the playoffs. However, with an offseason to acclimate to his new teammates, Irving and the Mavericks front office will be confident they are among the upper tier of Western Conference teams.
Doc's Sports offers NBA picks for every game on our NBA predictions page.
Dallas Mavericks Offseason Recap
The Mavericks have had quite an overhaul compared to the lineup they rolled out a year ago and have provided Doncic with the supporting cast he needs to succeed. While the Irving trade occurred with 20 games to go last season, we have still yet to see his connection with Doncic develop, but the 3-year, $126 million dollar contract will ensure that relationship has plenty of time to blossom. Irving has some of the best ball handling abilities in the league and can create shooting opportunities for himself off the dribble. His off-court political issues have marred what could have been a great career, but at 31 years old Irving still has plenty to contribute to this squad.
Irving's backup, Seth Curry, is also a new arrival in Dallas, and the lesser-known Curry brother had a very productive season in Brooklyn last year. Curry won't get the same volume of shooting opportunities whenever he's sharing the floor with either of the Maverick's superstars, but his ability to sink shots from behind the arc will stretch defenses and allow Doncic to drive into the paint and score or catch defenses cheating and allow Curry to punish them from deep.
Joining them in the starting lineup is Grant Williams, who's joining Dallas on a sign and trade with the Celtics. Williams has plenty of playoff experience, as he was a key figure in each of the Celtic's recent playoff runs. He doesn't look like a key figure on the stat sheet, with just 8.1 PPG, 4.6 Rebounds, and 1.7 Assists last season, (all of which are career highs) but Williams brings much more to the floor. His defensive workrate can effectively eliminate the opposition's stars. And other than a tricky guard, Williams can defend several different positions on the floor. The teeth he brings may be exactly what the Mavericks need to succeed in a crowded Western Conference.
The lone significant departure for the Mavericks is Reggie Bullock, but there is no doubt that Williams provides an upgrade compared to Bullock. Between Curry and Williams, this team certainly got better over the offseason. And if they've developed chemistry amongst each other, they can certainly make waves in the West.
Dallas Mavericks Season Expectations
The Mavericks must make the playoffs… that's the lowest expectation. Their 38-44 record from last season was far below anyone's expectations. And in all honesty, this team has what it takes to make a deep playoff run and should not be spending May on the golf course. While they are certainly expected to improve with a 44.5-win total, that still puts them in a 3-way tie for 6th in the West, and their playoff appearance is all but secured. Doncic is the second MVP favorite at +500, as the Serbian has still yet to take home the coveted award. The front office featuring Mark Cuban is heavily invested in building a successful NBA franchise, but the window to succeed may be closing as it is unlikely Doncic will resign in Dallas if they can't bring home a trophy in the next 2 seasons. Other teams with 44.5-win totals such as the OKC Thunder and New Orleans Pelicans have much lower expectations than the Mavericks, as a team this complete should be among the Western giants, not fighting for seeding in the play-in tournament.
Dallas Mavericks Schedule Breakdown
Dallas has a very kind schedule, as they have no road trips longer than 4 games, thanks to their central location in the United States. To start 2024 off, they have a trip to Utah on New Year's Day but then have 7 home games in a row over the span of over 2 weeks, which will be a fortunate way to spend the coldest months of winter. However, this good fortune gets offset, when they wrap up their season with 15 of their final 25 games played on the road. Trips to Charlotte, Houston, San Antonio, Chicago, Detroit, and Indiana won't be the most daunting tests, but slip ups late in the season cost this team last year. And if they take these road games lightly, it will do so once again.
Dallas Mavericks Odds
The Mavericks have the 8th best odds to lift the championship in June, coming in at +1800 to do so. The talent on their lineup makes these odds unsurprising, but it's hard to justify an unproven team like Dallas to finish ahead of the Heat and 76ers, both of whom are perennial playoff contenders. In the regular season, they have a win total of 44.5 wins, which puts them in joint 6th place. They're a whopping +1400 to secure the top seed and will once again find themselves fighting for their lives in the play-in tournament. One area I absolutely love the Mavericks is in the in-season tournament. They have a tough group with the Clippers and Nuggets, but it could be the perfect opportunity for the Mavericks to get meaningful games early in the season, to test this team's mettle. At +320 to win the group and +2200 to win it all, the in-season tournament feels like exactly what Mark Cuban and the Mavericks will prioritize this season.
2023-24 Dallas Mavericks Season Predictions
I expect the Mavericks to make a deep run in the tournament, before securing a top 4 seed in the West. While I know the Mavericks had their flaws last season, and finished in 11th place, Irving isn't exactly the type of guy you can bring in mid season and expect to flourish. He's had an entire offseason to acclimate to life in Texas, and it wouldn't surprise me to see Irving and Doncic form one of the best duos in the league.
Their win total is set at 44.5 wins, so while I absolutely love that over, as this team really feels like it'll be boom or bust, and alt lines could come into play. They are +210 to have 50+ wins, and +650 to finish with 55 or more, both of which are great bets. When placing a season-long wager, sometimes the standard -110 line can feel like you're not getting enough bang for your buck, and an alt total on the Mavericks is the perfect place to boost those odds. I'm also loving the +2200 value on them to win the in-season tournament, as if they can navigate a tough group stage, they certainly have the potential to shock the bookies and fill our pockets in the process. And 53-29 is my official record prediction, as the Mavericks go on to win the tournament, but sputter out in the second round of the postseason.
Get NBA picks on every single game, or if you want our very best bet premium picks by the experts, sign up for your free $60 account with a guarantee.