2023 Detroit Red Wings Predictions with Futures Odds and Expert NHL Picks
by Ryan Cobbett - 9/20/2023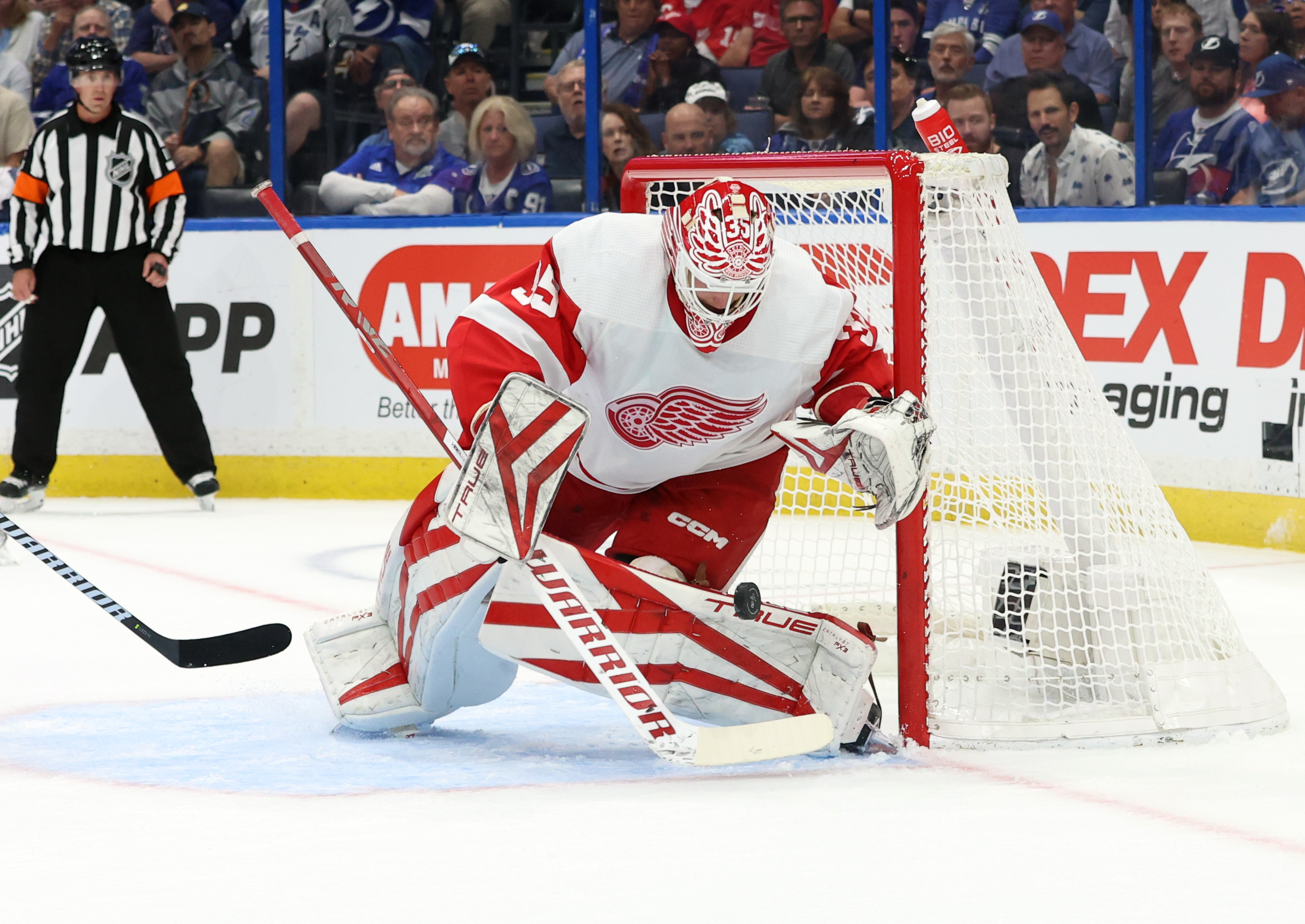 Summary of last season
Detroit finished 25th in the league standings last year, tied with Washington with 80 points. The Red Wings struggled all year to find the back of the net, tallying just 240 goals for a mere 2.92 GF/G. They were really cold down the stretch, as the team would finish 7-18 in their last 25 games. The Red Wings failed to really get red hot, as they only won three or more games in a row three times while they managed to lose three or more in a row eight different times.
Detroit failed to have a difference maker as C Dylan Larkin led the team with only 79 points with LW David Perron coming in second on the team with 56 points. Those would be the only two Red Wings to finish with more than 50 points; to compare, Boston would have eight different players reach 50 points or more.
Doc's Sports offers NHL expert picks for every game on our hockey predictions page.
Seasons come and go, so now its time to take a look at what we can expect from the Detroit Red Wings in 2023-24:
Key Additions/Losses
The Red Wings have done a nice job this offseason adding some firepower to their mediocre roster. Their offseason has been headlined by a big trade with the Sens for Alex DeBrincat. They did give up Dominik Kubalik, who played in 81 games and finished with 45 points, but DeBrincat is a clear upgrade as the newly acquired RW finished with 66 points and should only see more production this upcoming season.
The Red Wings also added three names to improve the depth of their roster without having to give up too much. For future considerations, Detroit brought in young F's Kailer Yamamoto and Klim Kostin from Edmonton while also grabbing veteran D Jeff Petry in a trade with Montreal.
J.T. Compher signed with the Red Wings this offseason, bringing more offensive relief after a career year in Colorado as the forward finished with 52 points. Detroit also took a flyer on unproven goalie Alex Lyon as they look to improve their netminding in the upcoming season.
X-Factors
Moritz Seider- At just 22 years old, Seider seems to be one of the cornerstones of this franchise. The young blueliner regressed a bit in his sophomore season. However, there is hope that with the improvements Detroit has made, Seider will have a breakout year.
Offseason Additions = Offense- Compher, DeBrincat, Yamamoto, and Kostin all bring some firepower to Detroit, as all four of these additions would have found themselves in the top seven in points on the roster last season. Detroit added four players who tallied 50 or more points last year, and now have a dangerous first line in DeBrincat, Larkin, and Perron.
Goalie Outlook
Ville Husso seems to be slated as the primary netminder again this season. Husso will look to improve on his SV% as the 28-year-old Fin finished well below league average with a lowly .896 number. Detroit did add Lyon and James Reimer, which may be slight upgrades over last years contingents. However, all in all, this still seems to be a weak point on the roster.
Grade: C
Expectations
This team is set to improve greatly this season and be competitive for the last wild card spot. There is a lot of potential for this team moving forward, and it will be interesting to see how much progress is made on the ice this season. I do expect them to finish with 90 or so points as a team thanks to a much-improved offense. However, unless Husso breaks out or they add some more firepower to the offense, at best this is a fringe playoff team unlikely to shake things up much.
Team Point Total- Over 85.5
Key Schedule Stretch
January 21st- February 10th- Yes this does include the All-Star break, but this is a stretch of six home games for Detroit. Three of those are against definite playoff teams in Dallas, Vegas, and Tampa Bay, while the other three will look to be thorns (Ottawa, Vancouver, and Philadelphia). If Detroit wants a wild card, they will need to win the three they should while also taking down some proven playoff teams as well. This would be a great time for them to get hot.
Notable Odds
*Draft Kings
Stanley Cup Champions - +7500
Conference Winner - +3000
Division Winner - +2500
To Make the Playoffs – Yes +230
Prediction
Like Buffalo, I expect we see a huge improvement from Detroit this season. However, I do not expect them to do much more than be a rag doll for Carolina and Toronto in the first round. The Red Wings will take a step forward offensively, as stated multiple times throughout this article, but are still nowhere near the league's best, and their goalie issues will level out some of their offensive improvement. They will be in for a dramatic finish to the regular season as this is a fringe playoff team, that I don't expect to get totally over the hump.
Get NHL picks on every single game, or if you want our very best bet premium picks by the experts, sign up for your free $60 account with a guarantee.