How to Place a Bet on the Belmont Stakes in 2019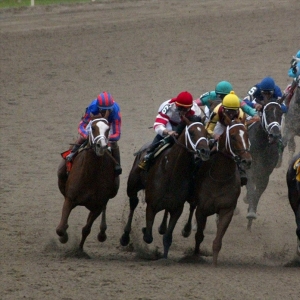 A lot of you who are reading this article are probably much more sports bettors than avid horseplayers. But when the Triple Crown comes along - even a Triple Crown as uneven and frankly underwhelming as this one has been - people get drawn to the sport. Betting on the Belmont is no different in many ways than betting on any sport - you just need to understand the basics, evaluate the opportunities, and make your best decision. And we can help. Here's how to place a bet on the Belmont in five easy steps:
1. Decide if you like the favorite: This is a much different situation than a year like last year when there was a Triple Crown on the line for Justify. There, the favorite was going to be very heavily bet and there was no way around it. When the odds are that low for the favorite, you only have one choice with two options to make - bet on the favorite or bet to beat him. There is no middle ground. In a year like this, we don't need to be quite so strict, but we still have a decision to make.
It looks at this point that Tacitus will be the favorite. He shares a sire with three winners of the race since 2014 in Tapit, so it makes sense. And he is much fresher than Preakness winner War of Will. He won't be at less than even money like Justify was, but he could be at a low enough price that we aren't left with a lot of room to both bet on him and hedge our opinion. Favorites have won only four of the last 22 editions of the Belmont, which is about half as many wins as we expect favorites to get overall.
So, is the favorite due here? Or should we continue to shy away from favorites when they aren't total freaks - two of those four winners were Triple Crown heroes American Pharoah and Justify, and Tacitus can't hold a candle to them. If you like Tacitus, then you should lean into that opinion. If you don't trust him, then you can probably afford to go deeper.
2. Decide how much you want to bet: This is just the same as for any type of betting you are doing. You are smart enough to know that you can lose any money you bet - you wouldn't be reading this if you weren't. Horse racing is hard to bet on when you are obsessed with it and study it endlessly - never mind if you only bet on it a couple times a year. That's definitely not to say that you shouldn't bet on the race. You absolutely should. Just be sure that you are betting an amount that makes sense - whatever that might be for you.
3. How do you want to get paid?: Do you want a shot at a decent return on your money - maybe double your money or a little more? Or are you looking to make the big score? Horse racing offers plenty of options for both types of appetites. You just need to decide what your needs are. If you just want to have a rooting interest, and you want a chance at a return, but a minimized risk then you can look at more conservative bets. A show bet would be the most obvious example - it's not going to make you rich, but there is lots of room for error. Your horse only needs to finish in the top three for you to be a winner. Place and even wins bets can fit here, too - especially if you cover multiple horses. On the other end of the spectrum would be the Pick 6, where you have to pick the winners of six straight races culminating in the Belmont. Depending on how things play out and who is winning on the day, the potential payout could be as much as a million dollars or more. Even last year when Justify was all but a lock in the Belmont, the Pick 6 still paid more than $81,000. But the problem is that you need to bet many different combinations to give yourself any chance at all, and each combination costs a minimum of $2. People who bet the Pick 6 seriously will invest thousands of dollars in tickets, and they still don't have a great chance of winning. But if they do…
4. Pick your bet type: When you have figured out which horses you like, how much you have to bet, and what types of returns you are looking for, all that is left is to pick the type of bet. There are several options, and we can break them into three groups to keep it simple:
One horse bets
Win, place, show: These are simply where you bet on one horse to achieve a result and win if the horse does so. If you bet a horse to win, it has to win the race. If you bet to place, it has to finish first or second, and a show bet is first, second or third. Obviously, the payoff is lower as the bet becomes easier to win. The minimum bet on a horse with these bets in New York is just $1 - half of what it is in most spots. If you are betting longer shots, then you might want to bet several horses to win. Just make sure that the potential payoff on the horse with lowest odds is still enough to cover all the losses on the other bets and still turn a profit. There is nothing worse than winning a bet and still losing money on a race.
Multiple horse bets
Exacta, trifecta, superfecta: In New York there are three options here - fewer than in some other places. The exacta requires you to pick the top two horses and have them in the right order. Trifecta is the top three horses, and superfecta is the top four. Again, the tougher a bet is to win, the higher the likely payoff. The payoffs can be high here even with a heavy favorite. In the Preakness this year, for example, three of the four betting options, including the favorite, finished well off the board. So, the Superfecta paid a very nice $51,924 on just a $1 bet. Typically, bettors bet multiple different combinations for each of these bets, so they have more than one chance to win - especially with the superfecta where there are 5,040 different possible outcomes in a 10-horse field. These bets are often the most attractive for many bettors because of their combination of being at least somewhat winnable but still offering a shot at a big payday.
Multiple race bets
Daily Double, Pick 3, Pick 4, Pick 6: These bets involve picking the winners of multiple races in a row. The Daily Double is two races, the pick 3 is three, and so on. Again, bettors will typically bet multiple combinations of potential winners in each race to improve their chances. More than any type of bet we have discussed, the Pick 6 is not a recreational bet and is typically only successfully played in the long term by professional bettors with massive bankrolls and the willingness to invest heavily.
5. Place your bet: This is all that is left. We know the who, why, what and how. Now we just have to figure out where and make your bet. You can go to your online sportsbook, an online racebook, an OTB, your local track or right to Belmont Park. Just place your bet and start cheering!
Doc's Sports is offering $60 worth of free member's Belmont Stakes picks absolutely free - no obligation, no sales people - you don't even have to enter credit card information. You can use this $60 credit any way you please on any of our top horse racing handicappers or for any of the Triple Crown races. Get $60 worth of premium members' picks free .
Read more articles by Trevor Whenham