Instilled Regard Odds to Win the 2018 Kentucky Derby with Picks and Predictions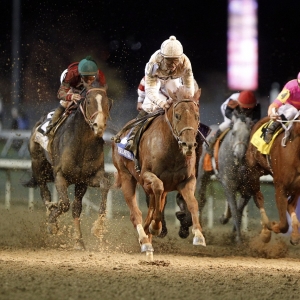 Instilled Regard is just lucky to be in the starting gate for the Kentucky Derby. After all of the prep races had ended the colt sat 22nd in points and seemed to be stuck on the outside looking in. In one day, though, Quip was aimed for the Preakness and Gronkowski suffered an infection, and suddenly the door was open. He's got a new lease on life and a shot at the toughest and most important race in North America there is to win. But is he capable of making the most of this unexpected opportunity?
Last race: In the Santa Anita Derby this colt settled further off the pace than he had since the start of his career. He was at the back of the field chasing surprisingly casual fractions set by Justify up front, so his race was really doomed before it started - when a horse is trying to close from deep he needs a fast early pace to chase. He made a move around the final turn to get up to fourth. Maybe he, like everyone else, saw how unbeatable Justify and Bolt d'Oro were on that day, because he made no further gain in the stretch and seemed content just to hold his ground. It wasn't a dream trip to set the horse up for the Derby.
Prior experience: Instilled Regard failed to break his maiden in his first two appearances - both in sprints. He was second narrowly in his debut in early September at Del Mar and third at the end of that month at Santa Anita. When he stretched out in his third maiden appearance, though, things were different. He pressed the pace instead of hanging out well off of it this time, took the lead on the backstretch, and gained ground as it went along. He wound up winning by almost five lengths. That moved him up to stakes company, and he tried the Los Alamos Futurity as his first attempt. It went...okay. He encountered some contact in the stretch and wound up third, though he was placed second after a disqualification. He wasn't going to win if the race was clean, but he ran a solid race. Two weeks after turning three he headed to Fair Grounds for the Lecomte and had the best race day of his life, pressing the pace early and then pulling away to win by four. In retrospect, though, it wasn't the toughest field. He was in New Orleans again for the Risen Star, and he was the betting favorite, but he never kicked and was fourth at every call. With that flat effort he returned to California to lick his wounds.
Trainer: Jerry Hollendorfer has more than 7,400 career wins - only Steve Asmussen has more among living trainers. He is remarkably consistent, too - he finished in the Top 10 nationally for wins for 30 straight seasons before falling to 11th last year. Most of his success has been in Northern California, but in recent years his success has become more frequently national. He won his first Eclipse award and first Breeders' Cup race in 2010, and since then has had two megastars in his stable in Shared Belief and Songbird. He has won the Kentucky Oaks three times but has yet to have a breakthrough on the Triple Crown trail. The closest he has come was last year when Battle of Midway finished third in the Derby.
Jockey: Drayden van Dyke. Hollendorfer took his sweet time naming a jockey here, waiting until a week before the race to tab van Dyke. There was no reason to hurry because he had what jockeys wanted and was in the driver's seat. Horse and rider have teamed up once before - they were third in the Los Alamitos Futurity. This is the first Derby start for the rider, though, and the biggest race of his career by far, which is a bit of a concern. But the guy is young and very talented - he was the nation's top apprentice jockey in 2015 and is still only 23 - and he'll ride in many of these races before he is done. I generally prefer a more experienced guy in a race like this, but if the choice is between washed-up old guys and raw-but-hungry youngsters I don't hate this choice. And besides, it's not like he can hurt the chances of this colt.
Breeding: Instilled Regard is a son of Arch, who was best known on the track as the winner of the Super Derby in 1998 and by beating Belmont winner Touch Gold in the Fayette in track record time. Arch sired Breeders' Cup Classic winner Blame and was the damsire of Derby winner I'll Have Another and two-year-old champion Uncle Mo, who was scratched days before his Derby start. Arch can provide solid stamina and class. Instilled Regard's damsire is Forestry, who is most relevant here for siring Preakness winner Shackleford, who is represented in this Derby by son Promises Fulfilled. Forestry also sired The Green Monkey, a colt who sold for the ridiculous record price of $16 million at auction and then failed to win in three tries. Ouch. Forestry was a sprinter who has had the most success producing milers. The breeding here isn't terrible, but it also isn't ideal.
Odds: Bovada has Instilled Regard at +6500 to win the Kentucky Derby in futures action. That puts him ahead of just two runners, so there isn't a lot of respect for the colt. Nor should there be in my eyes.
Can Instilled Regard Win the 2018 Kentucky Derby?: Quite likely not. My only hesitation is because there is some talent here, but Hollendorfer has yet to be able to solve the puzzle and figure out what this horse actually is. There could be a big step forward if he could figure it out. But this is the toughest possible place to do that, and I am far from optimistic. I'll be tossing him out.
Want free Kentucky Derby picks for 2018? Our experts are the best Kentucky Derby handicappers in the nation, and you can get their picks free (first-time clients only), Get $60 worth of Kentucky Derby premium members' picks free .
Read more articles by Trevor Whenham