Kentucky Derby Predictions 2019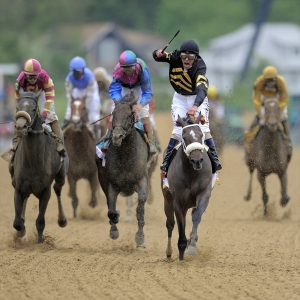 I am not being coy or evasive when I say that, as I sit here four days before the Kentucky Derby, I have no idea what my Kentucky Derby pick is going to be. I like to narrow it down to two or three horses to key my bets. Right now, I have five in mind that are very tough to separate, and two more who are knocking on my mind begging to get into that top group. It's a bit of a mess. So, while I can't predict yet which horse is going to win the race - at least not with any confidence - there are other Kentucky Derby predictions that I do feel ready to make to close out our Kentucky Derby previews and preparations for this year:
1. The pace is going to be fairly modest: I am mostly a fan of the Kentucky Derby points system as it stands now. It's not perfect, but it does a decent job assembling a field. One thing it has done very well, though, is made sure that the pace is more modest. When it was all about graded stakes earnings to get in, we frequently saw clear sprinters who had no real chance at the classic distance having the money to make the field. Their owners would put them in, and then try to run away from the field. It very rarely worked well, but what it did was set up psychotic early fractions - suicidal for any legitimate contenders that messed with them.

Now that you need to be able to run longer distances to earn the points needed to get in, things have really calmed down. Early fractions have generally been more modest, and the better horses have tended to do better in the races as a result. It's a fairer test.
And this year we don't have a whole lot of early speed here. Maximum Security is the only horse that seems to need the lead, and even he showed he is happy to run very slow on the lead if he is allowed to - as he was in the bizarrely run Florida Derby. Omaha Beach has wired a field and might look to mix it up early. War of Will's connections seem determined to run early, though the rail position could complicate that. And Improbable could perhaps mix it up. But none of those horses are pure speed burners. And the two best horses in that group - Omaha Beach and Improbable - are not at all going to be interested in dueling for the lead if it came to that.
So, the pace is likely only going to be driven by one or two horses and is more likely to be strategic than ridiculous. We should see pretty modest fractions over the first five furlongs or so, and that's going to set up for a winning time that won't knock our socks off and certainly won't threaten Secretariat's seemingly untouchable record for the race.
2. Baffert is right in the mix: Bob Baffert has the second choice in reigning two-year-old champ Game Winner , and co-third choices in Roadster and Improbable, so it is hardly a bold choice to say that he is going to factor prominently in the trifecta . But I don't feel like we have yet seen the best effort from any of the three horses.

Game Winner has lost his two races this year and has had legitimate excuses in both. He is ready for a step forward. Improbable has also dropped both starts, but he is training like a beast, and seems like he could be sitting on a career effort if he gets his race. And Roadster has run only twice since his throat surgery, beat Game Winner last time out, and could be ready for another big showing. Baffert has, at times, had horses flop in big races - and it often has cost me. But I feel confident we will see these three horses ready and looking to scrap. The big challenge, though, is figuring out which ones are ready for the biggest improvement - and that is making my head hurt.
3. Master Fencer is going to embarrass himself: This colt was the fourth-place finisher in Japan's road to the Derby points race, but the top three weren't nominated. And it's not like the best of the best in Japan were chasing this spot. This is a very ordinary horse. And his training since he has arrived in Kentucky has been both odd and underwhelming. All I hope is that the Japanese bettors - who bet a whole lot more on the races than we do - pile onto their local hero and inflate the prices for the horses that actually have a chance. Beyond that, I hope that he does badly enough that the embarrassment of these automatic spots for Japan and England end forever. I want to see top import horses testing the Derby, but having also-rans getting their spot by default doesn't help anything.
Doc's Sports wants you to try out our expert horse racing handicappers free of charge and is offering new clients $60 worth of free picks that can be used for any Triple Crown race. Get $60 worth of premium members' picks free .
Read more articles by Trevor Whenham