Long Range Toddy Odds to Win the 2019 Kentucky Derby with Picks and Predictions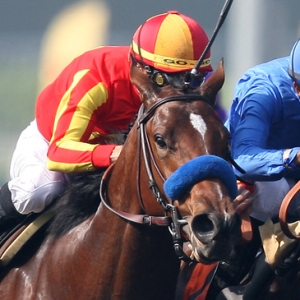 Long Range Toddy has a lot of elements going for him - at least for people who like good stories. His trainer is the most successful ever but has never won a Derby. His jockey is an ageless veteran who has never had a breakthrough in the biggest races. Owner Willis Horton also bred this horse and has been in the game for a very long time. He has never broken through at this level. His best success came with Will Take Charge in 2013 - a horse you will be sick of hearing about by the end of this preview. He has won two Eclipse Awards and a Kentucky Oaks, but a Triple Crown race would cap more than 50 years in the game. Add it all up and it sounds a bit like a Disney movie. But the hero has to win to make one of those movies a success. Can that happen here?
Last race: You know when a team has already clinched a playoff game but they still have a regular-season game left to play? It's not very often that they perform up to their potential in that game. That's what happened here - or at least that is what it seemed like. The colt entered the Arkansas Derby, but he already had enough points to likely make it into the Derby field no matter what. There was no real urgency. The priority was to stay healthy and to get ready for the Derby - the race that actually matters. He sat mid-pack like he usually does, but when he had to make a move, he didn't have it in him, and he faded to sixth. It was an underwhelming effort against a deep field.
Prior experience: The colt made his debut in late August and broke his maiden in his second try at the end of September. He finished his two-year-old season off running in, and winning, two listed stakes. In January he headed to Arkansas and progressed through the prep races there. He was second in the Smarty Jones and then third in the Southwest. His real, and unexpected, breakthrough came in the Rebel. In the division headlined by Improbable , the colt sat mid-pack, saving ground, until he unleashed a frantic charge down the stretch and nipped the favorite by a neck. It was an effort that was as impressive as it was unexpected. Improbable was knocking a lot of rust off after a long layoff, though, so it is unlikely that this horse is really better than that Bob Baffert runner. But he was on that day.
Trainer: Steve Asmussen has won more races than any other living trainer and more than all but one guy who has ever trained a horse. He knows how to get to the winner's circle. But the one race that has escaped him along the way is the biggest of American races - the Derby. He has won the Preakness twice, the Belmont, the Dubai World Cup, and six Breeders' Cup races, but not the big one. Now, he hasn't been nearly as prolific in this race as some of the top trainers out there, and sometimes he has brought duds - his Combatant last year had no business in the race. This race will have to prove to me that he is not just going to be another Asmussen also-ran. Asmussen did finish second in the Derby in 2017 with Lookin at Lee after going off at 20/1, so not every appearance has been a disaster.
Jockey: Jon Court took over for the Rebel and stays aboard here. At 58, Court is the oldest rider in this race by a decent margin. Court, a guy who is very easy to root for, has won more than 4,100 races. Not many have been at the highest level, though, and he hasn't been riding high lately - his win in the Rebel was his first graded stakes victory in two years. Court does not have a Breeders' Cup, and he's short on Derby appearances. In 2011 he was aboard Arkansas Derby winner Archarcharch, finishing 15th on a horse trained by his father-in-law. The year before, he won the Arkansas Derby on Line of David but then, inconceivably, was taken off the horse for the Derby. In 2013 he rode Will Take Charge, who had also won the Rebel, to an eighth in the Derby. He lost that mount in the Preakness but took over again for a disappointing 10th in the Belmont. Court is a capable rider who has had some success with this horse, but he is perhaps a bit outmatched in this field.
Breeding: Long Range Toddy is a son of Take Charge Indy, a sire who is a half-brother of former Court mount Will Take Charge. Take Charge Indy was injured in his Kentucky Derby appearance, finishing last. His first crop of three-year-olds was headlined last year by Noble Indy, who won the Louisiana Derby before flopping in the Derby and the Belmont. Take Charge Indy was sold to South Korea in 2016, so this crop of three-year-olds is the last we will see in the U.S. in big numbers for a while. Take Charge Indy is a son of A.P. Indy, the great Belmont winner and legendary sire who pass on stamina in bulk. Long Range Toddy's damsire is Unbridled's Song, who win the Florida Derby and the Wood Memorial in 1996. He was favored in the Derby that year, but a lingering foot injury impacted him and he wound up fifth. I was at the Derby that year, and his injury hurt my pocketbook. Unbridled's Song has been a stellar sire. Most famously, he sired the great horse of the year Arrogate. He also sired Will Take Charge - the connections to that horse just keep appearing. Unbridled's Song is a song of Derby winner Unbridled, who has the distinction of having sired a winner of each of the three Triple Crown races. The point is clear - Long Range Toddy is a very nicely bred horse.
Odds: Long Range Toddy went off at 23/1 in the final Kentucky Derby futures pool. Bovada has him at a more attractive +3300 in early futures action.
Can Long Range Toddy Win the 2019 Kentucky Derby?: Probably not. He is bred to handle the distance comfortably, and he has beaten a top contender already, but he would have to have his very best day while several others falter. Great story, but not a top contender.
Doc's Sports wants you to try out our expert horse racing handicappers free of charge and is offering new clients $60 worth of free picks that can be used for any Triple Crown race. Get $60 worth of premium members' picks free .
Read more articles by Trevor Whenham