2009-10 Miami Heat Predictions
by Robert Ferringo and Nolan Sinclair - 10/24/2009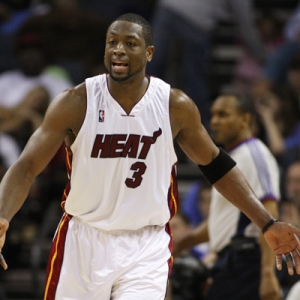 If you didn't get a chance to watch Dwyane Wade last season I feel sorry for you. The man did it all. He was a Superman on both ends of the floor. But the one bad thing about last year is that his play was so amazing I feel that he won't have much left in the tank for this season.
Wade is going to need more help if the Heat are to take the next step into the upper echelon of the Eastern Conference. One positive for Wade is that he will have a full season with Jermaine O'Neal. Wait, did I really just write that? A positive is playing a full season with Jermaine O'Neal? Nope, let me retract that whole statement; positive and full season shouldn't be in there. We all know that Jermaine O'Neal is a shell of his former self and there is no way he plays a whole season.
And, actually, if having O'Neal around (possibly) for the whole year is the best thing Wade has going for him he's still in big trouble. The Heat's major offseason acquisitions were Carlos Arroyo and Quentin Richardson, and their second-best scoring option spent time in the "nuthouse." Things don't look too hot for the Heat. I still see the playoffs in their future but another first round exit seems likely.
The Heat start a motley crew of sorts, led by their fearless leader, Wade. Mario Chalmers had a solid rookie season playing point guard for the Heat. Chalmers averaged 10 points, five assists, and three rebounds a game. It is imperative he continues with those numbers and he may even need to improve on them somewhat if the Heat want to move up the Eastern Conference rankings.
Michael Beasley will start at small forward and a sophomore slump seems unlikely. PER, player efficiency rating, has become the OPS of NBA stat lines and a new tool for evaluating performance. And Beasley had a better PER his rookie season than Kevin Durant did. The knock on Beasley has been that he couldn't handle a full load of minutes. Well, he better get that out of his system due to the fact that his coach wants him to get close to 36 minutes of burn a night. Beasley's averages of 14 points and just more than five rebounds a game should both increase this season.
At power forward the Heat like to trot out defensive specialist Udonis Haslem. The main thing I like about Haslem's game is how he matches up with Dirk Nowitzki and players like him. Due to his aggressive nature, Udonis gives high-scoring power forwards fits when he is matched up against them. Haslem has become the double-double man for the Heat and they will count on him to continue that mantra. O'Neal will start at center for the Heat and he will play, oh, about 12 games. Glass Joe O'Neal has played more than 64 games once since 2003-04. He used to be an offensive force but due to injuries and Father Time catching up with him, he hasn't averaged more than 14 points since 2006-07.
Take a gander at these stats; 30.2 points, just over one block, two steals, 7.5 assists, five rebounds, and all while shooting 50 percent from the floor and 77 percent from the foul line each game. Those are MVP numbers and that is what D-Wade deserved last year. Don't get me wrong; LeBron has some impressive stats as well. But Wade took the worst team in the league and a few new rookies to the NBA playoffs. Isn't that what MVP means? I don't think Wade can do the same thing this season but his gaudy numbers should continue. If Wade suffers an injury due to his overexertion last year this team is going to sink faster than you can say "wait, Jermaine O'Neal got hurt again?"
2009-10 Miami Heat Predictions:
2009-10 Odds to win the NBA Finals: 40/1
2009-10 NBA Regular Season Win Totals: 41.5
2008-09 Miami Heat Results:
2008-09 ATS Results:
| | | |
| --- | --- | --- |
| Overall | Home | Away |
| 40-40-2 | 20-20-1 | 20-20-1 |
2008-09 O/U Results:
| | | |
| --- | --- | --- |
| Overall | Home | Away |
| 45-36-1 | 24-16-1 | 21-20 |