2011-12 Miami Heat Predictions and NBA Betting Odds
by Alan Matthews - 12/20/2011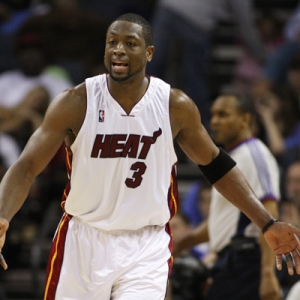 With all due respect to the Chris Paul trade and all those Dwight Howard rumors, there is one clear overriding story line heading into the 2011-12 NBA season and it's the same as last year: Can anyone beat the Heat?
Of course, we all know that one team did manage to do that last season, with the Mavericks pulling the upset in the NBA Finals and setting off celebrations pretty much everywhere across the United States (especially in Cleveland) other than in south Florida. LeBron James' "Decision" made him public enemy No. 1 and the Heat the NBA's most villainous team since probably the Bad Boy Pistons.
Many predicted that Miami would break the Bulls' mark of 72 wins last season, but it took time for LeBron, Dwyane Wade and Chris Bosh to jell – the Heat, who were 9-8 at one point, finished the regular season with 58 wins, which was still the third most in the NBA. The first three rounds of the playoffs were quite similar: five-game Heat series wins over Philadelphia, Boston and NBA No. 1 overall seed Chicago before Miami ran into Dirk Nowitzki and Co.
Certainly an NBA Finals appearance would be considered a success for most teams, but this season it's an absolute expectation that Miami finishes the deal. Anything less will be failure.
2011-12 Miami Heat Offseason Moves
For the most part the Heat stood still as they are well above the salary cap.
However, they were able to add one nice piece in forward Shane Battier, who certainly took way below market value to chase his first championship. The 33-year-old averaged 7.6 points and 4.5 rebounds for the Houston Rockets and Memphis Grizzlies last season. The Heat were hot for him because Battier can defend perimeter players and make spot-up three-pointers that playing with LeBron and Wade will create.
Battier shot 38 percent on three-pointers last season and is a career 39 percent shooter from long range.
Plus, Battier has a terrific work ethic, is great in the locker room and one of the smartest players in the league – it's why several contenders wanted him. Battier, whose natural position is small forward, will be able to give LeBron some rest while also playing on the court with the Big 3 with James handling the point guard duties.
The only other major addition as of this writing was slimmed-down center Eddy Curry, but he has not played in three seasons. Miami also re-signed restricted free agent point guard Mario Chalmers but still could chase a veteran point guard who might be released and who might take the minimum to win a ring.
As for player departures, Miami lost big men Jamaal Magliore, Erick Dampier and Zydrunas Ilgauskas, although none of them did much if anything a year ago. Also gone is point guard Mike Bibby, who was acquired late last season.
2011-12 Miami Heat Futures Odds
On Bovada, the Heat are +200 favorites to win the NBA title and 10/11 to win the East.
James is 3/1 to win NBA MVP, while Wade is 9/1.
2011-12 Miami Heat Schedule
The Heat open their season against the team that ended Miami's 2010-11 season: at Dallas on Christmas Day. The home opener is two games later against rival Boston.
The Heat's 66-game slate includes 18 back-to-backs, and one back-to-back-to-back in the middle of a six-game road trip. The Heat will play four games in five nights six times and have three separate road trips that encompass three games in four nights.
April shapes up to be the most grueling month. Beginning on April 12 at Chicago and ending on April 22 vs. Houston, the Heat will play eight games in 11 nights. Miami does face the Lakers twice: Jan. 19 in South Florida and March 4 in L.A.
The season concludes April 26 at Washington.
2011-12 Miami Heat Predictions
Everyone is saying all the right things this year in Miami. LeBron says he's not going to play the angry villain role anymore -- "I play the game fun, joyful, and I let my game do all of the talking and I got away from that. That's what I lost last year." -- and Bosh says he's now comfortable playing third fiddle after having some trouble in that role a year ago.
Plus LeBron, Wade and Bosh all showed up to camp in tremendous shape, which not every player can claim after the lengthy lockout.
The Heat should be the odds-on title favorites and will win it all if they stay healthy. Unfortunately, that's already a problem. Swingman Mike Miller, who was being counted on to stretch defenses with his three-point shooting, was a non-factor last season. He missed most of it with a wrist injury and never got right. And Miller already has undergone hernia surgery and will miss at least the first month or so of the season.
But power forward Udonis Haslem is healthy after also missing most of last season, and Haslem showed how important he was in the East Finals against Chicago.
The Heat are still pretty weak at point guard and definitely at center, where the undersized Haslem probably will spend most of his time although Joel Anthony is listed as the starter.
And who takes the last shot in a close game on this team? LeBron seemed to shrink from that role last year and deferred to Wade. James was definitely too passive in the Finals against the Mavs. Perhaps a "looser" James will translate into a more aggressive James.
For what it's worth, LeBron worked on his post game – probably his biggest weakness – during the offseason. In the NBA Finals, Dallas coach Rick Carlisle and the Mavericks stifled James on the perimeter and James tried in vain to shift his game inside.
"If we don't win a championship, it's a bust year," Wade said.
They will.

Doc's Sports is offering our best price ever for a full season of expert NBA picks! If you purchase a full-season NBA package this week (for our lowest price ever of $499) you will get two free NBA handicappers to try out free for two weeks – after that two weeks you can pick from the three handicappers to continue on with or you can get a great deal on multiple handicappers. Click Here for more information.