NBA Eastern Conference Predictions - Atlantic Division
by Josh Nagel - 10/16/2009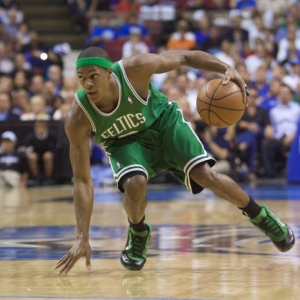 Here are some NBA predictions for the 2009-10 season, with a team-by-team look at the Eastern Conference Atlantic Division.
Team: Boston Celtics
Last year's record: 62-20, 43-49 ATS
Odds: +350 (NBA championship), +160 (Eastern Conference)
Key transactions: Signed free-agent forward Rasheed Wallace.
Boston Celtics Predictions: The Celtics added the volatile Wallace to go with their aging and sometimes ailing Big Three of Kevin Garnett, Ray Allen and Paul Pierce, each of whom is headed toward the twilight of their careers. If Wallace plays with the passion and focus with which he is capable, he will certainly be of some help. Wallace's presence should take some pressure off Garnett, who will be trying to recover form the injury that forced him to miss all of last year's playoffs. If Rajon Rondo continues to evolve into one of the league's better point guards, he can bail the team out on nights when the veterans can't find their strides. The Celtics are still easily the class of this division, even if this statement isn't saying much.
Prediction: 59-23, first place.
Team: Philadelphia 76ers
Last year's record: 41-41, 36-44-2 ATS
Odds: +6500 (NBA), +2800 (conference)
Key transactions: Traded for forward Jason Kapono. Hired coach Eddie Jordan.
Philadelphia 76ers Predictions: The 76ers added Kapono for a much-needed perimeter threat to go along with their core of gritty, athletic forwards who can score on the drive and in the paint. Rising stars such as Andre Igoudala, Thaddeus Young and Marreese Speights should continue to improve, giving Philadelphia one of the league's more formidable front lines. Of course, a full season from the high-priced but injury-prone Elton Brand wouldn't hurt, either. Jordan should be able to inject a little more up-tempo flare to take advantage of his team's athleticism.
Prediction: 44-39, second place.
Team: New York Knicks
Last year's record: 32-50, 47-34-1 ATS
Odds: +7500 (NBA), +3800 (conference)
Key transactions: Drafted forward Jordan Hill. Re-signed forward David Lee.
New York Knicks Predictions: Coach Mike D'Antoni wasn't afraid to weed out players who didn't fit his style; whether this is the best move for the franchise remains to be seen. While he was wise to give more playing time to guys like Lee and Wilson Chandler, this team still has its share of shoot-first players who don't care much for defense. To that end, the Knicks were fourth in total offense last year while ranking No. 28 in defense. While this style seems to fill seats, it also left the Knicks at home come playoff time.
Prediction: 40-42, third place.
Team: Toronto Raptors
Last year's record: 33-49, 33-47-2 ATS
Odds: +7000 (NBA), +5500 (conference)
Key transactions: Acquired forward Hedo Turkoglu and guard Jarrett Jack.
Toronto Raptors Predictions: This team never seems to accomplish what the talent on its roster suggests it's capable of. The Raptors aren't horrible in any phase of the game, but they aren't dominant at anything, either. They are the definition of mediocre, but they had better improve if coach Jay Triano plans to stick around for long. Turkoglu and Jack provide a little more firepower, but what the Raptors could really use is a little more toughness.
Prediction: 35-47, fourth place.
Team: New Jersey Nets
Last year's record: 34-48, 43-38-1 ATS
Odds: +12000 (NBA), +9000 (conference)
Key transactions: Acquired guard Rafer Alston and guard-forward Courtney Lee.
New Jersey Nets Predictions: Dumping Vince Carter was the long overdue move that will allow this team to finally rebuild and go forward. Along with the departures of Richard Jefferson and Jason Kidd, the Nets have now rid themselves of a high-priced trio that masqueraded as NBA stars but gave the franchise little in return for the big paychecks. Coach Lawrence Frank's return qualifies as a bit of a surprise, but he will earn his place on the sideline if he can get this new group of players to bring home a winning record.
Prediction: 30-52, fifth place.