NBA Odds: 2012 NBA Rookie of the Year Betting
by Alan Matthews - 6/30/2011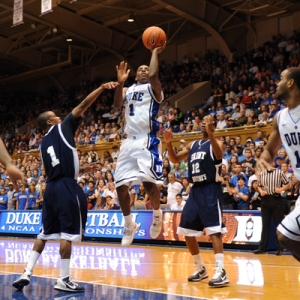 It's pretty much a lock, pardon the pun, that the NBA owners will lock out the players if a new labor deal isn't reached during an 11th-hour negotiating session today. And the chances of that deal happening are pretty much nil. So enjoy any NBA futures odds you can bet on right now. And with that said, we present a look at the 2012 NBA Rookie of the Year odds courtesy of Bodog.
Now, you need to take the lockout into effect when betting on this prop. How so? Any rookie who may start from Day 1 obviously would have a huge edge over one who might not get into the regular rotation right away because the season could well be shortened. The last NBA lockout, which began in July 1998, did not end until February 1999, and the season was shortened to 50 games.
So while Duke point guard Kyrie Irving was the top overall pick in last week's draft, he probably won't start right away because the Cleveland Cavaliers already have Baron Davis and Ramon Sessions at the point, although Cleveland would love to trade one or both. Bodog lists Irving as the third favorite on the rookie prop at 11/2.
The favorite at 9/2 is Arizona forward Derrick Williams, the No. 2 overall pick of the Minnesota Timberwolves. Many believe Williams has the highest ceiling of any player in this year's draft. The 6-foot-8 forward averaged 19.5 points and 8.3 rebounds per game for the Wildcats during the 2010-11 season en route to earning Pac-10 Player of the Year honors. Williams, however, also may not start from Day 1 because the Timberwolves have Michael Beasley, a former No. 2 overall pick himself, at small forward. But Williams still will play a ton of minutes as Minnesota is likely to transform itself to a run-and-gun team with new point guard Ricky Rubio in the fold.
Frankly, Rubio could be the good value at 8/1 because he is going to be handed the keys to the offense right away. Will Rubio score much? Probably not, but he could be a big-time "SportsCenter" regular with some terrific passing. A guard has won the NBA Rookie of the Year award in four of the past six seasons, for what that's worth.
Jimmer Fredette is the second-favorite on this prop at 5/1, but most experts don't even think Fredette is a starter in the NBA because he's not quick enough to play the point or big enough to play shooting guard. But he and Tyreke Evans should make for an entertaining backcourt. He's not good value here, though.
Enes Kanter, the third overall pick by Utah, is the third favorite at 7/1. However, the Jazz can afford to bring Kanter along slowly because they are pretty solid in the frontcourt with Paul Millsap at power forward and Al Jefferson at center. Plus, Europeans often take a bit longer to adjust to the U.S. game. Do you realize only one European has won Rookie of the Year? That was Pau Gasol in 2002 with the Memphis Grizzlies. So maybe I just talked myself out of Rubio …
And in fact maybe I just talked myself out of 6-foot-11 Czech Republic forward Jan Vesely (12/1), the sixth overall pick by the Washington Wizards. But he will be a major highlight staple as well, as Vesely is a freakish athlete who can run the floor and is an explosive dunker – think a Euro Blake Griffin. Yeah, I think Vesely is the best value here because NBA Rookie of the Year is essentially a popularity contest, and Vesely already has a decent Q Rating after that memorable kiss with his smoking-hot girlfriend after he was drafted. Plus he will put on a show with John Wall feeding him plenty of alley-oops. Add in that Vesely is 21 and has been playing pro ball for four years in Slovenia and Serbia so he should be ready for the rigors of the NBA.