2011-12 New York Islanders Predictions with NHL Futures Odds
by Trevor Whenham - 9/21/2011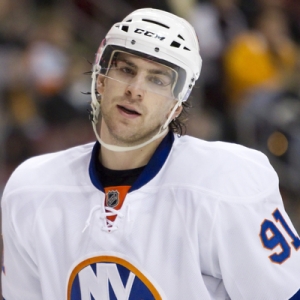 If you remember when the Islanders used to be one of the great teams in the NHL then, sadly, you are getting old. For far too long this once great franchise has played uninspired hockey in a truly horrible barn of an arena. For the first time in literally decades, though, there is reason for hope on Long Island.
John Tavares is a very exciting player, and he's entering his third season at just 20 years old, so he should take a big step forward this year. He's easily a point-a-game type of guy, and he just signed a contract extension to stay with the team, so he's something very attractive to build around.
He's not alone when it comes to impressive young players, either -- Michael Grabner came from nowhere to score 34 goals, Kyle Okposo is the real deal, and Matt Moulson -- a senior citizen in comparison at 27 -- has grown into an offensive force.
The team has the best core they have had at least since Pat Lafontaine left town, and probably since earlier than that.
New York Islanders Offseason Moves
The best thing the team did in the offseason was tie up Tavares. Having him heading into restricted free agency with an uncertain future would have cast a cloud over the team all year.
Their only really significant loss was the retirement of Doug Weight. Though he was a strong veteran presence, his impact was far from significant on the ice, so he's not a major loss. They didn't add a lot of pieces from outside, but what they did add I like.
They added two very nice veteran forwards in center Marty Reasoner and winger Brian Rolston. Neither guy will wear out the goal light, but they are both very functional guys who have been around and had some success. Their presence makes the team better -- especially if they can find some chemistry with the younger future stars.
New York Islanders Outlook
Goaltending is a big question for this team, but there are plenty of options -- and some of them are actually pretty good.
Rick DiPietro is the one guy who is sure to be in the picture -- whether that's a good thing or not. He signed a ridiculous 15-year contract five years ago, so they are stuck with him.
There will be a lot of guys pushing him. Al Montoya, the former Michigan star who has yet to find a spot in the pros, was impressive late last year after being picked up from Phoenix. Evgeni Nabokov didn't report to the team last year after being picked up off waivers, but he has come around this year -- likely because he knows how nice it is to be paid NHL money. Kevin Poulin is a youngster who played well in limited action last year and has real potential.
If the Islanders can find a workable duo from that foursome -- and they should be able to -- then the team has some nice potential.
The already strong youth faction on the squad should get a big boost this year. Nino Niederreiter didn't look too out of place in nine games with the big team last year before being sent back to junior for another year. Back in the WHL he was spectacular -- 41 goals in 55 games. If he can make the team he'll add another dimension to the team.
2011-12 New York Islanders Schedule
There is a back-to-back series that you won't want to miss -- if you like violence, that is. Last year the Penguins and the Isles played two crazy games. DiPietro got his cheek broken in a fight in the first game, and the search for revenge in the second turned into a brawl-filled mess. It was great. On Oct. 25 and 27 the two teams meet to renew their hatred.
New York Islanders NHL Future Odds (from Bodog)
Oddsmakers do not like this team. At all. They are dead last in the Stanley Cup futures at 80/1, and also last in the Eastern Conference at 45/1.
2011-12 New York Islanders Predictions
I think the future is bright for this team. I also don't think that that future is now. Betting on this team -- even at these fat futures prices -- would be a terrible idea. That being said, if they do get that goaltending figured out and if Tavares and company keep progressing then this is going to be a tough team to beat.
They will likely lose more than they win, but they are going to catch some teams off guard as well, and they are going to deliver some profits for bettors at big prices along the way. It could take a while to figure out how to handicap this team effectively, but I suspect that they will be worth the effort.
Doc's Sports is very excited for this upcoming NHL season (the new season starts on Oct. 6) and we have a new full-time NHL handicapper from Canada and we are expecting big things this season. We have NHL picks packages available now, and if you purchase before the season starts you can get our great Early Bird price of $595, which will give you picks through the Stanley Cup Finals.