2011-12 Oklahoma City Thunder Predictions and NBA Futures Odds
by Trevor Whenham - 12/16/2011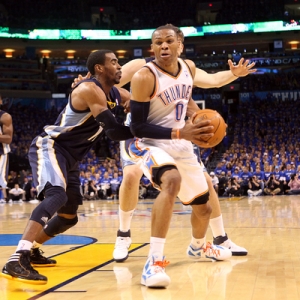 The Thunder come into the season surrounded by a whole lot of hype, but that's in large part because they are the kind of team you can feel good about cheering for. They are guys who work hard, mostly mind their own business, and stay out of the tabloids.
The team hasn't built through free agency, and there is no group of superstar players who whined and pouted until they got to play together. It's just a bunch of mostly young and uniformly talented guys who are working hard and learning how to play very good basketball together.
What will be most interesting to watch with this squad is how well they can handle the new attention directed their way. With wins over Denver and Memphis in the playoffs last year they showed that they are ahead of schedule and perhaps ready to be a championship team.
Some teams in the past have thrived under that kind of scrutiny and expectation, while others have crumbled. There are a few reasons to be concerned here — like the rumors that won't go away that Kevin Durant and Russell Westbrook aren't always on the same page — but there is still a whole lot to like about the team.
Key Changes
In an offseason that has been filled with turmoil and change — even among major contenders — it is striking that the Thunder have essentially done nothing this offseason. No significant additions or subtractions have been made to the squad.
That's a striking vote of confidence by the management in the status quo.
Talent
Simply put, this team has a whole lot of it.
Kevin Durant led the NBA in scoring last year, and he has a good look at MVP this year if the team plays as well as they are expected to.
Russell Westbrook is statistically impressive, and would be even better if he could learn to play more within himself at times. He's young, so it's reasonable to think that he could mature on the court this year.
Serge Ibaka and Kendrick Perkins form a potent defensive front court, and may form, along with Durant, the scariest front court in the league. Ibaka has been working hard to sharpen his offensive skills, and Perkins has lost weight and toned up significantly, so they should only be better than last year.
James Harden took huge steps forward from his first to second year and should be able to do so again. Add in some really nice depth pieces like Nick Collison, Eric Maynor, Nazr Mohammed, Daequan Cook, and Thabo Sefolosha, and you have a very deep team with few holes and a lot of upside left to discover.
If you want to be nervous or negative about something then you can point out that four of the five starters are under the age of 25, so maturity is in short supply. That's offset somewhat by the fact they have all played together for a while and they had the experience of their playoff run last year, but it's still there as a concern.
Coach
This is Scott Brooks' first NBA head coaching job, but it sure didn't take him too long to figure things out. He was named Coach of the Year in his second season, and now in his fourth he is still wildly popular with his players.
In a league that changes coaches on a whim he's getting to be a veteran, and at this point he's a perfect fit with the team.
Oklahoma City Thunder Schedule
Back-to-back games are a fact of life in this condensed season, and Oklahoma City certainly has their share. Their young legs could handle those better than some teams.
What will be a test worth looking at, though, is the three games in three days that come in early January. They play a home-and-home with Houston and follow that up with a home game against the Spurs. That's a Texas-sized test.
Another interesting test comes just after Christmas when on consecutive nights they face playoff rematches against Memphis and Dallas.
Oklahoma City Thunder NBA Futures Odds
The oddsmakers and the public like this team. They are tied with the Bulls as the third choice to win the NBA Championship, with the odds set at 15/2 by Bovada.
The only two teams ahead of them are two chronically overbet public teams — the Heat and the Lakers.
It's particularly interesting to note that they are where they are compared to the Mavericks at 10/1 when that team beat them fairly handily in the playoffs last year, is the defending champs, and had a solid offseason. That's a vote of confidence for this team that can't be ignored.
2011-12 Oklahoma City Thunder Predictions
If I had to pick a finals pairing right now I would take the Bulls and the Thunder. They don't have the chemistry issues to overcome that some teams have to deal with in their conference, they are wildly talented, and they are only going to get better this year.
There are many things that could go wrong — damaged chemistry, issues with Brooks, injuries to Durant or Westbrook, and so on — but I feel more confident about this squad than I do any other Western Conference team right now.
Doc's Sports is offering our best price ever for a full season of expert NBA picks! If you purchase a full-season NBA package this week (for our lowest price ever of $499) you will get two free NBA handicappers to try out free for two weeks – after that two weeks you can pick from the three handicappers to continue on with or you can get a great deal on multiple handicappers. Click Here for more information.