2012 Preakness Stakes Post Positions Analysis and Handicapping
by Robert Ferringo - 5/17/2012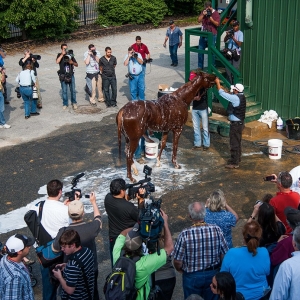 The Preakness Stakes post position draw and analysis has become a convenient talking point for mainstream sports media bobbleheads and wannabe horse racing handicappers over the past 24 hours. But the truth of the matter is that after the Kentucky Derby the post draw really has very little to do with how the second and third legs of the Triple Crown are run.
The 137th running of the Preakness Stakes will be held at 6:15 p.m. on Saturday, May 19. The race will take place at the Pimlico Race Course in Baltimore and represents the second leg of horse racing's Triple Crown.
Free $60 of Peakeness Stakes Memeber Picks CLICK HERE
Kentucky Derby winner I'll Have Another drew post No. 9 at Pimlico. Some people may try to ascribe some meaning to that opening slot, but not I. Especially when you consider that I'll Have Another became the first horse in Derby history to win the Run For The Roses after starting from the No. 19 position.
Bodemeister, the early Preakness favorite, is slotted to start at the No. 7 position. Again, that draw, by itself, is no reason for his odds to be any better or worse than I'll Have Another. However, some reports I've read have tried to deduce that the "inside post" to I'll Have Another is an advantage.
I don't see it.
Styles make horse races. And as long as a horse isn't on the extreme inside (the rail) or the extreme outside post position it really doesn't matter much where they start. It matters where they finish.
So now that I have trashed the "science" of Preakness post position handicapping, here is my 10-cent breakdown of how the draw will impact the race this Saturday:
1. Tiger Walk (30-1) – The dreaded rail. Only one horse has overcome the No. 1 position in the last quarter century to win the Black Eyed Susans. Tiger Walk won't be the second. But that is because he isn't any good, not because of his post draw.
2. Teeth of the Dog (15-1) – Here we have a stalker horse that should break early and will want to be in the second set behind the leaders. This draw shouldn't have an impact as long as Teeth of the Dog breaks clean and doesn't get pressed into Tiger Walk. In the last 22 years this is the only post that hasn't produced a winner in this race.
3. Pretension (30-1) – Here is one horse that may gain a slight edge from its post draw. But the odds don't really reflect it because this horse isn't believed to have the goods to win this race. He likes to run up front and may break early to take the lead. But we'll find out in about 15 seconds if this horse is faster than Bodemeister or not and that's all that matters.
4. Zetterholm (20-1) – This horse has a three-race winning streak but has never run this distance. It is also an off-the-pace closer and he won't try to press the early lead either, negating an inside post position.
5. Went the Day Well (6-1) – This is the perfect example of a horse's odds being manipulated because someone believes that they have a favorable post. This horse opened as a 40-to-1 underdog at the Derby and was running seventh before making a late charge to get into the superfecta. I wouldn't touch this horse at anything less than 11-to-1.
6. Creative Cause (6-1) – Here we have a legitimate sleeper, but at these odds it wouldn't be a stunner to see Creative Cause in the winner's circle. This horse has already beaten Bodemeister and lost by a nose to I'll Have Another. Perhaps it gains a touch of advantage starting inside the two favorites. But this horse is a stalker that wouldn't be looking to press the lead early anyway.
7. Bodemeister (8-5) – The No. 7 post, along with the No. 4 and No. 6 slots, has produced the most winners (four) of any post in the last 22 years. But if Bodemeister wins this race it will be because he is an amazing specimen and a front-runner, two traits that this race rewards.
8. Daddy Nose Best (12-1) –This horse has won its last two runs at this distance – the Sunland Derby and the El Camino Real Derby – but finished just No. 10 in the Kentucky Derby. This is a horse to toss into some exotics, but I don't like its prospects of beating the two horses on either side of him.
9. I'll Have Another (5-2) –The Kentucky Derby winner will be just fine in this post. Rachel Alexandra won this race from Post 13 in 2009 and Afleet Alex won from Post 12 in 2005. There have been seven horses in the last 15 years that have won the Preakness from Post 8 or further out so it is not a big deal at all that I'll Have Another is this far outside.
10. Optimizer (30-1) – Thisis a filler horse that wasn't going to win this race anyway.
11. Cozzetti (30-1) – Who?
Robert Ferringo is one of the top Triple Crown Horse Racing handicappers in the country. He has cashed a ticket in the Preakness Stakes in four of the last five years and he has had a winning ticket in six of the last seven Triple Crown races. Robert was a perfect 3-for-3 in the 2011 Triple Crown races and wants to get his first profit of this season on Saturday.