2009-10 Sacramento Kings Predictions
by Justin Johnson - 10/23/2009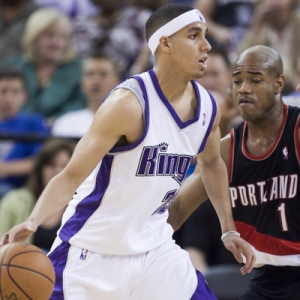 2008-09 Record: 17-65
ATS: 38-44
Home: 16-25 Away: 22-19
O/U: 41-41
Home: 22-19 Away: 19-22
Projected Starting Five: PG, Tyreke Evans. SG, Kevin Martin. SF, Andres Nocioni. PF, Sean May. C, Spencer Hawes.
Breakdown: Paul Westphal has been brought in to try to shape up a team virtually devoid of star power, depth, or upside. He also did so with the understanding that if he did turn the team around he would be out of a job regardless of his successes. The Kings are now on their fourth coach in four seasons and the Maloof brothers are hoping the fundamentals that they parted with by firing Rick Adelman will be brought back under Westphal.
The best player on the team is shooting guard Kevin Martin. For lack of a better reason, someone has to score and Martin has been in the 20-points-per-game range for a few seasons. He is not a player to build a franchise around but is the best they have right now.
Tyreke Evans was drafted to be the future point guard but with Beno Udrih being the only other true ball handler the future may be now and Evans could see major minutes - and growing pains - early.
Andres Nocioni was acquired from the Bulls in February and averaged almost 14 points per game with the Kings. Nocioni is a nice complimentary player but is better served as a reserve to keep his flaws from glaring.
The frontcourt includes Spencer Hawes and Jason Thompson, who are both young and eager to learn. However, in the win-now NBA Thompson's time may be short lived. Hawes has already caused issues with the new boss.
There is not good depth behind those two and the Kings may just have to make due.
Sean May has looked better than Thompson at camp and was named starter at the PF position, but that spot is certainly in jeopardy. The King's may not have any better options at the position.
Depth is also a concern. Spot-up shooters Donte Greene and Francisco Garcia were both very good in Big East play in college but this is the NBA and forcing a player to be something they are not causes early washouts. While Garcia may be able to accept and excel in his role Greene has shown to be a me-first player with limited range on his shot.
Sacramento Kings Predictions: Sacramento will be hard pressed to break 20 wins again this season and a last-place finish in the division can only be avoided by another team completely tanking. This team won't be anywhere near the playoffs. If you are looking for a bright side, well, they should have good odds in the lottery at the end of this year.
Futures consideration - BetUS
The King's have virtually no chance at making the playoffs let alone winning the conference so the +15,000 bet for them to win the West is just a pipe dream and a waste of money.
That money, however, may be more wisely placed on Tyreke Evans winning Rookie of the Year. Evans likes to shoot the ball and will be on the court with Martin and Hawes as the only two real scoring options so there are points to be had. He certainly isn't the preseason favorite for the award and at +650 it shows. However, his ability to make a team a winner was shown in his one season at Memphis and a 6-foot-6 combo guard can pose defensive matchup problems if he is able to exploit them.