2011-12 SEC Basketball Predictions and Futures Odds for Betting
by Robert Ferringo - 11/1/2011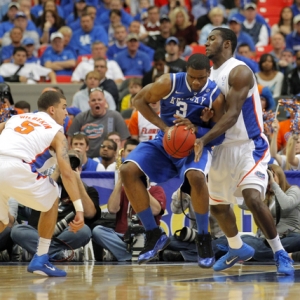 Things are starting to change in the SEC. Well, other than the fact that Kentucky is going to win another title.
The SEC has revamped how it will determine its league champion. Instead of seeding teams 1-6 by virtue of their respective division finishes, the SEC will seed everyone 1-12 with the top four receiving the bye. The current rules allow the top two seeds from each division – regardless of their overall SEC ranking – byes and more favorable paths.
Last year all five NCAA Tournament teams – Florida, Georgia, Kentucky, Tennessee and Vanderbilt – came from the SEC East. But Alabama and Mississippi State each enjoyed a bye because they were the top two teams in the SEC West.
Also, next year the SEC is ditching the two divisions all together. The league adds Texas A&M and will become a single 13-team conference with no East/West groupings. They are considering changing the conference schedule from 16 to 18 games.
Here are my 2010-11 SEC college basketball predictions to help you with your college basketball picks (with odds to win the each team's division in parentheses):
The Favorite: Kentucky (-125)
You can't argue with what scumbag Coach John Calipari has going down in Lexington.
He lost three key players from last year's Final Four team, including go-to guy Brandon Knight. But with another amazing recruiting class the Wildcats are again among the elite teams in the country.
Forward Terrence Jones, who is nearly unstoppable going to the rim, has a chance to be among the two or three players in the nation.
Kentucky isn't dodging anyone in the nonconference and they should dominate the SEC once again.
But the question on the table is whether there is any value betting on these Cats? Calipari has shown that he is willing to run it up against weaker competition, so they may be able to cover some of the mammoth lines they will face.
But just because this team has talent doesn't mean it will live up to the hype.
The Challenger: Vanderbilt (+500)
Vandy has been among the softest teams in the country over the last few seasons, albeit one of the more skilled ones. That all seemed to change a bit last year when big man Festus Ezeli started to intimidate in the paint for this club.
Unfortunately, Ezeli injured himself in camp and likely won't be back until January. That isn't a season-sinker, but it doesn't help.
That does put the onus on one of the best perimeter trios in college hoops - Brad Tinsley, John Jenkins and Jeff Taylor – to carry the load. They are more than capable and that group can fill people up.
But if Vandy is really going to make a run at Kentucky and Florida, and if they are going to finally get that elusive NCAA Tournament win, then they will have to defend the basket at some point and toughen up in the paint. They can't do it without Ezeli, and his health may be the key to the season.
The Dark Horse: Florida (+250)
To say that the Gators have a loaded backcourt is an understatement. Returning three-year starters Kenny Boynton and Erving Walker combined to score nearly 30 points per game last year. They are "backed up" by five-star Rutgers transfer Mike Rosario and his 16.7 points per game average, while freshmen sensation Bradley Beal hits campus as one of the top shooters in the class.
Chemistry and sharing the rock could be issues. But not as much as their flimsy frontcourt.
Overrated sophomore Patric Young is being asked to anchor the middle. Beyond that the Gators have only three players listed at 6-8 or taller, and two of them are freshmen.
Last year the foundation of the team was its frontcourt. This year it is the key to the season. And we're going to find out quickly if Florida can overcome that weakness, as the Gators play one of the toughest nonconference schedules in the nation.
The X-Factor: Alabama (+800)
I think that Alabama really has a chance to pass both Vanderbilt and Florida as Kentucky's primary competition. The reason is simple: they have one of the top frontcourts in the nation and they actually have the size to stand up to the Wildcats in the paint.
The Crimson Tide didn't make the Big Dance last year, but I think that they have the potential to be a second-weekend team. Jaymychal Green and Tony Mitchell are both all-conference forwards and they feed off each other.
The key for this team is finding guard play to compliment point man Trevor Releford, who really came on at the end of last season. C
oach Anthony Grant, who I think is one of the best in the business, will be looking to three freshmen guards to step up. And if any of them are able to contribute right away this will definitely be a team to watch.
The ATS Machine: LSU (+2000)
This is kind of a weird program that has had plenty of ups and downs over the last six years. But Trent Johnson has finally rebuilt his roster in his image and will have a deeper team than he's had in his four years in Baton Rouge.
Expectations are miniscule after an 11-21 season (3-13 in the SEC). But I see potential here.
Johnson's starting backcourt, Andre Stringer (11.2 ppg) and Ralston Turner (12.3), is intact and will benefit from some newcomers on the inside. Iowa State transfer Justin Hamilton is a proven commodity and freshman Johnny O'Bryant is a potential cornerstone in the post.
Add in veterans like Storm Warren and Malcolm White, two seniors, and the Tigers are going to be better and more competitive than people expect. They won't be a very good team. But the Tigers should be just improved enough to be an earner.
The Disappointment: Arkansas (+1500)
New Head Coach Mike Anderson comes to town with much fanfare and raised expectations. He also usurped a dynamite recruiting class from deposed Coach Mike Pelphrey. But this roster is still a disaster, in my opinion, and I don't see any way that this team improves on its record last year (18-13, 7-9).
Marshawn Powell can play a little bit. But this team can't defend, can't rebound, and can't shoot. Other than that they are fine.
I don't exactly know what the immediate expectations are in Fayetteville. But I do know that this is one of the least talented teams in one of the weaker BCS conferences in the country. I am setting the bar pretty low.
The Rest:
Mississippi State (+1000)
These odds to win the SEC are absolutely ridiculous.
I understand that everything that could have gone wrong for the Bulldogs last year did. Perhaps that makes Miss. State a solid bounce-back option heading into this season. Or maybe this year will be the beginning of the end for Rick Stansbury.
Dee Bost is one of the top point guards in the league. Beyond that the entire season hinges on overrated Renardo Sidney's mental well-being. Not good.
Freshman Rodney Hood and transfer Arnett Moultrie are pieces. But the Bulldogs don't have much of anything past that quintet and it is not like Stansbury is some mastermind on the sideline. Look for another long year in Starkville.
South Carolina (+5000)
Darrin Horn's seat is about to get toasty. For the first time in his USC career he has a roster full of his recruits…and the team looks like one of the worst in the conference.
Horn was dealt a tough blow when star guard Bruce Ellington was lured into football for the Cocks. Now the hoops team could be without his services until January and then there is no telling what type of shape (mentally and physically) he will be in.
Another projected starter, Murphy Holloway, transferred to Ole Miss, and two other guards and an assistant coach bailed on the program this offseason.
It appears that people are trying to get off a sinking ship. I wouldn't expect much from this group, which has been picked to finish dead last in the conference.
Mississippi (+1500)
Ole Miss couldn't earn an invite to the Big Dance last year with underrated Chris Warren running the show. I don't see how they are going to make any major strides this year with zero proven backcourt pieces.
The Rebels have enviable frontcourt depth and a decent system. But they have had the talent to be a player in the SEC over the last two years and haven't really come close.
Whether that is Coach Andy Kennedy's doing or just the general malaise on campus toward that program is debatable.
But there is nothing about this year's squad that makes me believe they will surpass last year's 20-win team that went 7-9 in league play. In fact, I am predicting a noticeable step back.
Tennessee (+2500)
Well, it was fun while it lasted. The Bruce Pearl Era ended in a fiery mess and now Cuonzo Martin is left to pick up the pieces.
Just two seasons ago this team had Final Four talent. Now they will be lucky to win four SEC games.
There is some raw potential on this roster – Cam Tatum, Kenny Hall and Trae Golden come to mind – but there isn't a team. And Pearl left scraps of players recruited to fit his style (no coaching, run-and-gun, no discipline) and now Martin is making a seismic shift to a more steady, defensive-oriented approach. I don't expect that the results will be pretty.
Georgia (+2000)
Oh, what could've been? Trey Thompkins and Travis Leslie bought into their own hype (which is surprising considering how badly this team underachieved last year) and left school early for the NBA. Had they come back this would've been a Top 20 team in Mark Fox's third year.
Instead, they are still adrift in the SEC and looking for an identity. UGA has a nice backcourt. But neither Dustin Ware nor Gerald Robinson is good enough to take over a game.
The Bulldogs were among the softest, most mentally-weak teams in the BCS last year. Maybe that will change with some guys having moved on. But unless it does this group is still going to be toiling in mediocrity as Fox's system continues to take root.
Auburn (+4000) – Man, this has been a painful team to watch play over the past two years. But there is some hope for Tony Barbee's club and this team should make incremental gains this season.
Four of five starters are back. But the real excitement is about the pieces being added. Transfers Verez Ward (Texas) and Noel Johnson (Clemson) both have potential and guard Frankie Sullivan, last year's returning leading scorer, is back after losing his entire year to injury.
That gives Barbee seven guys that he can build with and, barring injury, the Tigers should be much more competitive and are a team to watch at the window.
Projected SEC Standings:
EAST
1. Kentucky*
2. Vanderbilt*
3. Florida*
4. Georgia
5. Tennessee
6. South Carolina
WEST
1. Alabama*
2. Mississippi State
3. LSU
4. Auburn
5. Arkansas
6. Mississippi
*Projected NCAA Tournament Teams
Robert Ferringo is a writer and a professional sports handicapper for Doc's Sports. He is considered one of the best college basketball handicappers in the country and has earned his $100-per-Unit clients over $30,000 in the last five years with his nonconference handicapping. He has produced three consecutive profitable seasons and four of five winning years overall. You can sign up for his college basketball picks and get more information here.
---
Most Recent College Basketball Handicapping