Tax Odds to Win the 2019 Kentucky Derby with Picks and Predictions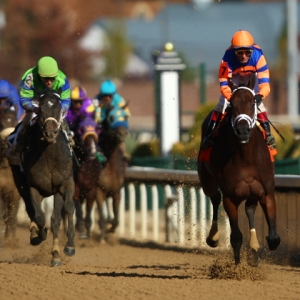 Want a surefire test of whether a name for a horse is a good one or not? It's simple. If you are thinking of a simple, common one-word name for a horse and that name is available then it is a bad name. By that criteria, Tax is a bad name. And by a lot of other criteria as well. The name of this gelding actually kind of makes me angry. Probably much more than it should. It's not the biggest reason I am not planning to bet on the horse, but it is a factor for sure. I would take a stupid one-word name over a bad pun, but not by much. Should you join me in boycotting this horribly-named gelding? Or would that force you to miss out on a big payday?
Last race: If you aren't going to win a major prep race, the next best thing you can hope for is to finish a solid second behind a horse that shapes up as a solid Derby contender. Tax checks that box. In the Wood Memorial he went off at 5/1, which was well back of favored Tacitus but still in the mix. Tax tucked in behind the early pace, running third. He was forced wide around the final turn but still moved forward to second in the stretch. And that is where he stayed. He put up a very strong fight with the eventual winner before giving up ground late. He was well clear of Haikal in third, and he finished comfortably - his rider eased up when it was clear he was neither catching the leader nor being caught. It was a solid race, though the Wood will not stick in our mind as the best prep race of the year by any means.
Prior experience: The gelding made his debut in September at Churchill Downs, finishing second in a sprint that felt too short for him. When he ran next time at a mile and a sixteenth at Keeneland, something happened that we don't see very often in a Kentucky Derby - the horse was claimed. He won the race, but his original owners, who were also his breeders, lost him for just $50,000 - a massive bargain for a horse that winds up in the Derby and a small fraction of the price paid for some of the horses he will face. He moved barns and headed to Aqueduct. His first race there was the Remsen, a significant two-year-old stakes race. It was a big jump up from claiming company, but he didn't look out of place as he finished third. Next was the Withers, a prep race in February. He stumbled early in that race but recovered nicely to win narrowly. And that led him to the Wood.
Trainer: Danny Gargan took over from Ben Colebrook after the horse was claimed. Gargan briefly trained in 1997 but has been at it full time only since 2013. He trains in New York and focuses mostly on claiming races. This is not the first horse he has claimed that has gone on to win stakes races, but you can't do much better than taking a claimer to the Derby, so this is a new high. This will be Gargan's first Triple Crown race. The Withers was only his third graded stakes win, so he is far behind the best of the training group in this field. In a stark contrast, Bob Baffert has five times more Triple Crown wins than Gargan has graded stakes wins.
Jockey: Junior Alvarado started riding in Venezuela where his father was also a jockey and has been in the U.S. since 2007. He has finished Top 10 nationally in earnings three times since 2012 and is capable of piloting a horse effectively. He has not won a Breeders' Cup race, though, and his best Triple Crown showing was a fourth on Mohaymen in 2016. Last year he was 12th on Enticed. He's not the most inspiring rider in the race, but he's capable.
Breeding: Tax is a son of Arch, who is most remembered on the track as the winner of the 2008 Super Derby. A successful sire, Arch sired Blame, who won the Breeders' Cup Classic, and Arkansas Derby winner Archarcharch, among others. He is the damsire of Derby and Preakness winner I'll Have Another, and also of two-year-old champion Uncle Mo, who in turn sired Derby winner Nyquist. Arch's influence is a positive one here. I should note, though, that as a name Arch isn't a ton better than Tax. Tax's damsire is Giant's Causeway, Europe's horse of the year in 2000 who was named top sire in North America four times. He has had little success in Triple Crown races in his offspring. He is also the grandsire of Derby runner Cutting Humor this year. Giant's Causeway is a son of the great Storm Cat, who is the great-grandsire of Triple Crown winner American Pharoah and great-great-grandsire of Triple Crown winner Justify.
Odds: Tax was not listed in the final Kentucky Derby futures pool, so he was part of the mutuel field that went off at 19/1. He's listed at a slightly more attractive +2500 in early betting action at BetOnline.
Can Tax Win the 2019 Kentucky Derby?: Probably not. And I hope not - can you imagine having to look at this name among the winners every year for eternity? He has been solid at times but has not shown that he has been good enough to beat the best of this group, and he won't be helped by connections who don't know this race as well as others.
Doc's Sports wants you to try out our expert horse racing handicappers free of charge and is offering new clients $60 worth of free picks that can be used for any Triple Crown race. Get $60 worth of premium members' picks free .
Read more articles by Trevor Whenham