2011-12 Vancouver Canucks Predictions with NHL Futures Odds
by Trevor Whenham - 10/3/2011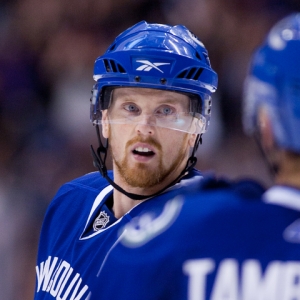 When last we checked in with the Canucks they had collapsed in the Stanley Cup finals in humiliating fashion, and their fans celebrated by trying to burn the city to the ground. It was not a proud moment in the history of the franchise.
The overwhelming challenge for hockey handicappers — obviously — is to determine how a very talented but obviously flawed team can respond from such a massive setback.
It's conceivable that they could use last year as fuel for improvement and could be a more motivated, more intense team. Or they could easily fold their tents and take a massive step backwards. It's a very fun puzzle to ponder — though probably not as much fun if you are a Vancouver fan.
Vancouver Canucks Offseason Moves
The team didn't panic, and largely stuck with the status quo. The lone really notable departure was defenseman Christian Ehrhoff. With 50 points last year he was by far their biggest offensive threat on the blue line. He struggled in the playoffs, but was revealed to have played with a shoulder injury and that explains some of the problems. Now he is with the Sabres. The team will miss his offensive spark, but he was a defensive liability at times, so they can feel more confident in that sense. Third liner Raffi Torres also departed, but likely won't be significantly missed.
The only acquisition of interest is Marco Sturm. The veteran has scored at least 20 goals in a season seven times, but he's not getting any younger, and his knees are in far from pristine shape. He'll get top six playing time, though — especially early on with Mason Raymond and Ryan Kesler out with injuries — and could show that there is still some air in his tires.
2011-12 Vancouver Canucks NHL Outlook
You can't talk about this team without starting with the Sedin brothers. The freakishly similar twins are obviously talented — each has won the Hart Trophy in the last two years. They are also soft, and that's not even a controversial statement anymore given how ineffective and often invisible they were as the pressure ratcheted up in the playoffs.
If they are going to play like they did in the playoffs then the team will continue to struggle. If they can grow from what happened last year, though, and become tougher, more consistent players, then Vancouver could be special. I tend to be negative about their chances of growing spines, but then admittedly I have never been their biggest fans.
This preview practically writes itself — after the Sedins you have to talk about Roberto Luongo. At his best Luongo is one of the truly elite goalies in the NHL. No question. He's also a big reason why his team doesn't have a Stanley Cup.
He talked trash to Tim Thomas when he had no reason to, and though he was brilliant at times in the finals he was terrible when it mattered most. Luongo is the easiest scapegoat on this team. While he is still very secure in his position he needs to be consistent and strong from the outset to stay out of the doghouse of the fans and the team.
Cody Hodgson is a player to watch. The 10th overall pick in 2008, Hodgson has long been identified as the future of this team. It's very hard for a youngster to break through on a team this deep and talented, though — especially an offensive forward looking for top six minutes. He played just eight games last year, and didn't look too bad. He has had a very strong camp, though, and should get many more chances to shine.
2011-12 Vancouver Canucks Schedule
The most anticipated game here isn't hard to figure out. On Jan. 7 the team travels to Boston in a finals rematch. There was a lot of bad blood in that series, so it will be fun to see what spills over into this game.
Vancouver Canucks NHL Futures Odds (from Bodog)
The oddsmakers' love affair with this team continues. They are the co-favorites with the Capitals to win the Stanley Cup at 7/1, according to Stanley Cup odds, and are solid favorites to win the Western Conference at 7/2.
2011-12 Vancouver Canucks Predictions
No matter how many angles I look at it I can't find anything even remotely resembling value in the Canucks. If they play up to potential they are the best team in the West. I don't trust their mental state after last year, though.
That's not the only thing I trust — Roberto Luongo is a big question, the defense isn't as good as it could be, injuries are already a factor before the season even starts, coaching obviously could be better, and the seat starts off as warm, and so on.
There is a lot for this team to overcome to win it all, and I am much more comfortable betting against them than on them. They certainly could win the West again, but at this point they aren't my favorites to do so.