2020 Kentucky Derby Future Odds
by Docsports.com - 5/8/2020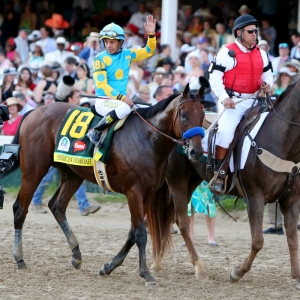 Listed below are the current contenders for this year's Kentucky Derby. Many of these horses listed will not even qualify for the Kentucky Derby, but have a strong pedigree or are trained by a well-known name.

Doc's Sports will continue to update the Kentucky Derby Future Odds as more information is available. Once the field and post positions are set on Wednesday, September 2nd, Doc's Sports will post the morning line odds for the 2020 Kentucky Derby.
Doc's Sports is your place for handicapping the winner of this year's Kentucky Derby. We have numerous contacts that attend the race and they provide us with the inside information needed to win this race. If interested call us directly on September 5th, 2020 at (866) 238-6696. Keep checking back to this page for Kentucky Derby Future Odds.

Get all of Doc's Kentucky Derby Picks with detailed analysis Click Here

Get 2020 Kentucky Derby coverage including updated articles and handicapping advice as well as Kentucky Derby Picks and live Kentucky Derby Odds.

Doc's Sports, Robert Ferringo, Raphael Esparza, Doug Upstone and Scott Spreitzer will all handicap the 2020 Kentucky Derby.
| | |
| --- | --- |
| Horse Name | Odds to Win the Kentucky Derby |
| AJAAWEED | 45/1 |
| ALPHA SIXTY SIX | 400/1 |
| AMERICAN BUTTERFLY | 125/1 |
| AMERICAN THEOREM | 100/1 |
| AMERICANUS | 150/1 |
| ANCIENT WARRIOR | 150/1 |
| ANNEAU D'OR | 24/1 |
| ANSWER IN | 125/1 |
| ART COLLECTOR | 250/1 |
| AS SEEN ON TV | 125/1 |
| ASHAAR | 250/1 |
| ATTACHMENT RATE | 75/1 |
| AUTHENTIC | 5/1 |
| AXEL JOON | 200/1 |
| AZUL COAST | 25/1 |
| BACKGROUND | 150/1 |
| BAM BAM AGAIN | 250/1 |
| BANK ON SHEA | 150/1 |
| BASIN | 20/1 |
| BELLAVIA | 250/1 |
| BIG RETURNS | 300/1 |
| BLACKBERRY WINE | 65/1 |
| BLAME THE CAKE | 350/1 |
| BLUEGRASS FAITH | 250/1 |
| BOURBON BAY | 200/1 |
| BRONN | 200/1 |
| BY YOUR SIDE | 120/1 |
| CAFÉ PHAROAH | 30/1 |
| CANDY TYCOON | 150/1 |
| CAPTAIN BOMBASTIC | 200/1 |
| CARACARO | 50/1 |
| CARPE OMNIOUS | 175/1 |
| CHANCE IT | 100/1 |
| CHARLATAN | 9/2 |
| CHESTERTOWN | 50/1 |
| CHIMNEY ROCK | 300/1 |
| CITY MAN | 300/1 |
| CLEON JONES | 350/1 |
| CLUB ASPEN | 250/1 |
| COLLUSION ILLUSION | 200/1 |
| COMPLEXIFIER | 200/1 |
| CONVICT | 250/1 |
| COST BASIS | 200/1 |
| COUNTRY GRAMMER | 60/1 |
| CROSS COURT | 300/1 |
| DAPPER | 400/1 |
| DENNIS' MOMENT | 16/1 |
| DEVIL MADE ME DOIT | 75/1 |
| DIGITAL | 150/1 |
| DR POST | 50/1 |
| DREAMS UNTOLD | 250/1 |
| DUDLEY SQUARE | 250/1 |
| EARNER | 125/1 |
| ECHO TOWN | 150/1 |
| EDELMAN | 200/1 |
| EDGE OF FIRE | 75/1 |
| EIGHT RINGS | 50/1 |
| ENFORCEABLE | 25/1 |
| ETE INDIAN | 30/1 |
| EXAULTED | 80/1 |
| EXCESSION | 100/1 |
| EXPRESS TRAIN | 75/1 |
| FAMISHED | 300/1 |
| FARMINGTON ROAD | 50/1 |
| FAST ENOUGH | 100/1 |
| FINALIST | 250/1 |
| FLUTE MAKER | 250/1 |
| FORT KNOX | 300/1 |
| FORZA DI ORO | 150/1 |
| GARTH | 125/1 |
| GIN AND PLATONIC | 250/1 |
| GINOBILI | 150/1 |
| GLORY ROAD | 110/1 |
| GOLD STREET | 125/1 |
| GOUVERNEUR MORRIS | 28/1 |
| GOZILLA | 200/1 |
| GREAT POWER | 125/1 |
| GREEN LIGHT CO | 50/1 |
| HALO AGAIN | 150/1 |
| HARRIS BAY | 300/1 |
| HIGH VELOCITY | 25/1 |
| HONOR A.P. | 10/1 |
| IBERICO | 400/1 |
| IRISH CORK | 300/1 |
| JACK THE UMPIRE | 300/1 |
| JUGGERNAUT | 350/1 |
| KING GUILLERMO | 25/1 |
| KINGMEISTER | 250/1 |
| LADDIE LIAM | 250/1 |
| LETMENO | 250/1 |
| LIAM'S LUCKY CHARM | 300/1 |
| LIAM'S POINT | 150/1 |
| LITTLE MENACE | 300/1 |
| LONG WEEKEND | 150/1 |
| LYNN'S MAP | 125/1 |
| MAILMAN MONEY | 100/1 |
| MAJOR FED | 75/1 |
| MARKET ANALYSIS | 150/1 |
| MARVIN | 125/1 |
| MAX PLAYER | 50/1 |
| MAXFIELD | 10/1 |
| MAXIMILIANO | 90/1 |
| MAYBERRY DEPUTY | 300/1 |
| MERU | 100/1 |
| MICKELSON | 250/1 |
| MISCHEVIOUS ALEX | 22/1 |
| MISTER CANDY RIDE | 250/1 |
| MO HAWK | 120/1 |
| MODERNIST | 32/1 |
| MONEY MOVES | 60/1 |
| MOON OVER MIAMI | 250/1 |
| MOONACHIE | 350/1 |
| MR. BIG NEWS | 150/1 |
| MR. MONOMOY | 24/1 |
| MYSTIC GUIDE | 75/1 |
| NADAL | 4/1 |
| NECKER ISLAND | 175/1 |
| NIGHT TIME | 250/1 |
| NY TRAFFIC | 60/1 |
| OUR COUNTRY | 250/1 |
| PALM SPRINGS | 80/1 |
| PHANTOM BOSS | 300/1 |
| PICKENS | 400/1 |
| PNEUMATIC | 75/1 |
| PORTOS | 125/1 |
| PREMIER STAR | 75/1 |
| PRINCE JAMES | 350/1 |
| PRINCE OF PHAROAHS | 200/1 |
| RA'AD | 250/1 |
| RACE DRIVER | 350/1 |
| RELENTLESS DANCER | 250/1 |
| ROMAN EMPIRE | 300/1 |
| ROWDY YATES | 250/1 |
| ROYAL ACT | 75/1 |
| RUSHIE | 200/1 |
| SCABBARD | 125/1 |
| SCHRODINGER | 300/1 |
| SHARED SENSE | 150/1 |
| SHASHASHAKEMEUP | 100/1 |
| SHIVAREE | 100/1 |
| SHOOTERS SHOOT | 125/1 |
| SHOPLIFTED | 100/1 |
| SHOTSKI | 75/1 |
| SILVER PROSPECTOR | 32/1 |
| SILVER RATIO | 250/1 |
| SILVER STATE | 65/1 |
| SIRLUVSHIMSELFALOT | 250/1 |
| SMASH FACTOR | 250/1 |
| SOLE VOLANTE | 12/1 |
| SOMETHING SUPER | 300/1 |
| SOMETHINGTOTELLYOU | 300/1 |
| SONNEMAN | 100/1 |
| SOROS | 225/1 |
| SOUTH BEND | 250/1 |
| SPA CITY | 200/1 |
| SPYCRAFT | 300/1 |
| SQUARE DEAL | 300/1 |
| STORM THE COURT | 60/1 |
| STRUCTOR | 60/1 |
| SURVEILLANCE | 300/1 |
| SYCAMORE RUN | 275/1 |
| TAISHAN | 100/1 |
| TAP BACK | 125/1 |
| TAP IT TO WIN | 200/1 |
| TEXAS SWING | 75/1 |
| THANKS MR. EDISON | 300/1 |
| THE BIG KAHUNA | 125/1 |
| THOUSAND WORDS | 50/1 |
| THREE JOKERS | 200/1 |
| THREE TECHNIQUE | 30/1 |
| TIZ THE LAW | 4/1 |
| TIZAMAGICIAN | 40/1 |
| TOLEDO | 85/1 |
| TOOK CHARGE | 300/1 |
| TUMBLING SKY | 400/1 |
| UNTITLED | 25/1 |
| VIOLATOR | 500/1 |
| VIOLENT CITY | 100/1 |
| WAR STOPPER | 150/1 |
| WELLS BAYOU | 50/1 |
| WEST SIDER | 50/1 |
| WHEAT KING | 275/1 |
| WRECKING CREW | 200/1 |