2013 Kentucky Derby Trivia Questions and Answers
by Trevor Whenham - 4/23/2013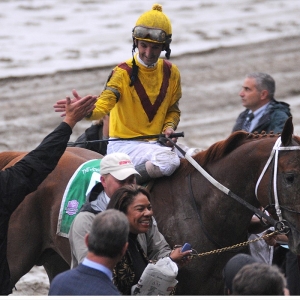 The Kentucky Derby is on Saturday, May 4, 2013 this year. This looks to be another great edition of the Run for the Roses, and I could not be more excited. As is the case every year, I have made these Kentucky Derby trivia questions and answers very tough. If you get seven or more correct then you really know your stuff (answers at the bottom of the page):
1. Two legends unite with Oxbow. Jockey Gary Stevens is making a comeback at age 50 after bad knees forced him out of the sport in 2005. Trainer D. Wayne Lukas has found a second wind at age 77. The two have won the Derby together twice — with Winning Colors in 1988 and Thunder Gulch in 1995. How many Derby wins do the two have in total?
a) 5
b) 7
c) 9
d) 11
2. Two-time Breeders' Cup Sprint winner Midnight Lute is the sire of both Mylute and Governor Charlie. One other Sprint winner has sired a Derby winner. Who is it?
a) Artax
b) Orientate
c) Silver Train
d) Gulch
3. Two sires of Derby runners this year both tragically died before they turned six, so they weren't able to establish themselves as sires — though they obviously showed promise by producing Derby runners this quickly. Which two sires died too soon?
a) Curlin and More Than Ready
b) Malibu Moon and Lawyer Ron
c) Lawyer Ron and War Pass
d) Midnight Lute and Scat Daddy
4. For the second year in a row there is a good chance that the favorite will have not run as a two year old — Bodemeister last year, and Verrazano this year. No horse has managed to win without two year old experience since 1882. Who was that 1882 winner?
a) Lord Murphy
b) Ben Ali
c) Apollo
d) Man o' War
5. Assuming he runs, Black Onyx will look to win the Kentucky Derby after winning the Spiral Stakes last time out. That's the same race that Animal Kingdom won in his last start before winning the Derby in 2011. One other horse has won both races. Who is it?
a) Lil. E Tee
b) Summer Squall
c) Sea Hero
d) Grindstone
6. Calvin Borel has three Derby wins in the last six years, and each has been spectacular in its own way. This year with Revolutionary he reconnects with Todd Pletcher and Winstar Farm — the same connections that pulled the mild upset with Super Saver in 2010. If Borel wins this year he will be just one behind the two all-time leaders who have five wins. Incredibly, one of those two — Eddie Arcaro — also won the Triple Crown twice. Who is the other?
a) Bill Shoemaker
b) Bill Hartack
c) Pat Day
d) Jerry Bailey
7. Todd Pletcher will have, barring injuries or unexpected changes of heart, at least five horses in the race. Quantity does not equal quality for Pletcher, though. He was just one win — in 2010 with Super Saver. How many horses has he entered in the race that haven't won?
a) 8
b) 13
c) 22
d) 30
8. The top three finishers of the Wood Memorial Stakes at Aqueduct — Verrazano, Normandy Invasion and Vyjack -- are all trying to win the Derby this year. Though it is viewed as a major prep race, it hasn't produced a Derby winner in far too long. Who was the last Wood and Derby winner?
a) Giacomo — 2005
b) Fusaichi Pegasus — 2000
c) Charismatic — 1999
d) Go For GIn — 1994
9. Though American bred, Lines of Battle, who is based in Dubai and qualified by winning the UAE Derby, will be looking to become just the second Derby winner not based in the U.S. as a three year old. Who was the first?
a) Canonero II, 1971
b) Gato Del Sol, 1982
c) Swale, 1984
d) Fusaichi Pegasus, 2000
10. Shug McGaughey, the trainer of Orb, is an all-time racing legend, with nine Breeders' Cup wins, which is second only to D. Wayne Lukas. Despite more success than you can imagine over a long career, though, he has never won the Derby and has just one Triple Crown race win? Which horse was his lone classic winner?
a) Risen Star
b) Easy Goer
c) Tabasco Cat
d) Louis Quatorze
Answers
1. c — Lukas has four Derby wins, and Stevens adds three more.
2. d — Gulch sired 1995 winner Thunder Gulch. He also ran in the 1987 Derby himself, but finished a disappointing sixth.
3. c — Lawyer Ron died of complications from colic, while War Pass inexplicably dropped dead.
4. c — Verrazano is the 49th horse in the last 56 years to try to break this curse.
5. a — Lil E. Tee paid 17/1 in 1992 when he upset overwhelming favorite Arazi.
6. b — Hartack's most famous win was aboard Northern Dancer.
7. d — Pletcher had entered 24 before getting his first win.
8. b — From 2009-11, winners I Want Revenge, Eskendereya and Toby's Corner didn't even make it to the Derby starting gate because of injuries.
9. a — The horse was born in Kentucky, but due to a deformed leg was sold to Venezuelan owners for just $1,500.
10. b — Easy Goer won the 1989 Belmont after narrow losses to Sunday Silence in the Derby and Preakness in one of the great Triple Crown rivalries of all time.
Want free Kentucky Derby picks from some of the best horse racing handicappers around? Doc's Sports offers $60 in free Kentucky Derby picks that you can use on any of Doc's Sports horse racing handicappers. This offer comes with our no obligation guarantee, and no credit card is required. This credit can be used for any of the Triple Crown races or for any sport and handicapper at Doc's Sports. Click here for more details and to take advantage of this free $60 picks credit today.
Read more articles by Trevor Whenham