College Basketball handicapping: Freshman Class May Be One For Ages
by Trevor Whenham - 11/18/2009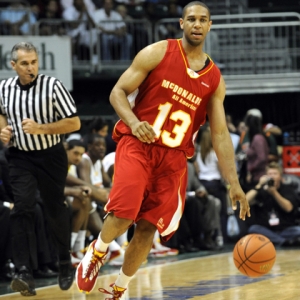 The NBA's one-and-done rule may have it's share of problems, but one thing about it is gloriously clear - it has allowed us to enjoy some spectacular freshman performances in college basketball over the last four years that we wouldn't have otherwise seen. Guys like Kevin Durant, Michael Beasley, Derrick Rose, Tyreke Evans, O.J. Mayo, and Greg Oden never would have set foot on a college court without the rule, and college basketball was, in my view, clearly better for their presence.

This year's class of super freshmen looks at least as good as we have seen in recent years. Xavier Henry stormed out of the gate in Kansas, Kentucky has a truckload of young stars led by John Wall, Derrick Favors at Georgia Tech and Lance Stephenson at Cincinnati should be instant stars, Abdul Gaddy will be part of a potent backcourt in Washington, John Henson has a chance to be special at North Carolina, and Renardo Sidney could be great for Mississippi State if he is ever ruled eligible by the NCAA. All these young stars create a bit of a challenge for college basketball handicappers. They aren't just like any other player, so we can't just treat them like they are. As you are trying to figure out how to deal with these big-time youngsters and their teams when you make your bets, here are eight things to keep in mind:

Some frosh are special - It's important to remember that there are going to be a few freshmen every year who are special - better than all but a very few of the upperclassmen in the country. That won't be all of them by any means - some of the names I mentioned above won't have star seasons - but there are a few that will be stars. That requires you to come to terms with two things - that some freshmen are just that good, and that that doesn't mean that all high-profile freshmen are.

What's the system - A lot of the early success a young player will enjoy will be as a result of the system they are playing in. You need to make sure that a potential star player is in a situation in which they stand a good chance of success - the offensive and defensive styles of play, the teams they play, and so on. You also need to look at the coach - has he worked with players like this before, and does he coach in a style that lets stars shine?

The team around them - Basketball is very much a team sport, so a lot of how a player can perform has to do with the team around him. You can be fairly confident that Xavier Henry is going to shine this year because he joins a team with five returning starters and amazing depth. Other freshmen aren't so lucky.

What can they really do now? - Both Derrick Rose and Tyreke Evans weren't nearly the same players in November that they were in March. Kevin Durant was the leading scorer in the first game he played in college, and never took his foot off the gas. A freshman's early success will be affected by the position they play, the style of game they play, and so on. For example, a pure scorer is more likely to shine early on than a point guard charged with running an offense.

Schedule - It's easier for a young player to look good early on when they are playing against an average team from a weak mid-major conference than it is playing against an elite squad from a major conference. A scorer is going to score more against an up-tempo offensive team than a defensive, ball-control type of team. The schedule will be a major determining factor of the start a young player has.

Watch their evolution - Young players can grow and change as players very quickly - especially when they are tremendously talented. It may take a while for them to get comfortable with the different pressures of college basketball, but once they do then they can do what they are capable of. What that means is that you can't base a feeling about a player on what you saw them do a few games ago, because that might not be who they are anymore.

Media attention - The media can have a major impact on the public's perception of players. John Wall has gotten a tremendous amount of coverage because he plays at Kentucky under John Calipari. Abdul Gaddy may be nearly as talented, and he's certainly entering a situation that could allow him to succeed as much as Wall, but casual fans of the sport likely haven't heard of them yet. You can gain a nice edge early in the season by doing your homework on the young studs because most people won't have done so.

---
Most Recent College Basketball Handicapping