College Basketball Handicapping: Top 10 Transfers
by Robert Ferringo - 12/21/2009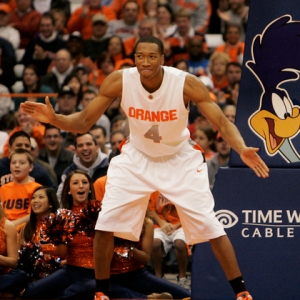 Forget John Wall: I'll take Wesley Johnson.
To this point in the season there has not been a single addition in college basketball that has had a more dramatic impact on his team than Wesley Johnson. By now you should know that the 6-9 swing forward transferred in from Iowa State and, after sitting out the mandatory year, has burst into the Big East and transformed Syracuse from a team with major question marks brought on by defection to a team that is now one of the favorites for a slot in Indianapolis.
Johnson's impact on the stat sheet is evident. He is notching a team-leading 16.5 points and 7.9 rebounds per game. He also leads the team in blocked shots (25), is second in steals (23) and fourth in assists (27) through SU's first 11 games. He is shooting a blistering 59 percent from the field and has knocked down a stellar 53.8 percent of his three-point shots. And Johnson has shown up in the Orange's biggest games, averaging 19.6 points and 9.7 rebounds in wins over Cal, North Carolina, and Florida.
But what may have slid under the radar, even amongst the mountain of praise that have already been heaped his way, is the more subtle impact that Johnson has had on this group.
There was a leadership vacuum on this team following the early departures of Jonny Flynn and Eric Devendorf. But where those players "led" with a mixture of hype, arrogance, and a sort of frantic bravado, Johnson has had a calm, confident demeanor that has rubbed off on the rest of the team.
Also, Johnson essentially filled the role of perpetually disappointing Paul Harris, who also left the team over the summer. And as a fan and student of Syracuse basketball for nearly 25 years I can say this without hesitation: Paul Harris was the worst defensive player in the history of the Orange's fabled 2-3 zone. By far, bar none, Harris had absolutely no idea what he was doing in the back of the zone. And his missteps and his constantly being out of position often left Syracuse's big men exposed, which led to foul trouble and shoddy rebounding by the defense as a unit. Johnson has been the polar opposite. He is agile and intelligent enough to handle defending the perimeter but also athletic enough to both defend and rebound on the interior.
I shudder to think about where the Orange would be headed if they had not added the transfer with the biggest impact in college hoops. But he is not on the only old face with a new place this year, as several other transfers have really given a jolt to their respective rosters. Below are nine other players that join Johnson as the Top 10 transfers in college basketball through the first half of the season:
Taylor King, Villanova - If he had stayed at Duke I'm sure that Taylor King would be one of my most hated players in college hoops right now. But the bottom line is that this multi-faceted forward has been giving the Wildcats exactly what they need. He's managed 11.2 points per game and 6.3 rebounds per game while hitting big shots, playing tough defense, and showing excellent court vision. He can't hold up against most power forwards but without King the Wildcats would have just about nothing near the basket.
Ekpe Udoh, Baylor - The Michigan transfer has instantly become a force near the basket for the formerly guard-oriented Bears. He's been getting it done on both ends, tallying 26 blocks and 9.8 rebounds while also putting up 14.6 points and 2.2 assists. And he has helped Baylor go from being one of the worst defensive teams in the country to No. 5 in the nation in field goal defense.
Elijah Milsap, UAB - Here is one that if you asked 100 cappers about, 99 of them couldn't tell you who he is. The younger brother of NBA forward Paul Milsap transferred in from Louisiana-Lafayette, where he took a gutted roster and guided them to a division title. Now he's trying to do the same with a gutted UAB roster. He punches in, hits for 15.8 points, 10.4 rebounds, 2.3 assists and 1.7 steals, gets a win, and punches out. This guy is by far and away the best college basketball player in the country that no one knows about. I just love his game.
Marquis Gilstrap, Iowa State - One of the few JUCO players that have been able to step in and be an immediate force, Gilstrap has made a perfect Robin to Craig Brackins' Batman. Gilstrap has been a smooth scorer from both the inside and the out. He's hit double digits in points in 10 of 11 games and double figures in rebounds in four of 11 outings. Gilstrap averages a tidy 14.5 and 8.5 on both fronts.
Vernon Macklin, Florida - Along with Kenny Boynton, Macklin has not only come in and produced (10 points, six rebounds per night) but has also added toughness and physicality to a team that desperately needed it. Credit that to his Big East pedigree. Macklin hasn't been great against UF's top competition (SU and FSU) but should hold up well in SEC play.
Eliot Williams, Memphis - It's tough for a guy to have the level of expectations that someone like Williams had coming to Memphis and to come in and actually surpass them. Williams has hit 20 points in all but two of his outings and has taken over a program that was about to enter a tailspin. He may be the most important player on this list.
Malcolm Grant, Miami - Miami's guards, other than Jack McClinton, were terrible last year. But Grant has stepped in and provided scoring and a steady hand in the backcourt. In his last five games he's notched 19 assists to just seven turnovers. He'll need to keep that up in an ACC that is devoid of big-time guards.
Shamari Spears, Charlotte - Spears held his own against the much more ballyhooed Samardo Samuels in Charlotte's stunning upset at Louisville this year. Spears is averaging 17.9 points per game this season and has given the 49ers the inside presence that they haven't had in years. Add in 5.0 rebounds and a .556 shooting percentage and Spears is flat-out getting it done.
Curtis Kelly, Kansas State - Kelly has been inconsistent so far this season, only topping 10 points in six of 11 games. But he has played his best against K-State's top competition. He's averaging 11.1 points for the year but has mustered 15.3 in games against UNLV, Xavier and Ole Miss.
Others that have been too good not to mention: Orlando Johnson, UCSB, Drew Viney, LMU, Armon Bassett, Ohio, Jarrid Famous, South Florida, Jordan Crawford, Xavier, Tony Freeman, Southern Illinois, Jeremiah Rivers, Indiana.
---
Most Recent College Basketball Handicapping