College Football Handicapping: Top 25 Surprises
by Trevor Whenham - 8/28/2009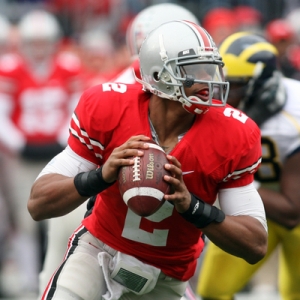 The Associated Press has put out their preseason Top 25, making Florida No. 1 by the widest margin ever. Trying to determine where teams are at at this point in the year is a thankless, virtually impossible task, but that doesn't make it any less fun to do. Instead of trying to create a Top 25 of my own I'd rather just pick apart the AP version. Here's a quick look at the issues I have with the preseason list:

Florida - I have no problem with them being No. 1 - mostly because I don't see anyone else who deserves it. My problem is the same as it would be with any team in this circumstance - I don't think that it makes sense to make any team this much of an overwhelming favorite. We've seen time and time again that teams can falter despite overwhelming preseason expectations and a world of talent. USC and Georgia have both done it recently. Florida is very good, but they have some holes and some new players to work into the roster, and it would make sense to me to temper our expectations here just a bit.

Alabama - This team is going to be good defensively - perhaps very good. The Crimson Tide have only five starters returning on offense, though. That raises too many concerns for me to justify this ranking. They wouldn't be ranked this high if Nick Saban weren't coaching.

Ohio State - Maybe it's because I am a Michigan fan, but I have real questions about the Buckeyes this year. Terrelle Pryor is going to be very good, but the team has some holes on both sides of the ball. Ohio State is the best team in the Big Ten - probably. They aren't as dominant as they have been, and I'm not comfortable with them this high.

Ole Miss - When did Jevan Snead learn to walk on water? Every year a player and a team earn far more buzz before the season than they have earned on the field. There is all sorts of potential here, but I would rather that Ole Miss earned their respect instead of being handed it on a platter.

LSU - This team has lost several starters on both sides of the ball, they have the youngest starting quarterback in the SEC, and they are coming off an 8-5 season. Their reputation is more than good, but they need more than that to earn a spot like this this early in the ratings.

Georgia - The Bulldogs are masters at being disappointing, and they come into this season without their two most explosive, important stars on offense. Like LSU, I would rather have Georgia prove they belong than give them a high ranking because of their name and their coach.

Florida State - The team is getting buzz off of a big bowl game win, but I'm not ready to buy them just yet. Christian Ponder has a lot of growing to do before they prove that he is a good quarterback, and this team has a challenging schedule after going just 1-2 against ranked teams last year.

Iowa - Kirk Ferentz casts some kind of mysterious spell over the national media. Despite consistently underperforming, Ferentz gets buzz as one of the best coaches in the country. I don't buy that, and I don't buy the ranking Iowa has at this point. They are getting hype as a potential Big Ten dark horse, but I won't believe that until I see it. Ricky Stanzi is not much more than a serviceable quarterback, and he won't have Shonn Greene to bail him out this year.

Notre Dame - Notre Dame being ranked at this point is ridiculous. They lost to freaking Syracuse last year, their coach has redefined incompetence, and they have the softest schedule imaginable. This is a joke.

Missing in Action

The Big East - I understand that the Big East isn't in the midst of the strongest period in their history, but I still don't think that they deserve to be shut out of the rankings entirely. Pittsburgh, West Virginia, Rutgers, and especially Cincinnati have the potential to be decent teams, and at least one of them should be at the bottom of the poll. Locking the conference out entirely is just petty.

Oregon State - Some teams have to be on the outside looking in, but I'm not sure that Oregon State should be one of them. They have one of the most explosive players in the country, a decent quarterback, and a schedule that leaves all of the tough games until the second half of the season.

A mid-major other than the usual suspects - Note to voters: there are other mid-majors than the MWC and Boise State. I can't dispute any of the mid-majors that are in the poll, but it wouldn't have killed the voters to recognize teams like East Carolina or Central Michigan instead of some of the lame major conference teams they included.