NFL Survivor Pool Picks: Week 6
by Matt Severance - 10/14/2009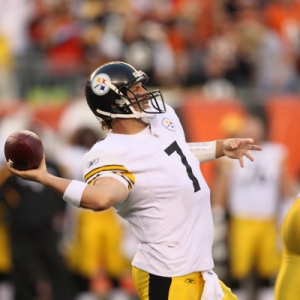 I'm feeling pretty confident about my Survivor Pool picks so far this year, but I also very much remember having that same feeling heading into Week 6 last year only to be eliminated.
Last week we recommended the Eagles, and they had no trouble at all with the Tampa Bay Bucs. We also included the Giants, Steelers, Panthers and Ravens as five to "swear by" with only the Ravens losing. In the "scared by" category, we hit on three teams we warned you not to play on: the Patriots at Denver, the Bills against Cleveland and the Jets at Miami.
The Browns last week proved that you just never know when an otherwise crappy team will steal a victory. Thus I again urge to not put all your eggs in one basket - i.e. always take the team playing the Rams.
FIVE TO SWEAR BY IN WEEK 6
Pittsburgh Steelers (vs. Cleveland). If the Bills limited the Browns to six points and Cleveland QB Derek Anderson to 2-for-17 passing for 23 yards, what do you think the Pittsburgh defense will do to that offense? Without Braylon Edwards around, there's simply no one to fear on that Cleveland offense. Also, the Steelers are expecting Willie Parker and, more importantly, Troy Polamalu back. Polamalu is the key, as he should be able to boost that so-far-mediocre Pittsburgh defense that just lost starting defensive end Aaron Smith for the season.
Green Bay Packers (vs. Detroit). Great stat involving the Lions in this rivalry: They are 0-17 in Wisconsin in regular-season games since they last beat the Packers on Dec. 15, 1991. A loss will equal the most consecutive road losses against one opponent in NFL history. They would share that record with … themselves. The Lions have an 18-game losing streak at Washington. What else is there to say?
Philadelphia Eagles (at Oakland). I actually think this is somewhat of a dangerous game for Philly for two reasons. First, the cross-country travel is never a good thing for a team. Second, this is the Eagles' last "gimme" game literally this season. Every team left on the schedule is either a tough NFC East foe or a potential playoff team. Eagles better not lose focus on Sunday.
New England Patriots (vs. Tennessee). Well, I've given up on the Titans, who clearly have given up on themselves. I thought they had a chance to upset Indy last week, but it wasn't even close. The Pats could be without starting left tackle Matt Light, which is a little bit cause for concern.
San Diego Chargers (vs. Denver). Yep, I am picking against an unbeaten team. Frankly, this is almost a must-win for the Chargers or else Denver might clinch the AFC West by Halloween. Obviously I would stay away from this game compared to the other four above, but I promised to give you five each week.
FIVE TO BE SCARED BY IN WEEK 6
Cincinnati Bengals (vs. Houston). It's hard not to be pretty impressed with the Bengals, and especially rejuvenated RB Cedric Benson, who is averaging 97.4 yards per game, with a league-leading total of 487 on a league-high 111 carries. Apparently the Cincy fans aren't that impressed, as this game might not sell out and thus be blacked out locally. I just think the Bengals are living too close to the edge each week, and Houston beat them easily last year.
Minnesota Vikings (vs. Baltimore). Shame on you if you'd even pick this game, which could be a purple preview of the Super Bowl. This will be easily the Vikes' biggest test so far. The Ravens rank fifth in total offense and the Vikings rank 19th. The Ravens (10th) also rank ahead of the Vikings (14th) in total defense. So I think Baltimore wins.
Jacksonville Jaguars (vs. St. Louis). I honestly have no basis for thinking St. Louis ever wins a game. But history shows that it probably will at some point. The Jags aren't exactly consistent, and Rams QB Marc Bulger actually looked good in limited time last week. He's likely to start this week. St. Louis has totaled 10 giveaways the last three weeks - if the Rams can hang onto the ball Sunday, they could win.
Washington Redskins (vs. Kansas City). The theme here is similar to the game above, in that the Chiefs simply will win at least one at some point. Do I need to remind you that the Skins lost in Detroit and barely beat St. Louis at home? And Chiefs QB Matt Cassel is coming off his best game with Kansas City so far. If the Skins lose this, Jim Zorn is gone the next day.
New York Jets (vs. Buffalo). You might be tempted to take the Jets here as bad as the Buffalo offense looked last week against Cleveland. But remember it's a short week for the Jets and Mark Sanchez has looked like a rookie in his past two starts.
To recap, I recommend the Pittsburgh Steelers are your top choice this week. That means off the board for me are the Steelers, Eagles, Texans, Redskins, Ravens and Saints. Still plenty of good teams left to choose from.
Good luck.