Basketball Props Predictions: Where Will Izzo Coach in 2010-11?
by Alan Matthews - 6/7/2010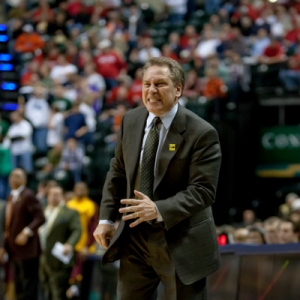 Cleveland Cavaliers owner Dan Gilbert obviously cares more about his NBA franchise than he does his alma mater because Gilbert is trying to lure Coach Tom Izzo away from Michigan State.
Of course, the Cavs canned Mike Brown after they were surprised by the Boston Celtics in the Eastern Conference semifinals. And soon after that, GM Danny Ferry stepped down.
Clearly everything that happens in Cleveland is based around one factor: Making LeBron James as happy as he can be in the hopes of re-signing the reigning NBA MVP. Gilbert wants a coach in place by the time the free agency period begins on July 1. And Gilbert has a relationship with Izzo and tried to lure him to Cleveland back in 2005 before settling on Brown. Gilbert wouldn't hire a coach without running said candidate's name through LeBron.
Izzo has also been linked to previous NBA openings in Minnesota, New Jersey, Atlanta and Detroit over the years but has yet to jump ship from the Spartans. His stock is at an all-time high right now after leading Sparty to back-to-back Final Fours – making it six trips to the national semifinals under Izzo. The coach did say "never say never" about leaving for the NBA at some point in his career but did add that he didn't expect to even consider it before he leads State to another national title. And the Spartans seem poised to contend for that next season after really only losing Raymar Morgan from last year's team and bringing in arguably Izzo's best recruiting class ever. Sparty is a lock to be a preseason Top 5 team if not No. 1.
But Gilbert is clearly pulling out all the stops. He reportedly is ready to offer Izzo a five-year, $30 million deal and is recruiting him personally. The contract also includes perks, including use of Gilbert's private jet. Izzo has spent his entire life in Michigan and the fact that Cleveland is so close might make that job alluring. And he will not take the job if James leaves; with LeBron the Cavs should remain annual title contenders.
Izzo makes more than $3 million per season at MSU and is under contract through 2016. He has been Michigan State's head coach since the 1995-96 season. Bodog is offering an Izzo prop bet currently on whether he will be the Spartans' coach for Game 1 of next season. 'Yes' is a huge -1600 favorite, while 'no' is +800.
Gilbert and new GM Chris Grant have a news conference scheduled for Tuesday at the team's training facility. MSU AD Mike Hollis has acknowledged the Cavs' interest in his coach but said no official offer has come yet.
Personally I believe that Izzo does stay put, although this is probably his hardest decision to date. Every coach is hired to be fired eventually in the NBA and he can coach in East Lansing forever if he wanted to. Plus, it doesn't seem like he'd walk away with one of his best teams in place. And Izzo only needs to look at the failures of guys like John Calipari, Lon Kruger, Mike Montgomery and Rick Pitino in trying to move from NCAA to the NBA. So while I think Izzo stays, it's almost criminal that "no" is priced at +800 so you almost have to roll the dice with those odds.
---
Most Recent College Basketball Handicapping