College Basketball Picks: Duke Blue Devils Predictions with Futures Odds
by Trevor Whenham - 10/26/2010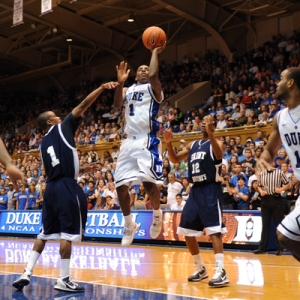 I hate Duke. Always have. Still, it's hard to have anything but begrudging respect for what Coach K has done with this program. Last year he changed his approach to suit his personnel - something he does better than anyone - and built a team that just kept getting better as the season went along before peaking at exactly the right time. Now he will be changing his playing style radically again, but this time he won't be sneaking up on anyone - the Blue Devils are the favorites and the ones wit the targets on their back.
Offseason Changes
Duke loses three starters this year. The biggest change is that Brian Zoubek and Lance Thomas are gone. Those two were big and ferocious rebounders and Coach K based much of his approach around them.
With their departure the inside game will move more outside. The key to it all is Kyrie Irving, the mega-recruit who will be the starting point guard for the year he plays college before heading to the NBA. He's a very special talent that could play himself into the top pick in the NBA Draft. Coach K seems to be committing this team's hopes to Irving like he has virtually never done for another player.
Irving has another intriguing newcomer joining him in the backcourt - Stephen Curry's younger brother Seth was the nation's leading freshman scorer at Liberty two years ago before transferring to Duke. Curry could come off the bench, or he could allow the team to experiment with what could be a truly terrifying three-guard system.
Duke Blue Devils Outlook
Last year I never believed in this team - I picked against them in their last four tournament games. This year I am believing in them from the start. Great programs have those years when everything falls into place for them. This is one of those years for Duke.
Kyle Singler shocked everyone including the coaching staff when he skipped the draft to return for another year. Nolan Smith was quite possibly the most improved player in the country last year, and should only be better this year. Mason Plumlee could have been a lottery pick last year as a freshman based on his physical tools. This year he will use those tools to their potential. Add in Curry, Irving, and a couple other very impressive freshman, and this is really a team without a weakness. This team isn't going to tower over everyone, and they won't out-rebound everyone like they did last year, but if Irving is very good - and there is ample reason to believe he will be - then this team will outrun and outscore everyone.
Duke College Basketball Futures Odds
Bodog has the Blue Devils favored to win the national championship at 5/1. BetUS has installed them at a stunning -250 to win the ACC. North Carolina is a distant second in the conference at +250.
Duke Blue Devils Basketball Schedule
Dec.1 is the nonconference game of the year - Duke hosts Michigan State. They are the top two teams in the country according to the odds, so there will be fireworks. Duke could also face Kansas State or Gonzaga in the final of the CBE Classic. Outside of that, the nonconference season is reasonably kind. The conference schedule is what you would expect, though the final game of the season - a trip to North Carolina - could potentially be one for the ages.
Duke Basketball Predictions and Picks
This team s going to be very tough to beat. Irving played internationally this summer and looked truly dominant. Singler has evolved from liability to dominance. Smith is special. The Plumlee brothers are impressive. Curry will be a joy to watch. Chemistry is the question - the team needs to find it quickly. We have seen several young point guards impress for top teams recently, though, so Irving can do what he is being asked to do. A price of +500 to win the national championship is ridiculous given what a team has to accomplish to cut down the nets, but this team in this year justifies the price as much as any team can. The season sets up very well for Duke, and I don't expect them to disappoint.
Doc's Sports is very excited about another profitable college basketball picks season. We are considered some of the best college basketball handicappers on the Internet and we always have lofty goals for our yearly results. In the last four years our college picks have garnered +382 units and $100 players have made nearly $15,000. Our picks against the college basketball lines are always guaranteed to make a profit, or we work for free until they do.
---
Most Recent College Basketball Handicapping